Savage: 'My captain, my hero'
Ex Wales international Robbie Savage has paid tribute to his best friend Gary Speed after the Welsh manager's tragic death.
Last Updated: 28/11/11 8:16am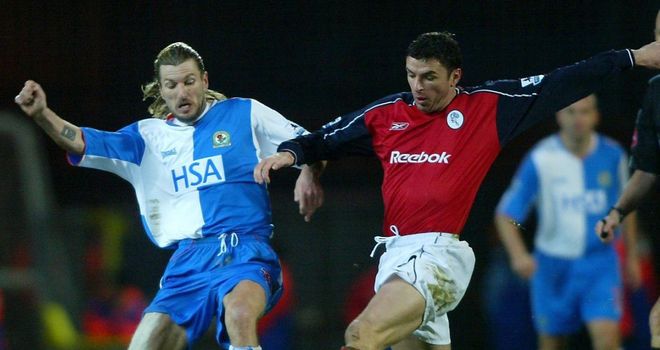 Robbie Savage has paid tribute to his best friend Gary Speed following the Welsh manager's death.
Speed's death was confirmed by the Football Association of Wales on Sunday morning, and Savage reacted with disbelief via his Twitter feed at the time.
Now Savage has written about his sense of loss after speaking to Speed just hours before his death.
"I'm looking at the headlines and I still can't believe it. My captain, my hero, my mate is gone and I can't understand why," Savage wrote in the Daily Mirror.
"He had the world at his feet and the ironic thing is that he was the guy you would always go to if you ever had a problem.
"Since I've been doing Strictly [Come Dancing] he's phoned me every Saturday morning to wish me good luck and have a laugh. We were joking around like usual, talking about football and dancing. One of the last things he said to me was, "don't get a two off Craig"
"Then I found out at 10 o'clock on Sunday and it feels surreal to know I'll never get that call off Gary again.
Close
"I'd grown very close to him over the last year or so. He'd always been a friend. But in that time we'd become best friends. There are people in football who will drop you like a stone when you retire but that's not Gary. He had time for everyone, always. He was a lovely guy.
"It was an honour to know him and an honour to play with him. The first time I met him was when I was called up to the Wales squad for the first time. Some of the other veteran players looked down on me because I was a scrawny kid who played for Crewe, but not him. He treated me the same as if I was Ian Rush or Mark Hughes and that made me feel 10 feet tall.
"As a leader and a captain, he was unbeatable. He had skill but he worked his heart out too. He was as fit as a fiddle, what you would call a model professional. He was an inspiration in the dressing room and on the field he was the man you'd want with you in the trenches.
"Since I heard, I've been thinking about all the times we shared. As team-mates, the best was beating Italy 2-1 at the Millennium in 2002. He played left back that night, doing what he had to do for the team as always. It was a wonderful win, one of the biggest in Welsh history, and I'll never forget him, so happy and proud afterwards as we jumped on each other in celebration.
"I also remember a time when I played Everton with Leicester. We were mates then and our dads would go to Wales matches together. I caught Gary with an unintentional elbow in the nose and about a minute later, he smashed straight through me and gave me a little wink as he got booked. In the players' lounge we had a massive row about it in front of our dads, who were amazed. Of course, we had a huge laugh about it later.
"We also had a laugh a couple of years ago, when Gary was named the Wales manager and I fancied making an international comeback. "That's great because I'm looking for a bus driver," said Gary. Then he carefully and kindly explained to me why he wouldn't be bringing me back. "If you were 10 years younger, Sav... but you're not," he said. He was always so honest and so truthful.
"The last time I saw him was three or four weeks ago when he came down to Strictly with his wife. After I'd completed my routine I high-fived him and I can see him sitting there now, a big smile on his face, so happy and so proud of his mate.
"That's how I'll always think of him. In high spirits with a broad smile, taking pleasure in his life and his friends.
"It makes what has happened so much more shocking. There was never a hint of this, never. He had a beautiful wife, two gorgeous kids. He had a great job and a great team and he was on the verge of something big.
"I don't know why this has happened and I don't think I ever will but I know it was an honour to be his team-mate and his friend."