Spain 1 Czech Republic 0: Why Andres Iniesta is still Spain's star
By Adam Bate in Toulouse
Last Updated: 14/06/16 8:18am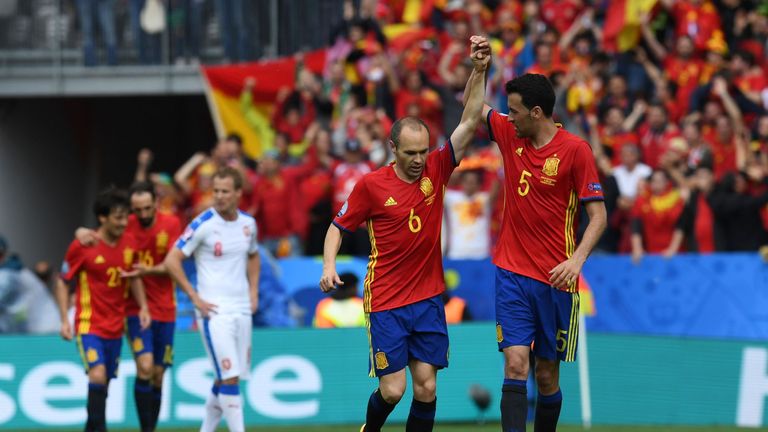 Andres Iniesta produced a man of the match performance in Spain's 1-0 win over Czech Republic on Monday. Adam Bate was in Toulouse to see the latest masterclass...
"He played very well but I don't think it's about individuals," said Vicente del Bosque afterwards. It was a nice try but nobody was convinced. Andres Iniesta was the best player on the pitch even before he'd curled a cross onto the head of Gerard Pique late on to ensure Spain kicked off their Euro 2016 campaign with a win over Czech Republic.
The man of the match award was adjudicated by a former team-mate of Iniesta's in Carlos Marchena but there was no favouritism here. Just an acknowledgement from his fellow Euro 2008 squad member that the Barcelona midfielder continues to be the catalyst for his national team even eight years after that shared triumph. He's never been more important.
The statistics told some, but not all, of the story. Iniesta found a team-mate with 85 of his 93 passes and created five chances. He completed more dribbles than anyone else and, of course, came up with the game-deciding assist. But it was the intent that separated him from the rest; the awareness that saw him speed up the game when it was needed.
Iniesta v Czech Rep
| Discipline | Total | Rank |
| --- | --- | --- |
| Passes | 93 | 2nd |
| Dribbles | 3 | 1st |
| Chances created | 5 | 2nd |
| Assists | 1 | 1st |
There were the threaded passes through to Jordi Alba that broke the Czech defensive line. There were the drilled balls into the feet of team-mates around the area in an attempt to inject life into a stuttering attack. Either side of the break he created further chances for Alba and Alvaro Morata - even trying an audacious chip over Petr Cech from 35 yards out.
For the most part though, patience was the watchword. "There's not a single way of breaking down these teams," he explained. "You have to be calm and patient and keep going forwards until you get the result you want." Perhaps it's no surprise that the goal came late either. With Barca, he has seen that many times before too.
"I'm not a player that's had to do a lot of running without the ball like that," he said with characteristic understatement. "But I'm sure that running 90 minutes without the ball is very difficult so it's not easy to go on like that." Eventually, the Czechs succumbed. There was always another pass; always another cross. And there was always Iniesta.
It was the performance of a player embracing the occasion. "I always try to have a high responsibility when I play," he said afterwards when asked if his seniority necessitated such an approach. "It's not about the moment, I enjoy football and that's how I try to do it. It's no different now. We all have to give our best, so in that sense I try not to shirk responsibility."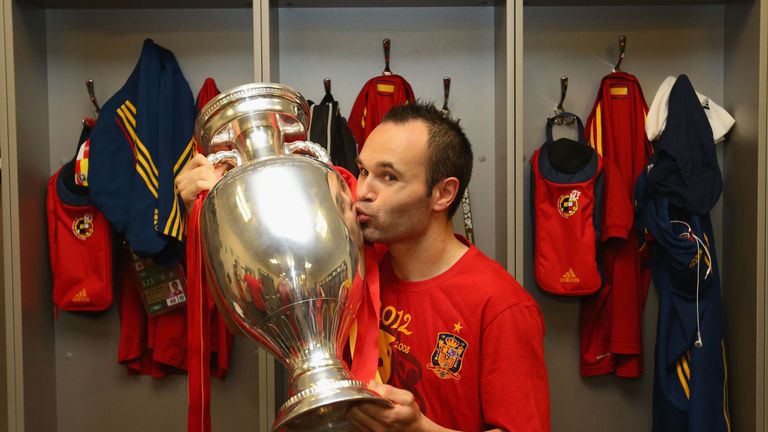 Iniesta could never be accused of that. The numbers over the course of a long season could certainly be more impressive - he provided only two assists in La Liga in 2015/16 and only one in the campaign prior to that. But the big games continue to bend to his will, with man of the match awards in World Cup, European Championship and Champions League finals.
This was just another to add to the list, a fourth man of the match award in his last seven games at the Euros. The lack of other candidates might well be a concern for Del Bosque, however. His strikers failed to find a finish despite such stellar service and so Iniesta had to turn to a centre-back to nod home one of his deliveries. Spain will need more in attack.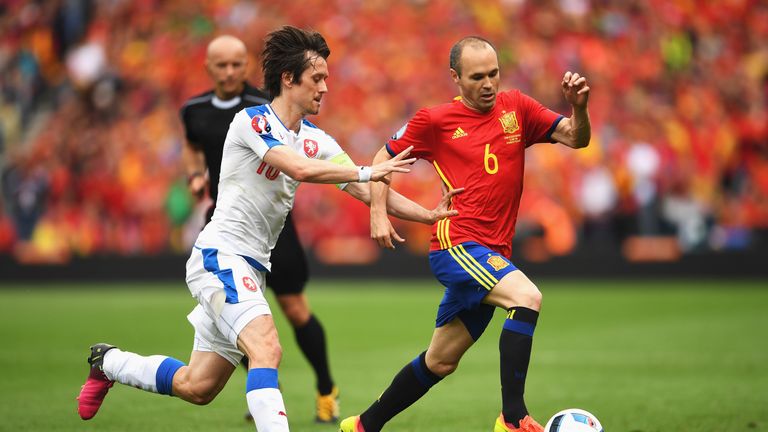 Midfield though is in safe hands for now. How long can the 32-year-old go on? "Nothing makes me happier than ending a game healthy, feeling good and ready for the next one," said Iniesta afterwards. "That's what it's about, maintaining that for as long as possible. It's Turkey next and we'll just try to keep going. I'm going to try to help the team go as far as possible."
How far that will be remains to be seen but the supporters in Toulouse seemed confident enough and they knew where to direct their acclaim. Iniesta's name was chanted again and again as he left the field after the final whistle. Spain's success might not be about individuals, but there's still one man they cannot do without.