As Neymar reaches 44 goals in 64 games for Brazil, how does he measure up to Pele, Romario and Ronaldo?
By Simeon Gholam
Last Updated: 15/06/15 6:47pm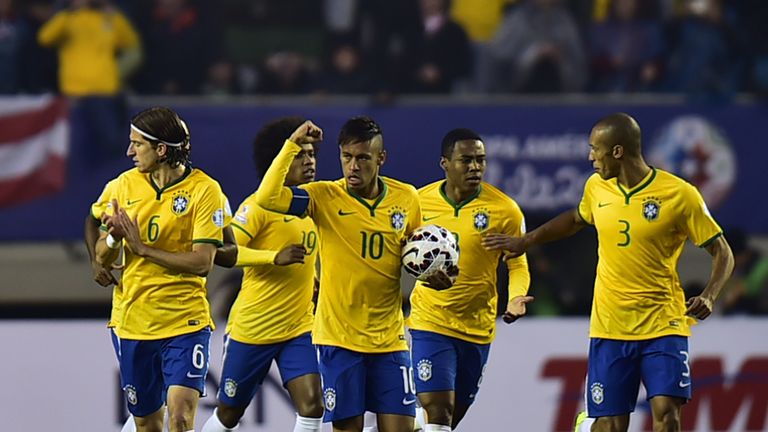 At the tender age of just 23, Neymar has already scored 44 goals in 64 games for Brazil.
The Barcelona forward currently sits fifth in Brazil's all-time scoring list, behind Pele (77 goals in 92 games), Zico (66 in 88), Ronaldo (62 in 98) and Romario (55 in 70).
Since netting 28 minutes into his 2010 international debut against the USA as an 18-year-old, Neymar has managed a ratio of 0.68 goals per game for Brazil.
Pele's international goals-per-game record stood at 0.83 but the Brazil legend made his debut - and scored - for the Selecao aged just 16 in 1957.
By the time Neymar made his debut, Pele had won the World Cup. And by Neymar's age, he'd won two of his three World Cups.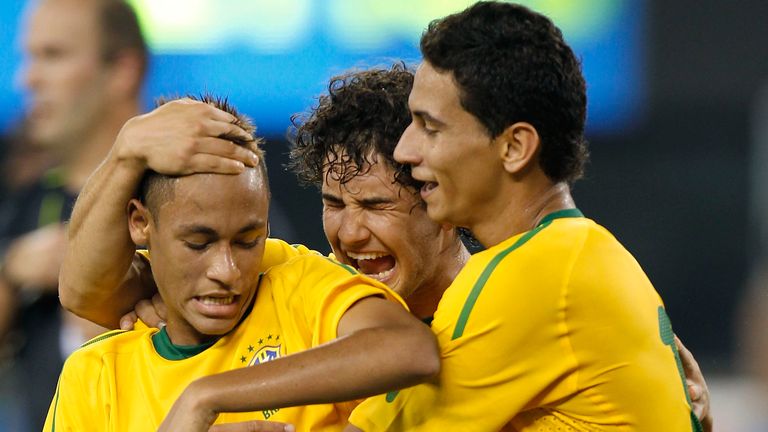 It might not be too much of a stretch to say, however, that the Brazil of Pele's era were far superior to the one we see now in terms of international domination. And you need only look at how the current crop crumbled without Neymar in last summer's World Cup semi-final against Germany to see how much they were relying on their talisman.
In the aftermath of the tournament, newly reappointed boss Dunga made it one of his first acts to install Neymar as captain - replacing defender Thiago Silva. 
Needless to say at the time the PSG defender wasn't best pleased. He said: "I don't think [any explanations] have to come from me. I didn't speak to anybody in the team, and [Neymar] didn't speak to me either.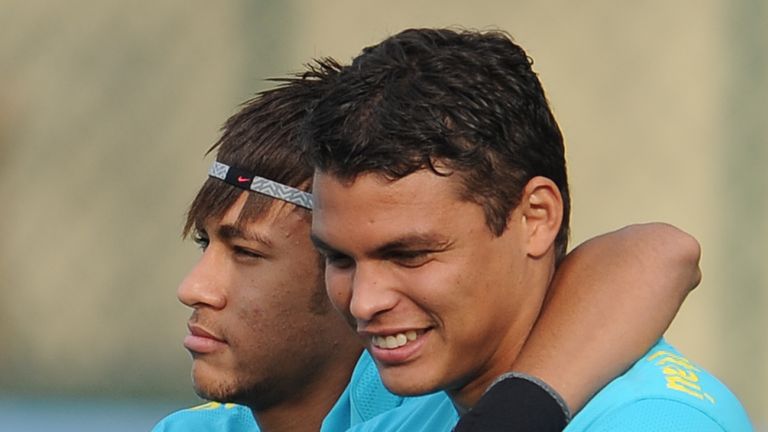 "That hurt. I have the sensation that someone took something that belonged to you. If I tell you I'm happy, it won't be the truth."
But Neymar has taken on the mantle superbly since taking the armband, netting nine times during their 11-game winning run since the World Cup - a record that goes a long way to justifying Dunga's decision.
"Neymar is doing very well and will only grow," said Dunga in March. "In regard to [matching Pele's] goals I don't think that will be a problem. But the record we really want him to get is Pele's number of World Cup wins."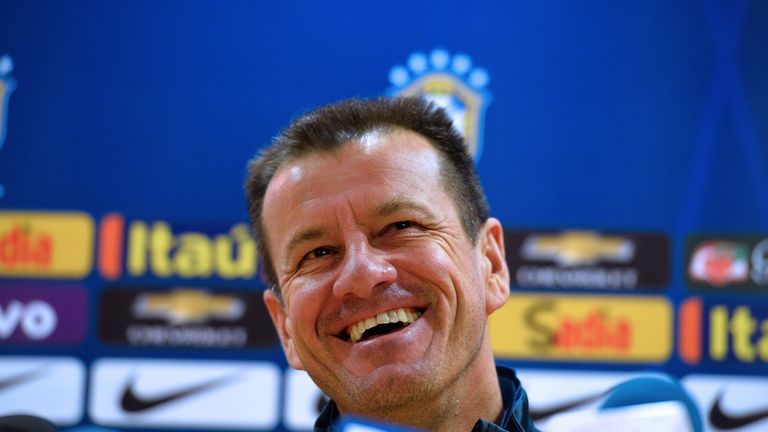 Pele himself remains sceptical of Neymar's ability to reach his own heights as a player.
"I think to be the new king, the new Pele, is impossible. Because my mother and my father closed the machine," said Pele of his heir apparent, before adding: "I think he's a good player, an excellent young player and he's going to be a big star, no doubt."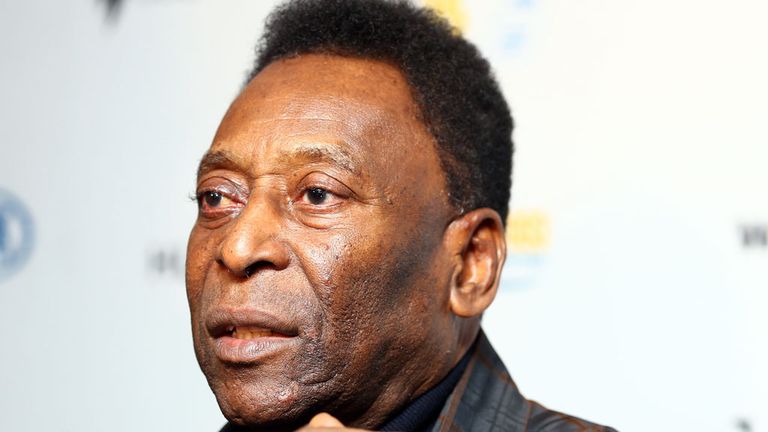 One thing that could count against Neymar is that 33 of his 44 international goals have come in friendlies - though Brazil have not had any qualifiers to play during his career so far.
In fact, Neymar could easily pass 50 goals for his country before he plays in his first ever international qualifier this October.
Due to Brazil's recent trend of playing friendlies away from home, Neymar has scored just 15 of his international goals on home soil - and just once at the Maracana (albeit in the Confederations Cup final). 
But his record in major tournaments is impressive. He scored twice in the 2011 Copa America, four times in the 2013 Confederations Cup, four times in last summer's World Cup and once so far in this summer's Copa.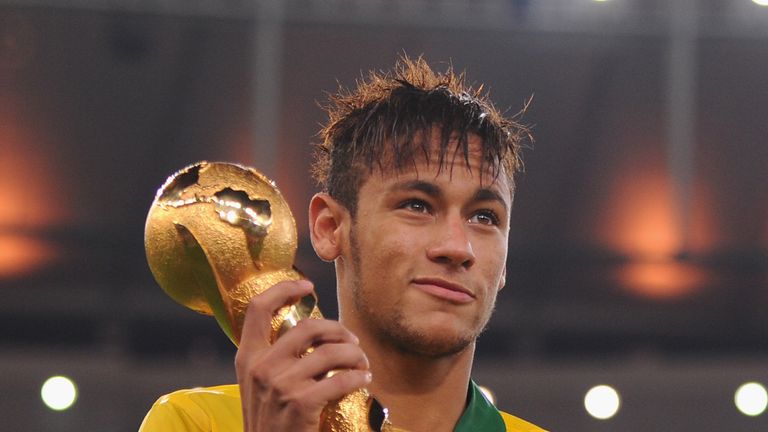 Neymar, like Pele, began his career at Santos. But, unlike the Brazil legend, he would not spend virtually his entire career in his home country. While Neymar moved on from the club in 2013 to join Barcelona, Pele never played in Europe.
Neymar's career at the Nou Camp started slower than hoped, as a stuttering Barcelona side failed to win a single major trophy during his first season there.
But in 2014-15, alongside Lionel Messi and Luis Suarez, he formed the most fearsome attacking triumvirate in Europe as the Catalan club charged towards their treble triumph. Neymar netted 39 times in 51 games, including a goal in the Champions League final against Juventus. He currently has 54 in just 92 games for Barcelona.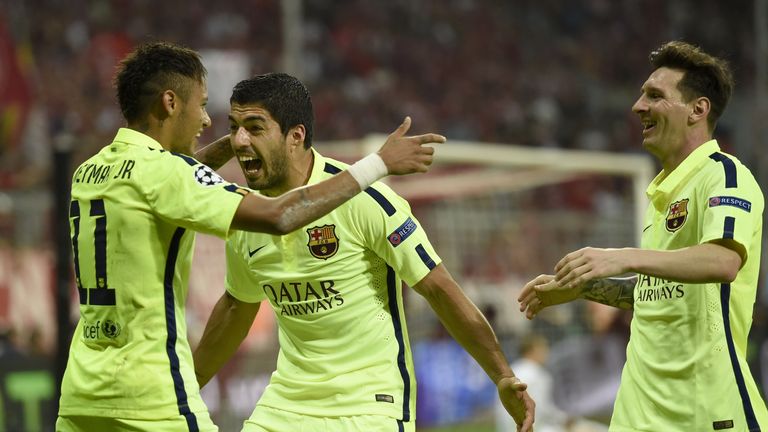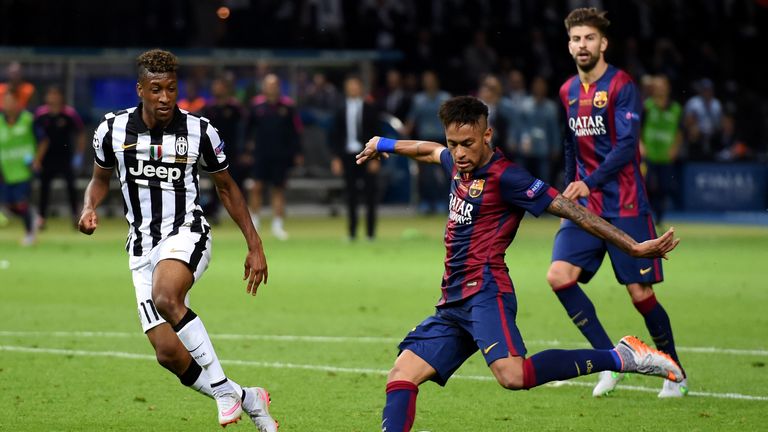 Now, for the fifth year in a row, Neymar is spending his summer playing for Brazil. After his omission from the World Cup in 2010, he has featured in the 2011 Copa America, the 2012 Olympics, the 2013 Confederations Cup, the 2014 World Cup and now this year's Copa. 
On Sunday night, Neymar was once again Brazil's saviour as they came from behind to beat Peru 2-1 in their Group C opener - levelling the score with a fifth-minute header before his superb assist for Douglas Costa's injury-time winner.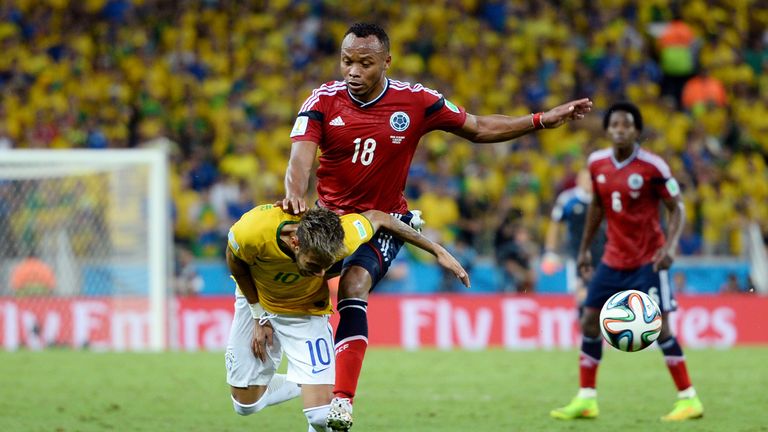 Next up Brazil face Colombia on Wednesday. And for Neymar that means coming up against defender Juan Zuniga - the man who ended his World Cup in brutal fashion last summer.
But the Brazil skipper showed his maturity when the two sides met in a friendly in Miami last September, embracing the Napoli defender before kick-off to show he had forgiven him for the knee to the back in their quarter-final clash. 
Naturally, Neymar netted the winner in a 1-0 victory.