Sky Sports Scout reports on young forward Jack McKay
By Sky Sports Scout - Tweet me: @skysportscout
Last Updated: 21/10/14 5:24pm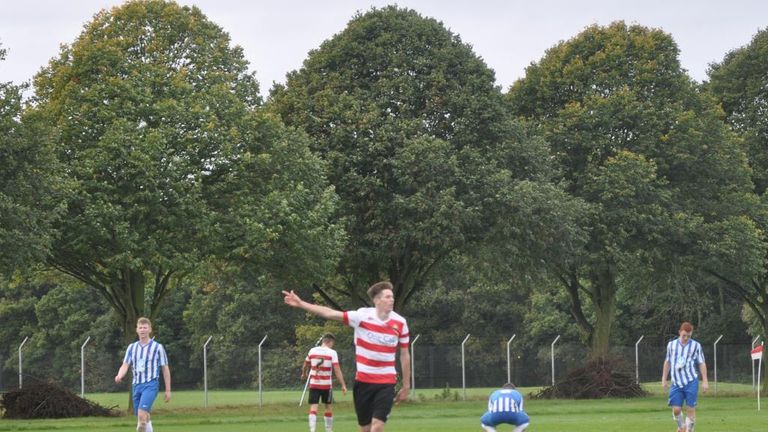 Sky Sports Scout is our exciting feature where we scour the globe looking out for the best talent and bring you a report on what we find.
Our scout - using all the tools at his disposal, will report back and you can comment on what you think of their appraisal.
You can only nominate a player by emailing here, including the word 'Scout' in your subject line, and please check to make sure we have not already covered the player.
You can also now interact with the scout via his Twitter feed! You can get in touch with him and interact here or just search for @skysportsscout.
Scout Facts
NAME: Jack McKay
AGE: 17 (19th November, 1996)
BORN: Glasgow, Scotland
POSITION: Forward
CLUB: Doncaster Rovers
FACTS:Named club's Academy Player of the Year in 2013
Sky Sports Scout Ratings:
0-10 - No hoper
11-20 - Should look elsewhere
21-30 - Might not make it
31-40 - Has work to do
41-50 - Keep an eye on him
51-60 - Great prospect
61-70 - On his way to the top
71-80 - Already World-class
The latest player to be spotlighted is prolific striker Jack McKay.
The scout reports...
After earning rave reviews at Doncaster Rovers, we take a close look at exciting young forward Jack McKay.
The 17-year-old is highly-regaded at Doncaster and is rated as one of the best young prospects to come through their ranks.
McKay was named Academy Player of the Year last year after scoring an impressive 26 goals and he has continued his prolific form in front of goal this term with 15 goals so far this season.
McKay is also something of a YouTube sensation after scoring a stunning solo goal for Doncaster Rovers' Development side in the 3-1 win over Hartlepool United earlier this month.
The 6ft 3in striker's red-hot form has alerted clubs higher up the football pyramid with a host of Premier League and Championship clubs sending scouts to watch McKay in action.
It is not only on the club scene that McKay is in-demand as there is a three-way tug-of-war for his services on the international stage.
McKay qualifies for Scotland, England and the Republic of Ireland and all three countries are battling it out to convince the player to pledge his international allegiance to their team.
McKay's twin brother Paul, who is a talented central defender, is also at Doncaster and is also tipped for a bright future at the Keepmoat Stadium.
It is not surprising that McKay is knocking on the first-team door at Doncaster and it might not be long before the twins are lining up together in Paul Dickov's side.
Accomplished on the ball, Poole relies on a great deal on his athleticism, and it is his ability on the ball and to score goals at a prolific rate that is thought to have initially attracted potential suitors.
The 17-year-old is equally adept in the air as well as on the ground and the two-footed forward has shown he is a natural goalscorer in front of goal.
McKay is far from the finished article as yet, but he possesses all the attributes and desire to go all the way to play at the highest level for club and country in the future.
The scout says...
An outstanding prospect, who has developed in a very short space of time. Very much one to watch and already Premier League and Championship clubs are chasing his signature.
The Scout rating...
Shooting: 8 out of 10
Passing: 7 out of 10
Tackling: 6 out of 10
Heading: 8 out of 10
Pace:  8 out of 10
Vision: 6 out of 10
Current ability: 6 out of 10
Potential ability: 9 out of 10
OVERALL SCOUT RATING: 58/80
Current value: £500,000
Potential value: £5million
Your opinion...
You have read our opinion of Jack McKay - now we want your views. Have you seen McKay in action? Do you agree with our assessment? Do you think he will make it?
Get in touch, either using the form below, email or the scout's Twitter feed - @skysportsscout.
Pick your Sky Sports Fantasy Football team for the chance to win over £100k in prizes. Play for free here.