Football Commentator & Columnist
Martin Tyler's World Cup diary: Argentina's win and Australia's exit
Last Updated: 27/06/18 9:47pm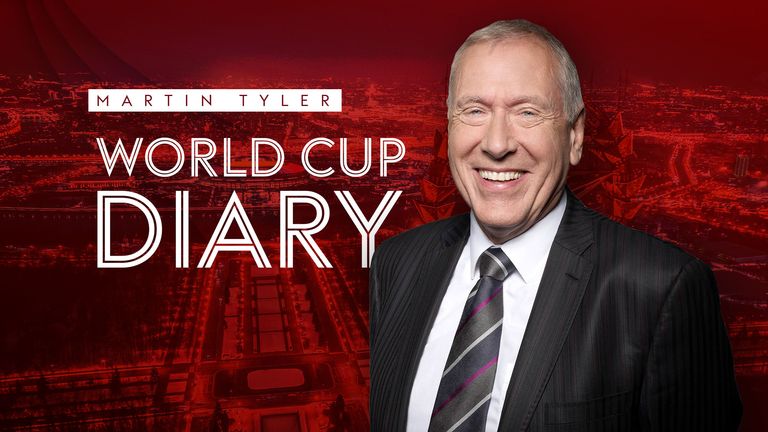 Sky Sports commentator Martin Tyler reflects on Argentina's dramatic World Cup win over Nigeria, Australia's exit and looks ahead to the next set of matches...
I can't sleep. The passion on show during Nigeria against Argentina is still swirling through my mind. Such raw, compelling action and this was only for a place in the last 16. The drama still to come is almost unimaginable, even for a seasoned campaigner at these gripping tournaments.
What a World Cup this is. How appropriate that its 100th goal should be a majestic finish by the grand master Lionel Messi. How inevitable in this VAR influenced competition that a penalty would then turn the qualifying place Nigeria's way.
It was dispatched with commendable calm by Chelsea's Victor Moses, past a debutant goalkeeper called in after Moses's colleague at Stamford Bridge Willy Caballero had paid the price for his clanger against Croatia. A newcomer with a designer label - Armani - on his jersey, which just happens to be his name.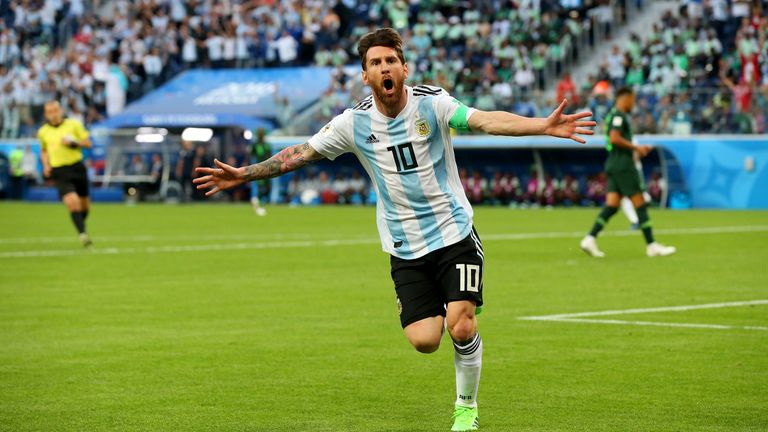 After being condemned back home as Argentina's worst ever team, Messi's men fought tooth and nail for their reputations as well as their spot in the knockout phase. In five of Nigeria's six World Cups they have been paired with Argentina. They have now lost all five encounters, this defeat had a sickening familiarity for them from four years earlier. Manchester United defender Marcos Rojo coming up again with a goal to break Nigerian hearts.
With Croatia ending Iceland's first campaign it came down to a straight shootout in St Petersburg between the history of Argentina and the potential of African football. The stadium which cost a ridiculous amount to build hosted a billion-dollar battle. Unforgettable!
It almost put a smile back on the face of my friends and colleagues at SBS Australia, the station I am a broadcasting for here in Russia. They had suffered earlier in the day. The Socceroos would have gone out anyway because Denmark picked up a point against a much-changed France but losing to Peru confirmed their fate.
In such circumstances it is important to remember the achievement of qualification, a feat way beyond many Aussie teams of the past. Now they are regular diners at football's top table. Staying on for dessert is an attainable target but football is still down the pecking order Down Under and every defeat is treated as a blow to the profile of the round ball game in such a sports mad country.
It was a difficult day for those in the SBS studio in Red Square. The production is being fronted expertly by Lucy Zelic, the sister of an ex-Socceroo, Ned, who had a fine club career in Europe including a brief spell at QPR. The thoughtful main analyst is Craig Foster, another former international who played in England for Portsmouth and Crystal Palace.
Supporting "Foz" is David Zdrilic who once scored eight goals for Australia in a World Cup qualifier, that 31-0 record win over American Samoa in 2001. Another claim to fame is the time he spent with Walsall, in the same team as Roberto Martinez.
Finding the balance between support and criticism was very tricky for all of them as the only goalless draw in the first 40 games effectively ended this adventure for the Socceroos. For the record, World Cup spot-kicks 21 and 22 could not save Nigeria nor Iceland.
Now I am plotting my way on the metro map for a first visit to the other Moscow stadium at this World Cup. Happily the appropriate station is called Spartak so even the different alphabet should not be a problem. Waiting there will be Brazil and Serbia, brimming with past and present Premier League players.
Will Tadic outshine Neymar and Coutinho? Can Kolarov find a free-kick more spectacular than any of the Brazilians? It could be Nigeria and Argentina all over again just 24 hours later.
Who needs sleep?!