Martin Tyler's stats and facts column is back. Read on to find out which team covered the least ground last weekend, which team went on the longest goalless runs and the most commonly booked players...
Tyler's Teaser
Every week, Martin will set you a question of his own to get your grey matter working. Click above for this week's Tyler's Teaser - which tests your knowledge of England internationals.
Send your questions to Martin
1: Email your posers to skysportsclub@bskyb.com
2. Use the feedback form at the bottom of this page.
3. Tweet @SkyFootball using the hashtag #TylersTeasers
Martin's Starting Stats
I was at Stamford Bridge on Sunday for Arsene Wenger's 50th match against Chelsea. His record now reads: W19 D13 L18. In the Premier League it's P36 W 14 D11 L11. He was unbeaten in his first 17 league games against Chelsea, but has lost 11 of the last 19.
Jose Mourinho has now taken charge of 12 matches against Arsenal (and Arsene) and has never lost; winning seven and drawing five. In the Premier League he has played nine, winning four and drawing the other five.
César Azpilicueta made his 100th Premier League appearance – his only goal for the club was against Arsenal in the League Cup last season – and Willian made his 50th Chelsea appearance in all competitions.
The game marked a third consecutive clean sheet for Chelsea. Diego Costa now has 9 in 7 for the club and turned 26 on Tuesday.
Cesc Fabregas didn't score but made Costa's goal. He has not scored in his last 20 Premier League games since December 27, 2010 when he scored in a 3-1 Arsenal win over Chelsea.
Eden Hazard has now scored 16 out of 16 penalties in his league career – including Lille – which leads us to your first question…
Spot on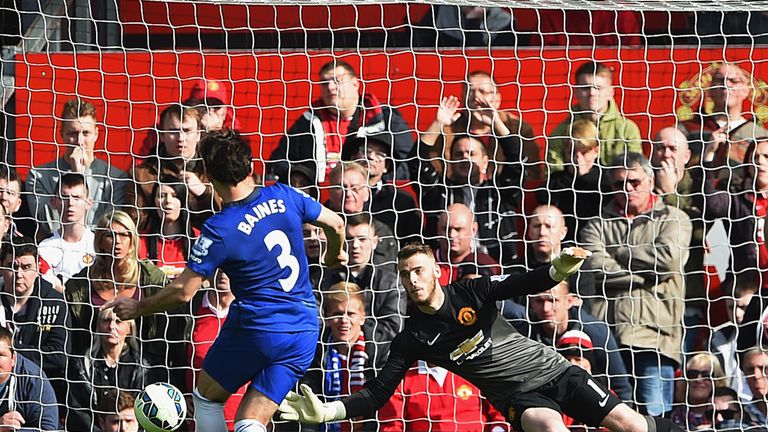 Dear Martin. Leighton Baines's famous penalty record is over after his miss at Old Trafford. Who now has the best penalty record in the Premier League? Keith
MARTIN SAYS: Before Sunday, Leighton Baines had scored 14 out of 14 penalties in the Premier League and his 15th attempt was denied by David de Gea.
That means there are now just 11 players to have taken more than five Premier League penalties and scored them all. The best 100% record now belongs to former Manchester United, Tottenham and Fulham striker Dimitar Berbatov – although Eden Hazard moved joint second on the list with his seventh successful spot-kick against Arsenal on Sunday.
100% Premier League penalty record (min: five penalties taken)
9 OUT OF 9 PENALTIES: Dimitar Berbatov
7 OUT OF 7 PENALTIES: Eden Hazard, Jan Molby
6 OUT OF 6 PENALTIES: Garry Parker, Clive Wilson, Stephen Hunt, Elano, Yaya Touré, Rickie Lambert, Graham Alexander, Craig Gardner
Leighton Baines can still boast a 93.3% penalty conversion rate and according to Opta's data, only four players have a better scoring rate, having taken 10 penalties. The best of them all is Matt Le Tissier, who only failed with one penalty kick in his Premier League career; Mark Crossley saving his effort against Nottingham Forest in March 1993. In fact, that was the only time he failed in 54 penalties in his entire career in all competitions.
Best Premier League penalty conversion rates (minimum 10 penalties)
Matt Le Tissier – 25 out of 26 (96.2%)
Danny Murphy – 18 out of 19 (94.7%)
James Beattie – 16 out of 17 (94.1%)
Julian Dicks – 15 out of 16 (93.8%)
Leighton Baines – 14 out of 15 (93.3%)
The hard yards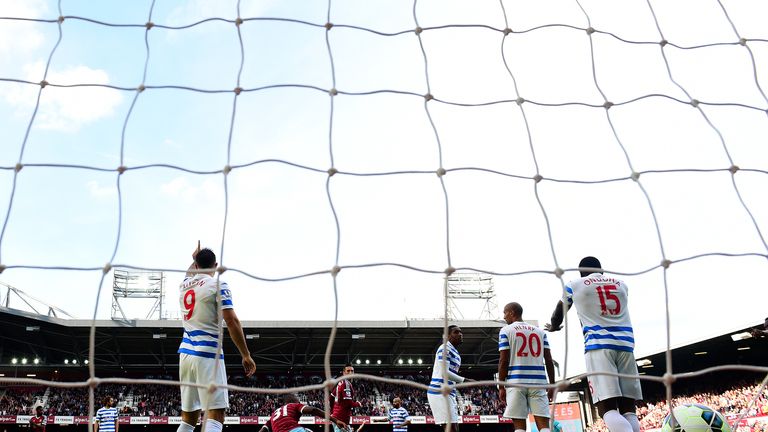 Hi Martin. This week there has been a lot of talk about Queens Park Rangers players not putting in the effort during their games, with Gary Neville branding them "shambolic". I was at the game and they did seem a bit slow and sluggish with little urgency when losing. Are there any stats to supports this? For example did they cover the least ground on the pitch compared to other Premier League sides? Sam Evans, Nottingham Trent University COYI
MARTIN SAYS: To answer your question, I have asked Opta to tell us how much ground each team collectively covered in the Premier League this weekend.
As you suspect, QPR did less running that any other team in the top flight this weekend. Their players collectively ran 107km (66.5miles) according to Opta's stats. That's almost 2km fewer than the next lowest team, Swansea City.
Remarkably, they covered 13km less than Burnley, who notched up 120.4km in their match against Leicester – the most of any Premier League team this weekend. Burnley's players covered 5.5km more than the next side on the list, which was Manchester United who covered just under 115km in their win over Everton.
Burnley were (successfully) chasing the game at Leicester and United boss Louis van Gaal and Spurs' Mauricio Pochettino demand a lot of movement from their players, which perhaps explains why those teams are at the top of this list. It's interesting to note that Burnley ran around 1.3km more per outfield player than QPR.
Distance covered in the Premier League (October 4/5 2014):
Burnley: 120.4km
Manchester United: 114.9km
Tottenham Hotspur: 114.2km
Sunderland: 113.9km
Leicester City: 113.8km
Liverpool: 113.7km
Everton: 113.5km
Newcastle United: 113.5km
Aston Villa: 112.0km
Manchester City: 111.1km
Crystal Palace: 110.9km
Hull City: 110.9km
Chelsea: 110.6km
West Bromwich Albion: 110.1km
Arsenal: 110.1km
Southampton: 110.1km
Stoke City: 109.6km
West Ham United: 109.4km
Swansea City: 108.9km
Queens Park Rangers:107.0km
Games without goals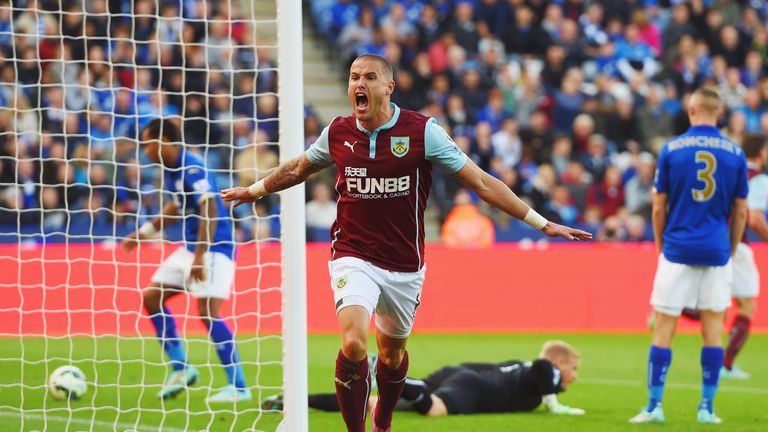 What is the most number of games that a team has gone without scoring? The same about teams not scoring at home? #TylerTeasers @Goonerniketh
MARTIN SAYS: I assume this question was inspired by Burnley, who went five games without scoring before Saturday's 2-2 draw with Leicester.
With the help of Opta I can tell you that six teams have gone even longer than Burnley without scoring. The record belongs to Crystal Palace, who went through nine games in 1994/95 without scoring a goal. Following John Salako's 86th-minute goal in a 3-0 win over Ipswich on November 5, 1994 they failed to score against Man Utd, Southampton, Sheffield Wednesday, Liverpool, Norwich, QPR, Tottenham, Blackburn and Nottingham Forest. The run ended when Ricky Newman scored the first in a 2-0 win over Leicester on January 14, 1995.
Longest Premier League streaks without scoring:
Nine games without scoring:
Crystal Palace (Nov 1994-Jan 1995)
Seven games without scoring:
Derby County (Oct 2007-Dec 2007)
Ipswich Town (Feb 1995-Apr 1995)
Six games without scoring:
Everton (Aug 2005-Oct 2005)
Reading (Mar 2008-May 2008)
Sheffield United (Dec 1993-Dec 1993)
Burnley are still on a run of three home Premier League games without a goal, but that's nowhere near the record, which is held by Manchester City.
Back in 2006/07 they failed to score in eight consecutive home matches between January and May. After Georgios Samaras scored in the 50th-minute of a 2-1 home win over Everton on New Year's Day, they did not score again at home for the rest of the season in matches against Blackburn, Reading, Wigan, Chelsea, Charlton, Liverpool, Aston Villa and Manchester United.
Longest Premier League streaks without scoring at home:
Eight home games without scoring:
Manchester City (Jan 2007-May 2007)
Six home games without scoring:
Newcastle United (Mar 2007-Aug 2007)
Portsmouth (Oct 2007-Dec 2007)
Five home games without scoring:
Everton (Aug 1998-Oct 1998)
Queens Park Rangers (Dec 2012-Feb 2013)
In the record books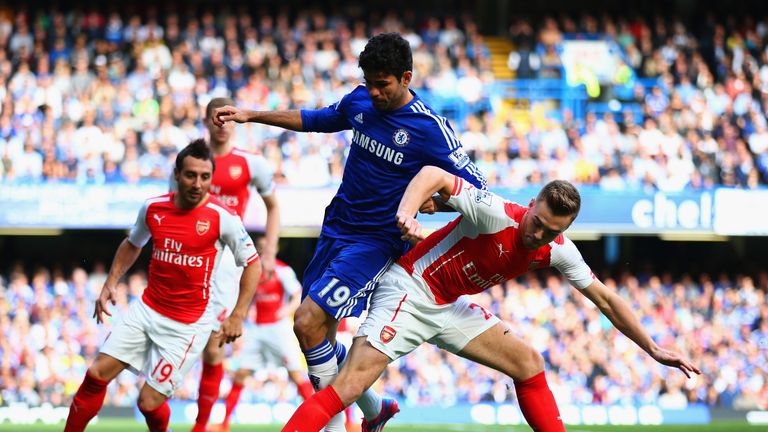 Chambers picked up his 5th yellow in as many games this season. Who has the most yellow cards per game in EPL? sreeniketh
MARTIN SAYS: Calum Chambers may have been booked in all five Premier League starts (not games – he was a sub against Leicester and Man City and didn't get booked) he has made for Arsenal this season, but remarkably his bookings-per-game record is not particularly high because he was not booked in any of his 22 Southampton appearances.
We asked Opta to tell us which players have received the most bookings per game in Premier League history – and stated they must have had a minimum of five bookings. Under those criteria, the only player with a booking more than once every two games is former Blackburn loanee Jermaine Jones. The USA international played 15 games for Rovers in 2010/11 and was booked in eight of them!
Highest bookings per game ratio in Premier League history (min 10 bookings):
Jermaine Jones: 8 bookings in 15 games (0.53 bookings per game)
Jamie Fullarton: 11 bookings in 25 games (0.44 bookings per game)
Nikola Jerkan: 6 bookings in 14 games (0.43 bookings per game)
Jovo Bosancic: 7 bookings in 17 games (0.41 bookings per game)
Florent Laville: 6 bookings in 15 games (0.4 bookings per game)
Samba Diakite: 9 bookings in 23 games (0.39 bookings per game)
Jorge Costa: 9 bookings in 24 games (0.38 bookings per game)
Mark Williams: 9 bookings in 25 games (0.36 bookings per game)
Darren Patterson: 8 bookings in 22 games (0.36 bookings per game)
Craig Moore: 8 bookings in 22 games (0.36 bookings per game)
James Perch got booked in his first five Premier League games for Newcastle in 2010/11 – which is more remarkable than Chambers getting booked in his first five starts.