Nigel Winterburn backs Arsene Wenger to steer Arsenal towards top four
Nigel Winterburn told Sky Sports News Arsenal have the squad and manager to finish in the top four.
Last Updated: 03/12/12 10:41am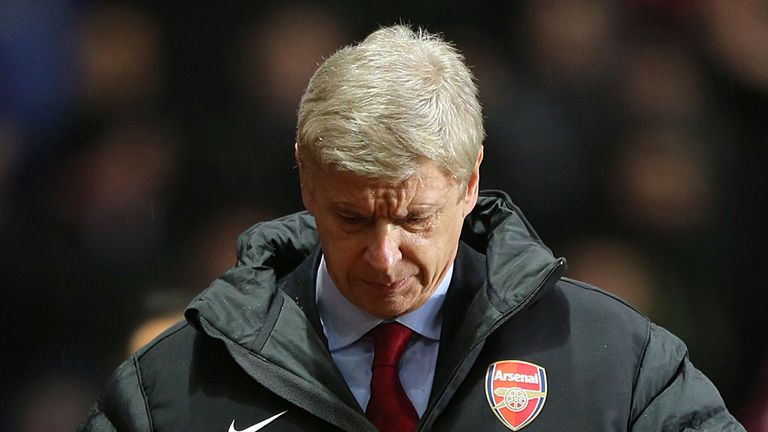 The Gunners have made their worst ever start to a Premier League campaign under Arsene Wenger having picked up 21 points from their opening 15 fixtures and disgruntled supporters made a protest outside the Emirates Stadium after Saturday's home clash with Swansea over a poor run of results and a perceived lack of investment.
Arsenal are five points behind rivals Tottenham in fourth place and sit behind the likes of West Brom, Stoke and West Ham in the table, but Winterburn says they can still reach the Champions League if their players show some leadership on the pitch.
He told Sky Sports News: "Arsene Wenger's going to have to work very hard with this team to get a winning formula, to get confidence back into the team very quickly and to try and push them back up the league and to get near that top-four place.
"At the moment it's looking very difficult for them, but Arsene Wenger will say they were in this position last season and dug themselves out of a hole.
"But that was with Robin van Persie scoring 30-odd goals. Have they got that type of player at the football club this season? People are now having doubts about the quality that Arsenal have at the football club.
"I believe they have the quality there. They've got to stick together, but we've got to see real leaders out on that football pitch.
"You see real leaders when you're not playing well and it's now time for the players to stand up and show how good they are."
Failed
Wenger has been the subject of ire from some supporters this term, having failed to land a trophy in the last seven seasons
However, Winterburn - who played for Arsenal from 1987 to 2000 - backed his former manager and said he may not have been given enough help from the club's board.
"I think he is still the right man," he added.
"I love the style of football that Arsenal have played over the years under him, but what we don't know is the direction the club's moving in.
"I'd love somebody from the football club to come out and tell us what Arsenal's business model is because they certainly don't seem to have the money to spend that the top clubs have got.
"That's the guessing game for the supporters. Is it the board's fault or are they looking at Arsene Wenger and saying he simply won't spend the money?
"I think Arsene Wenger is the right man for the football club and I'm sure he can get Arsenal Football Club back to where they were several seasons ago if he was allowed to bring in some real top-quality players.
"The question we're all asking at the moment is has he got the finances to do that? I'm not sure get Arsenal Football Club has still got the money to do that."
But despite his support for Wenger, Winterburn says he understands the frustrations of the Arsenal supporters who feel they have been misled by the club's hierarchy.
"It's been a really difficult period for Arsenal," he added.
"They started the season really positively, but it's been four wins in all competitions in the last 12 games, which for a big club like Arsenal is simply not good enough.
"You can see that now spilling over into the supporters. They are becoming very very frustrated and feel the club is moving backwards and not forwards.
"The vision they were given by the board is that they needed to go to the Emirates to compete with the big teams like Chelsea, Manchester United and Manchester City
"They now feel that they are much further away from these teams than maybe they were eight or nine years ago."