Reading rebel Danny Guthrie forgiven for refusing to play, says boss Brian McDermott
Reading rebel Danny Guthrie has been forgiven for refusing to play, says manager Brian McDermott.
Last Updated: 13/12/12 11:19pm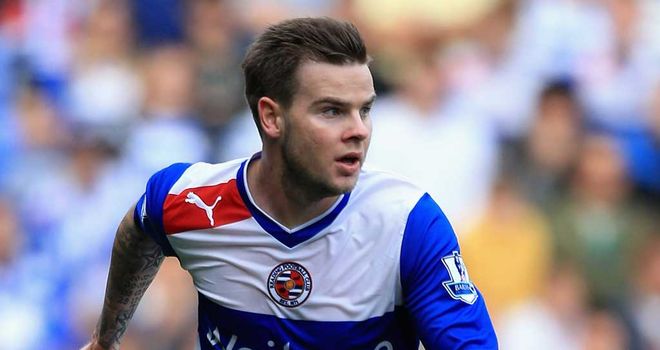 The 25-year-old midfielder refused to play in Tuesday's 3-0 defeat at Sunderland, claiming his "head just wasn't right".
It was a baffling decision for many associated with a club now languishing one place off the bottom of the Premier League.
With Guthrie, fined two weeks' wages for an incident that he insists is out of character, regretting the incident and apologising to the squad, McDermott said: "We can all put this to bed now.
"Every person in life makes mistakes and Danny apologised to all of his team-mates and the staff in a group meeting on Thursday.
"He asked me if he could speak to the entire group before training, it took a lot of courage for him to do that and he deserves respect for his reaction. Now myself, the players and staff will all move on.
"We have 22 games ahead of us and together as one unit we can achieve our
goals for Reading Football Club and for you the supporters."
Before chatting to his wayward star, McDermott said that regardless of events, there was "always a back", adding: "The way back for him is to train to the best of his ability, get himself in the squad, play well and win games. Then the fans can forgive an awful lot.
"I'm always one to see the positives, but I can understand the fans' frustration in this."
Guthrie has recently only recovered from a thigh injury and has played just six matches since his free transfer from Newcastle in the summer.
"I hold my hands up and apologise. It's something that we will deal with internally," Guthrie told the Reading Post.
"There's no problem with anyone. I have my reasons for what happened, it
shouldn't have happened, but it did. My head just wasn't right.
"I love being at this club and I just want to play football. I've never had problems anywhere I have been and I just want to get back to playing football. This is a very rare situation for me."
Earlier on Thursday, McDermott added: "The definition of a good team player is to leave your ego to one side for the good of the team. That is why we have been so successful.
"Everyone wants to play and I understand that, but when you are a professional footballer you are paid to play when you are asked and when you are not playing you support the team.
"That will never change as long as I am here. We've had incidents over the years, but in this league everything gets magnified. There is a lot of talk about this rather than the football side."
Don't miss any live and exclusive football coverage this festive season. Click here to visit Sky Sports' Festive Calendar