Monday Night Football: Arsenal defence needs sorting, says Sky Sports' Gary Neville
Gary Neville was left puzzled by Arsenal's defending at Spurs and feels there are two areas to strengthen.
Last Updated: 04/03/13 9:34pm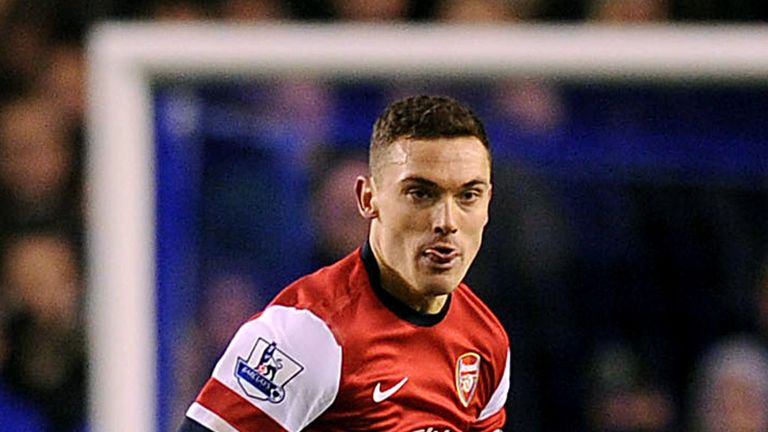 A 2-1 defeat by North London rivals Tottenham Hotspur on Sunday dented the Gunners' hopes of qualifying for the UEFA Champions League and Neville believes centre-backs Per Mertesacker and Thomas Vermaelen have to be held accountable for a disappointing display at White Hart Lane.
Gareth Bale and Aaron Lennon scored similar goals after beating the offside trap late in the first half and left-back Nacho Monreal was at fault on both occasions, but Neville says it is up to those in the middle to set the tone and not play so high up the field.
"I don't think this has been planned, that you should push up when Parker, Sigurdsson and Dembele are on the ball and you have the two speediest wingers in the league up against you in Bale and Lennon," Neville said on Monday Night Football.
"As a centre-back you are controlling the line and the left-back is looking across. Vermaelen moves up and then moves back, and I think Monreal is guessing.
"I was amazed how the game was so squeezed with the space in behind these defenders, and what makes me think that Arsene Wenger and Steve Bould haven't instructed them is that at times they were doing the right thing, dropping off and retreating to the box, and this happened a minute before the goal."
Neville admitted that Monreal also needed to be more assertive as he examined Lennon's goal, explaining: "This is the communication part.
"When you play full-back and you are playing against a quicker player who makes one of those runs, you have got to scream as early as possible and make the alarm bells ring that something is happening, but Monreal can't have done because Vermaelen doesn't alter his position.
"At that point, in a game that was 2-0 to Tottenham, they had more quality, they had more devastation and ruthlessness, they had better execution of pass, but Arsenal also had two centre-backs who I think created an incredible amount of uncertainty for the other defenders.
"Monreal was at fault for the two goals but I had great sympathy for him because I think he was guessing at times about what Vermaelen was going to do."
Victim of his own success
Frustration is growing among the Arsenal faithful as Wenger's side are now five points adrift of fourth placed and without a trophy in eight years, while there is an apparent reluctance to spend heavily in the transfer market.
Neville has a lot of respect for the way Arsenal run their club in difficult financial times, but feels it is time to make a couple of big-money purchases and has suggested that a new striker, as well as a centre-back, be top of their summer shopping list.
Asked about the significance of the Tottenham defeat, Neville also defended Wenger, saying: "It leaves them in a bad moment.
"Arsene Wenger is the victim of his own success and the standards he has set and the expectations of getting to European Cup finals, winning Championships and going unbeaten through seasons.
"I remember 20 years ago playing against Arsenal, Bruce Rioch's team was pretty average at that point.
"At this moment the Arsenal fans seem to resent that the money is sat in the bank and the club are in profit.
"I find it difficult to stick in the knife, in these economic times when the country has gone bust almost. What the club has is a stadium, a manager who has been there for 16 years, they have all the money in the bank and they are set up for the future, but they have to improve."
Neville added: "They have got to get more quality. If you look at Giroud up top, that is not an Henry or an Anelka or a Wright.
"They have now got a problem in the central attacking position and in central defence. They need to sort those two parts of the pitch out and that is where most of the money potentially could be spent in the summer."