Weekend watch
We are only one week into the Premier League season but plenty of teams could already be looking ahead with trepidation as well as excitement. Here we take a look at the key stories ahead of the weekend...
By Daniel Storey, Nick Miller & Adam Bate
Last Updated: 24/08/13 9:44am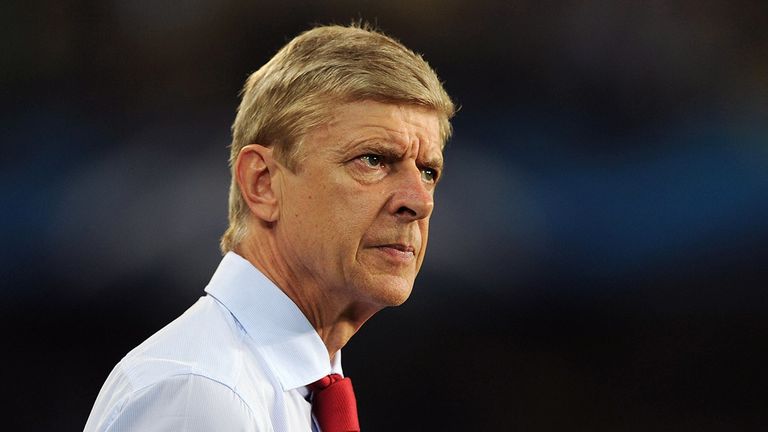 Can Arsenal bounce back?
The opening to Arsenal's Premier League season was as disastrous as it was predictable. The Gunners took an early lead against Aston Villa at the Emirates, but from that moment on suffered a humiliating fall to further dampen the spirits of supporters already disillusioned by the club's lack of transfer activity.
Victory over Fenerbahce in midweek eased concerns but a Premier League response is needed too and the proposed signing of Mathieu Flamini is unlikely to convince Arsenal fans that serious help is on its way. "It is not always to think what is outside is better than what you have," said Wenger. "What is important as well is to rate what you have and our fans have to understand that as well."
He added: "Less than two weeks is a long time and 75 per cent of things happen in the last 10 days. We still have a long time to do what we want to do". Fans are right to be worried if Wenger feels that he has achieved a quarter of his necessary business so far, and the phrase 'a long time' is almost comical given that almost 90% of the window has now passed.
But how do the star players really feel about their chances of success in light of this inactivity? "We have to believe and we've got to go again," said Jack Wilshere after that Villa defeat." The perfect basis for such belief will be three points at Craven Cottage on Saturday.
Sunderland must make their away games count
It is rather early to make such assumptions, admittedly, but Sunderland's opening day home defeat has increased the pressure dramatically on the club's away record at the start of a season in which many expect them to struggle once again.
The reason for this pressure is simple - Paolo Di Canio's side's next seven home league games sees them face Liverpool, Manchester United, Tottenham, Manchester City, Chelsea, Arsenal and Newcastle -the favourites to make up the top six and a local derby in consecutive matches is a daunting task.
Given that in the same period Sunderland face Southampton, Crystal Palace, Swansea, Hull, Stoke and Aston Villa on the road, it is clear that victories must be gained on their travels to avoid becoming involved in an immediate battle to avoid relegation.
Di Canio may have aimed to instigate a revolution at the Stadium of Light over the summer, but the biggest alteration needs to be away performance - this is a club with just 20 away wins in six seasons since promotion.
Can Moyes make it home sweet home?
"I think it's the hardest start for 20 years that United have had. I hope it's not because Manchester United won the League quite comfortably last season that the fixtures have been made much more difficult."
David Moyes' comments, made before the trip to Swansea on the opening day, seemed ill-advised at best, but demonstrated the pressure felt by a man chosen to take over from a manager of Sir Alex Ferguson's calibre. Moyes enjoyed a near-perfect beginning to his competitive managerial tenure at the club, but Monday Night Football against Chelsea will surely provide a far sterner test of his (and his United side's) faculties.
The importance of an air of domination at Old Trafford cannot be overestimated. They have won at least 15 of their 19 home games in each of the last eight seasons and given the evident uncertainty regarding the appointment of Moyes in the minds of some United supporters, a fast start is key to overcome the doubters.
In fact, Moyes will have to achieve something that his predecessor was unable to do often enough - overcome Jose Mourinho. Of his 14 matches against Manchester United in his managerial career, the Portuguese has six wins and just two defeats. Time to step out of the shadows indeed.
Second chance for the promoted trio...
Three matches, three defeats, no goals and just six shots on target for the trio of promoted clubs on the opening weekend, and plenty of evidence that there is much work to do to ensure the avoidance of winters of discontent. In fairness to Hull, Crystal Palace and Cardiff, all three faced difficult tests to start the season, but that is now their reality.
Steve Bruce's Hull host a Norwich squad rejuvenated by significant investment, whilst Crystal Palace must travel to the Britannia Stadium, home to many a high-profile scalp in recent season, but such fixtures have to be viewed as winnable.
And Cardiff? After a single shot on target against West Ham, they face a Manchester City side that conceded just one of their own to Newcastle on Monday. Good luck is all that can really be said.
Are Man City the real deal this year?
Manchester City looked in ominous form as they dismantled Newcastle United at the Etihad Stadium on Monday night and the Super Sunday trip to newly-promoted Cardiff City offers a real opportunity to inject further pressure before their presumed title rivals do battle the following evening.
The wing play of Jesus Navas hinted that Manuel Pellegrini has the players at his disposal to give City's attacking play a new dimension this season, while Alvaro Negredo and Stevan Jovetic are likely to ensure Carlos Tevez and Mario Balotelli are missed more by the tabloids than on the pitch.
But will this attacking approach come at the price of greater uncertainty at the back? City had their wobbles in pre-season and whatever the morale was like under Roberto Mancini their home record remained imperious throughout. A visit to a pumped-up Cardiff City Stadium will tell us a lot more about this team's staying power.
For a full analysis of Manchester City's win over Newcastle click here.
Can English players build on their start?
Whilst there is a seemingly constant air of negativity surrounding the England national team, last weekend did provide causes for significant optimism. Danny Sturridge scored the opening goal of the season, firing home from twenty yards past Stoke's Amir Begovic, whilst Danny Welbeck doubled his league tally from last season, his second an impudent chip to cap victory over Swansea.
Meanwhile, at Carrow Road 19-year-old Ross Barkley started just his fifth league game for Everton, and was instrumental in a new-look Everton side that had more possession and made more passes than any other side that weekend. The young midfielder capped off a Man of the Match performance with a stunning striker on his weaker foot.
It was a Premier League match week in which fewer English players were used than ever before (34.1%), but add in Gabriel Agbonlahor's prowess in winning two penalties against Arsenal, Southampton starting three 18-year-olds and Rickie Lambert following up his England debut goal with the winner at the Hawthorns and signs do still exist that Roy Hodgson may be persuaded to pick players on form over reputation. Long may that continue.
Will Spurs become the 'great entertainers'?
It has been a transfer window in which many of the top teams have faltered in their ambitions. Manchester United have spent just £1.5million, Chelsea £60million less than last season, Arsenal's failings have been well-documented and Liverpool are still operating at a net profit for the summer.
Not so at White Hart Lane, where the appointment of Franco Baldini may well be the most important in Europe this summer. It is not just that Spurs have bought and bought big but they have recruited players that are at worst pleasing on the eye and at best downright beautiful to watch.
Nacer Chadli, Paulinho, Roberto Soldado, Etienne Capoue, with Willian, Erik Lamela and Miralem Pjanic also the subject of reported interest. Even without the current misgivings of their north London neighbours, this is a fine time to be a Spurs supporter - Gareth Bale or no Gareth Bale.
Could things get ugly at Newcastle?
Sam Allardyce takes his West Ham team to his former employers Newcastle on Saturday. Say what you will about Allardyce, Gold, Sullivan and Brady, at least there seems to be a common purpose at Upton Park.
The same cannot be said of Newcastle, where Alan Pardew shuffles out every few days to say how confident he is that Joe Kinnear will recruit a few players, with increasingly nervous and skittish eyes. Of course he's doing that when he isn't blaming defeats on transfer bids submitted on the day of a game. Even though it seems Arsenal's offer for Yohan Cabaye was actually made three days before their defeat to Manchester City. No matter.
Pardew is, at present, just about getting away with hiding behind Kinnear, Ashley et al as the villains of the Newcastle piece, but that won't continue for much longer if they get a bad start to the season.
Picture the scene - Kevin Nolan wheels away, chicken-dancing frantically, as police horses all over Tyneside cower. It could get pretty ugly.
Signs of improvement for Stoke?
"I can only see good things for us this year, definitely," said Matthew Etherington this week. One of the reasons for his optimism is apparently Mark Hughes' new training methods. "I can't speak highly enough of the training we've had since we came in for pre-season," he added.
"It's been top notch, real top-class training. I think the longer we go on doing what the manager wants and him drumming it into our heads and implementing it every day in training, we will get better. We passed the ball well at Anfield, but at times we could have used it better."
There were indeed signs of improvement at Liverpool last week, but they still did not take advantage of a rather profligate home side. If there is to be a shift in style, it will of course take time to implement. A win at home to Crystal Palace on Saturday would help that process along rather.
What should I be betting on?
Roberto Martinez takes charge of Everton at Goodison Park for the first time on Saturday after seeing encouraging signs that his players have responded well to his approach in the draw at Norwich last weekend. You can read more on Martinez's immediate impact here.
The opponents this weekend are last season's surprise package West Brom. Not only did the Baggies suffer the disappointment of opening day defeat to Southampton but they have also endured the news that summer signing Nicolas Anelka has told Steve Clarke he wants to quit football.
You can back Everton and over 2.5 goals at 11/8 with Sky Bet and given Martinez favours a more ambitious attacking game than they are used to at Goodison, this looks a distinct possibility.
Courtesy of Opta...
12 - Roberto Soldado has now scored 12 goals in his last 10 games for both Valencia and Tottenham. Streak.

- OptaJoe (@OptaJoe) August 22, 2013
17 - Christian Benteke has now scored 17 league goals in 2013, three more than any other Premier League player. Deadly.

- OptaJoe (@OptaJoe) August 21, 2013
8 - Edin Dzeko had eight shots against Newcastle, more than seven entire teams managed on the opening weekend. Rebooted.

- OptaJoe (@OptaJoe) August 20, 2013