Good to be back
Olivier Giroud's goalscoring return, Liverpool's glorious front four, Tigers' mauling of Bluebirds, Edin and Roberto's miserable runs and Rooney's bumper new deal all figure in our weekend round-up
By Daniel Storey - @danielstorey85
Last Updated: 24/02/14 3:18pm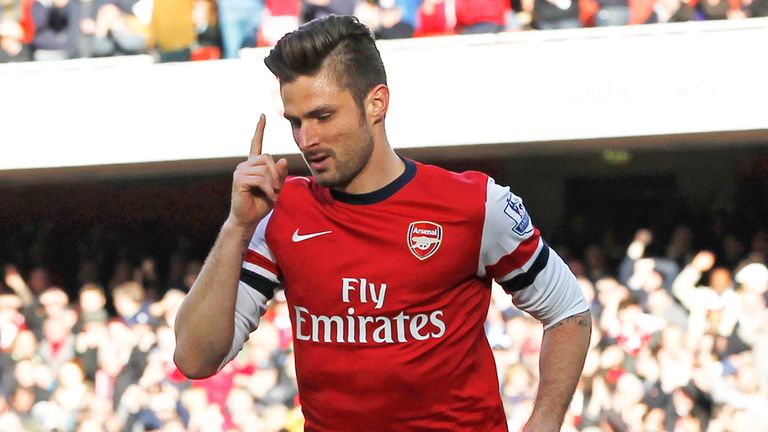 Good to be back
Disregarding any of Olivier Giroud's alleged recent escapades, there was no doubt that in the minds of Arsenal supporters that it was damn good to see him back to his best on Saturday against Sunderland. He has been sorely missed.
The Frenchman's omission for the FA Cup tie against Liverpool was understandable. Arsene Wenger's insistence that Giroud had "looked a bit tired recently" fell on understandably deaf ears after tabloid exposés, but being rested for Arsenal's tertiary priority was not a surprise.
His further exclusion against Bayern Munich on Wednesday, however, hinted at a more punitive measure taken by the club, or alternatively that Giroud had matters within his private life that required resolution before his professional responsibilities could be resumed. Whatever the explanation, there is little doubt that Giroud looked rejuvenated against a clumsy, disorganised Sunderland side.
His first goal was as a result of Jack Wilshere's surge from midfield, his pass finding the Frenchman's left foot - a cool finish was the predictable result. The second came after a woefully weak backpass from Santiago Vergini, from which Giroud was able to poke past Vito Mannone and into the net, and there was still time before the break to provide an assist for Tomas Rosicky to complete the sort of mesmeric team goal from which Arsenal could be forgiven for attempting to trademark.
"I had no hesitation about Giroud's strength of character and I wanted him to come back in the team and be successful," was Wenger's post-match assessment of his striker's return. "He was today by scoring two goals, one great one at the end of a good movement and one a gift."
If he can put personal concerns to one side, there is little doubt that Giroud's form will be crucial in any potential late-season success. Given the lack of alternative options, this is Arsenal's most important player.
Attack, Attack, Attack
For all the understandable talk over Manchester City's phenomenal attacking prowess this season, this is now the Premier League's top-scoring side. At times against Swansea, they looked utterly and absolutely brilliant.
The most positive news for Roy Hodgson (and Liverpool fans, actually) is that this was an attacking display without principal threat Luis Suarez offering anything of note other than his growing sense of frustration at a current lack of goals. Instead, on an afternoon following a dismally dull draw for Euro 2016 qualifying, the England manager will have been left hugely impressed by the English trinity at the heart of all Liverpool did right. They may form the heart of that campaign.
Daniel Sturridge will take the headlines, and rightly so. The striker now has 27 goals in his last 27 domestic matches, and has scored at a rate of a goal every 83.1 league minutes played this season. That's a better record than Cristiano Ronaldo (83.6 minutes), Lionel Messi (95.1 minutes), Zlatan Ibrahimovic (97.1 minutes) and Diego Costa (101.8 minutes). It sounds inherently strange to say, but four months before the World Cup there is no striker in better form, and he's English.
Next up is Raheem Sterling, who continues his remarkable resurgence at Anfield. Only provided with his second start of the season following Sturridge's ankle injury in November, such has been Sterling's excellence that Brendan Rodgers has altered Liverpool's tactical shape in order to guarantee his inclusion. His pass to Sturridge for the opener against Swansea was sublime - this now looks like a winger with both pace and end product.
Finally comes Jordan Henderson, a midfielder with a reputation fully redeemed after being unfairly tarred with the brush of Liverpool spending £68million on him, Stewart Downing, Charlie Adam and Andy Carroll within a seven-month period. That Henderson scored more than one goal in a game for just the second time in almost three years against Swansea is a testament to the faith paid in him by Brendan Rodgers, who has increasingly allowed the midfielder to operate in an advanced role ahead of Steven Gerrard. He excelled there against Swansea.
"Jordan showed great leadership today," beamed Rodgers after the match. "You could see him driving the team on. We've been telling him to get into the box and arrive in there, because he's got the energy and legs to do that."
It's a quote that could have been used about Gerrard a decade ago, and provides hugely positive signs for both club and country. A conclusion that would have been unthinkable just a year ago is becoming ever more apparent - England must look to replicate Liverpool's attacking aptitude to have their best chance of success in Brazil.

Same old Chelsea
As mentioned here, this all just feels a bit inevitable with Chelsea. 1-0 wins were the hallmark of Jose Mourinho's success during his first tenure at Stamford Bridge (Chelsea won 11 games by that scoreline in the 2004/5 title-winning season). The victory over Everton on Saturday lunchtime was just their third by that score in the league this season, but also their second in four matches.
It was lethargic, it was ugly and it was won with the fortune that all successful title bids rely, but this is a time of the season at which the result is king, and nothing else matters. When the going gets tough, Chelsea and Mourinho revert to what they do best.
Hammer time
Football continuously provides reminders of quite how quickly things can change, but West Ham's current surge is perhaps a more obvious example of this than any other this season.
Less than a month ago, all looked lost. West Ham had been beaten 3-0 at home to Manchester City in the Capital One Cup to complete a 9-0 aggregate defeat, been thrashed 5-0 at Forest in the other domestic cup and had taken five points from their last 27 points available in the Premier League. They were second bottom of the table.
At such a time, Sam Allardyce looked a dead man walking, his excuse about his side's injury list perfectly valid but becoming dangerously well-worn. It seemed a matter of when, not if, he would be removed from his position, finally separated from his handsome salary.
Since then, Allardyce has been entirely vindicated for his demands of patience, and the faith in him from the club utterly justified. The turning point was the draw earned at Stamford Bridge in Alamo-esque circumstances, a tiring, demanding point that peculiarly seemed to give the players renewed energy. Four successive wins have followed, with just a single goal conceded in that spell. It's close to seven years since the Hammers have won four on the spin, in the glory, halcyon days when Alan Curbishley was a competent manager.
"It proves my point again, doesn't it?" Allardyce boasted after the game. "That's why I'm good at what I do." Quotes such as that make Allardyce a difficult man to warm too but, despite his huge wage, it's hard not to respect both how his side are playing and their recent results.
Cheap at half the price
The illogicacy in paying Wayne Rooney £300,000 a week may well not be fully known until Adnan Januzaj, David De Gea, Juan Mata or any potential summer signing clears their throat and enquires as to why they won't be paid the equivalent or similar, but all Rooney can do to answer the critics (of which there are many) is score goals. After a dry spell of one goal in eleven matches for United he did exactly that, and what a finish it was too.
"I've been trying to do well for the team and trying to help us win," Rooney told Sky Sports after the match at Selhurst Park, as if that was anything above the minimum expectation of a forward paid very handsomely even before this improvement.
That said, Rooney turned in another performance of great determination and no little quality against Palace, one that left his manager unsurprisingly waxing lyrical. "Wayne's one of the top players. He shows it week in, week out for us and you can see the change in him - his leadership, what he's trying to bring to the team."
Now to just keep doing it until you're 33, Wayne.
Chris Hughdini
Chris Hughton appears to be some sort of Chris Hughdini, seemingly able to wriggle out of an impending sacking by getting a result just in the nick of time. The victory over Spurs owed much to the monotony of their opponents' attacking attempts, but Norwich fans will care not a jot.
The hope for Norwich fans is that, like the famous escapologist, the punch in the stomach represented by a final four fixtures against Liverpool, Manchester United, Chelsea and Arsenal don't act as the fatal blow.
Brucey bonus
It says a huge amount about the job that Steve Bruce has done at Hull that a 4-0 away victory is not bigger news, but such is the reward for sensible transfer activity, bringing in Premier League experience to bolster a Championship-looking squad. Tom Huddlestone, Jake Livermore, Nikica Jelavic and Shane Long were all involved in Hull's four goals against Cardiff, four players whose combined fees equate to just over the price of Ricky Van Wolfswinkel and Andreas Cornelius.
Safety has now surely been confirmed, and for that Bruce and Hull should be warmly applauded.
Cometh the (seven-and-a-half) hour (without a goal), cometh the man
After eight weeks and four days (and 462 minutes of actual playing time), a goal! An actual league goal! At home!
Newcastle may still be drifting through the remainder of the season, without another fixture to actually excite fans until at least August, but at least they improved after an unimaginably dreary first half against Aston Villa. Some fans had been wondering whether they would actually ever score again.
The Geordies have played five Premier League matches without Loic Remy this season - they have failed to score a single goal in any of those games.
Given the complete regression of Papiss Cisse's confidence and finishing, Newcastle fans will be mightily relieved that they managed to tempt Remy up to St James' Park last summer. Without him, this would have been a campaign of great struggle.
Soldado to the highest (first) bidder
Another chance late on in a match for Roberto Soldado and another horribly shanked effort, only tempered by the fact that it was less horrific than the one against Dnipro on Thursday. That's not a huge consolation for Spurs fans watching Alvaro Negredo perform for £4million less and Daniel Sturridge for half the price. Thank goodness he takes good penalties, eh?
It's now one goal from open play in 22 Premier League games for Soldado. With a summer move back to Spain looking likely, things are beginning to look terminal. Spurs fans may have scoffed at the recent form of Mesut Ozil, but should hold back their laughter - theirs is surely the worst Premier League signing of the season, and we've not even got onto £30million man Erik 'three league starts' Lamela.
Bluebirds mauled by Tigers
That, it appears, may just be that. Cardiff may only be three points from safety and with a comparatively gentle run-in, but if you lose 4-0 at home to Hull City then relegation should be something of a certainty.
Cardiff looked likely to be the best equipped to deal with the rigours of Premier League football in August. The purchases of Steven Caulker and Guy Medel seemed logical and intelligent, and Malky Mackay a manager that players seemed to place faith and belief in. This is a side that finished 15 points ahead of Crystal Palace last season, and seemed to have improved.
Unfortunately, for many, the actions of owner Vincent Tan has caused the club to crack at its very core. His sacking of Mackay came as little surprise, but the decision to appoint Ole Gunnar Solskjaer looks one soaked in ineptitude.
"It's an embarrassing defeat," the Norwegian said after a match in which his side were outclassed by a Hull side buoyed by a rejuvenated Nikica Jelavic. "I'm not going to make any excuses. We just weren't good enough." Cardiff fans don't want excuses, but instead a manager that seems capable of changing a losing mentality.
Solskjaer has now had seven games in charge in South Wales and he has taken them closer to the drop. The sole league win came in fortune and from behind against Norwich at home, but the manner of the defeat to Hull put paid to any of the possible confidence taken from four points in their last two home games. Appointing the Norwegian seemed a huge gamble given that his only managerial experience came at his previous club Molde, who he took to sixth place in the Norwegian league last season, and he looks completely unprepared to, and incapable of, coping in a relegation battle.
Fulham gave Rene Meulensteen 13 league games before concluding that his inexperience made him unsuitable for the task at hand, bringing in Felix Magath. How long before Vincent Tan takes a similar plunge? Right now, Cardiff look nothing but doomed with Solskjaer in charge.
Edin out of sorts
When Edin Dzeko inexplicably missed an open goal against Stoke on Saturday, somehow managing to kick the ball against his standing leg, his frustrated response was to kick out at the post in anger. City fans may have been surprised to see him actually connect with the goal rather than getting his foot caught in the net, such is Dzeko's ghastly form.
The salient fact is this - in his last five matches Dzeko has attempted 25 shots, but only three have hit the target. He can no longer be relied upon in the biggest matches or the tightest situations.
The Bosnian has 17 goals this season, but on only two occasions, against Crystal Palace at home and Leicester away in the Capital One Cup, have his goals actually affected the outcome of the match. A striker does not enhance a reputation by scoring half of his goals in 5-0, 5-0, 5-1, 6-0 and 7-0 victories, and never has a return of a goal every two games looked as false.
Dzeko's status in the City squad is waning, and this is a club with no scope for players to be carried (or at least it shouldn't be). Manuel Pellegrini will surely spend the summer looking for a viable replacement?