Can Sunderland win?
It's 41 years since Sunderland won a major trophy and they're huge underdogs for Sunday's Capital One Cup final against Manchester City at Wembley. But Adam Bate makes the case for a Black Cats upset...
By Adam Bate
Last Updated: 28/02/14 2:15pm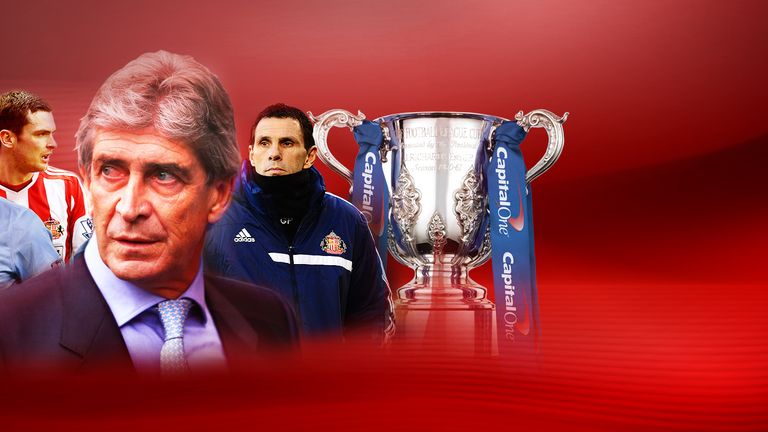 Ben Watson's stoppage-time header delivered one of the great cup stories last season as little Wigan Athletic saw off mighty Manchester City to win the FA Cup. Now it's Sunderland hoping to stop the City juggernaut as they visit Wembley for the Capital One Cup final.
Of course, it won't just be those in the Sunderland dressing room discussing the events of last May. City's stars will surely be determined to ensure that history does not repeat itself. It is a huge ask for Sunderland to recreate Wigan's stylish efforts, but having already seen off Chelsea and Manchester United in this cup run, there are ways in which they can at least boost their chances. Adam Bate looks at six steps to spark Sunderland optimism...
Cattermole to provide the bite
Sunderland didn't exactly warm up in style for the big game with a sloppy display as they were hammered 4-1 by Arsenal last weekend. Three goals down by half-time, Gus Poyet's men were never in it. "You need to be smart enough to slow down the game and organise," said Poyet afterwards. "You have to be patient and press the ball, but we didn't."
Indeed, perhaps the most alarming aspect to the defeat was that Sunderland were not only outplayed but outfought as Arsenal's slick stars were allowed to dance through the Black Cats midfield. That's exactly the sort of football that the returning Lee Cattermole will be out to stop. The midfielder was rested for the trip to the Emirates Stadium with the cup final in mind.
Poyet even suggested that the 25-year-old was omitted over fears that referee Andre Marriner would send him off against the Gunners and while the result sparked debate as to the wisdom of that decision, few would argue the manager's concerns were groundless. Sunderland have the most red cards of any team in the Premier League this season, with Cattermole among the culprits.
However, the midfield bite that Cattermole can provide is exactly the sort of approach Poyet must put his faith in at Wembley. Breaking up City's fluid passing game will be essential if his team are to prevail. "If there is one player starting next week, it is Lee Cattermole," said Poyet after the disappointment of the Arsenal result. "The rest at the moment are substitutes."
Recall Giaccherini
Poyet continued: "No one has put them on the sheet for next week. No one. Everything I had in mind for next week is gone in 90 minutes, gone completely, so we start from zero." That's good news for winger Emanuele Giaccherini as the summer signing tries to force his way into the starting line-up following his return from injury.
The Italy international made an encouraging comeback in the FA Cup win over Southampton and his consolation goal at Arsenal might well have swayed Poyet's thinking. That could be crucial to Sunderland's hopes for a couple of reasons. Not only would a fit and in-form Giaccherini help the side, but his inclusion could see Fabio Borini move to his favoured central striker role. And that presents particularly intriguing possibilities against City...
Expose City's lack of pace at the back
Martin Demichelis has become something of a focal point for concerned City supporters with his unconvincing performances. However, the full horror of his display against Barcelona was a little overplayed. In fact, the Argentine succeeded in keeping compatriot Lionel Messi quiet for almost an hour prior to his sending off. You'd think Jozy Altidore should be a walk in the Wembley park.
But there is an issue there. While Demichelis isn't the slowest once he's properly into his stride, against Stoke last weekend the Premier League tracking data revealed that his average speed was inferior to any other outfield player on the pitch. This reflects a sluggishness off the mark that is all too painfully evident to the naked eye.
For Sunderland, this is an opportunity and there is a chance to expose their illustrious opponents with pace in behind the defence. An out-of-form Altidore might not be the man to do it, while Steven Fletcher is struggling for full fitness, but Borini might prove a good option. The Italian's 59 sprints against Arsenal were more than anyone else on either side and Borini versus Demichelis is a match-up that any savvy manager would surely go out of his way to facilitate. Get Borini up top.
Hope Aguero is not fully fit
Of course, keeping Manuel Pellegrini's free-scoring side quiet at the other end can be a very difficult challenge. And yet, if Sergio Aguero is not back to full fitness then there is plenty of evidence to suggest that this task becomes rather more doable. City were on a run of 18 wins and two draws from their 20 games up to and including the 5-1 win at Tottenham in which Aguero was injured. They've lost two and drawn one of the five games since.
Moreover, the goals have dried up. City have netted just three goals in five games without the diminutive Argentine striker, with Edin Dzeko proving a comically inadequate replacement against Stoke. Alvaro Negredo with Jesus Navas, David Silva and Samir Nasri on the bench remains an attack to fear, but Poyet is entitled to feel an awful lot happier if Aguero is on the sidelines.
Make it a long-distance shooting contest
If City are without their fox in the box, it will only aid Sunderland's hopes of keeping City at arm's length. And a long-distance shooting contest would certainly favour the underdogs. Recent statistical research by Colin Trainor, available here on the Statsbomb website, somewhat counter-intuitively suggests shooting from distance is a good option for sides and - crucially - that there is little difference in that shot success between good sides and bad. As Phil Bardsley showed in forcing an error from David de Gea in the semi-final at Old Trafford, if you don't buy a ticket...
Furthermore, there is evidence to suggest it could be a particularly lucrative option for Sunderland against Manchester City. Pellegrini's men have actually conceded more goals from outside the box than Sunderland this season. Vito Mannone has the best save percentage from outside the box (94.2 per cent) of any regular goalkeeper in the Premier League. By contrast, Joe Hart languishes down at 85.7 per cent, while alternative Costel Pantilimon - Pellegrini's choice thus far in the competition - has done little to inspire confidence. Could Sunderland have a goalkeeping hero?
Settle it with set-pieces
If the cup final long shots are to rely on, err, long shots, then Jack Colback's poor performance against Arsenal could hardly have been more unfortunately timed. Sebastian Larsson made a good impression from the bench and the Swede's dead-ball delivery means Poyet is unlikely to require much of an excuse to turn to the midfielder instead. In fact, with set-pieces vital to Sunderland's hopes, how can he ignore him?
No Premier League team has been more reliant on dead-ball situations this season, with 12 of their 26 goals coming from this source - a huge 46 per cent. With only 10 players in the top flight having created more chances from set-pieces than Larsson, there is a strong case for using the 28-year-old in order to maximise what are likely to be limited opportunities at Wembley. It won't be easy and they'll need some luck, but that's our Sunderland side to make history on Sunday...
Have your say on Sunderland's line-up and tactics in the comments section below...