Memory lane
Ahead of Sunday's Capital One Cup final between Manchester City and Sunderland at Wembley, Sky Sports speaks to Dennis Tueart, who was the last man to win the cup for City back in 1976...
By Peter Fraser - Follow me on Twitter @SkySportsPeteF
Last Updated: 01/03/14 12:02pm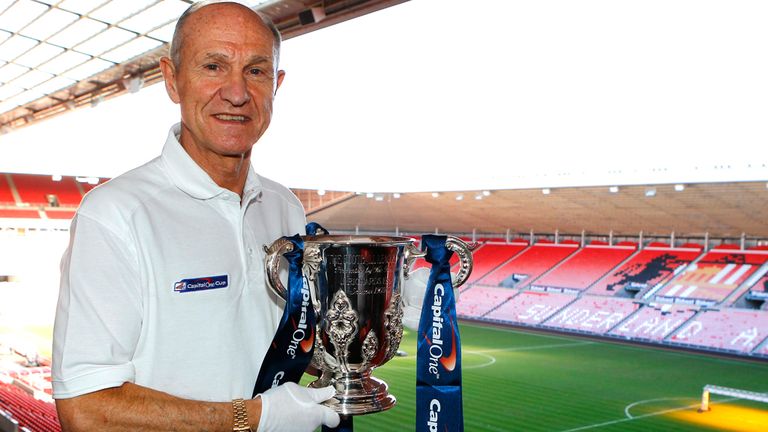 Dennis Tueart made his name as a cup hero. His spectacular overhead kick which defeated Newcastle United and won Manchester City the 1976 League Cup has gone down as one of the greatest in the competition's history.
That 2-1 win, with Newcastle's Alan Gowling having previously equalised Peter Barnes' opener for City, was the last time City won the tournament. It is a statistic Manuel Pellegrini's side will be looking to address this weekend at Wembley in the Capital One Cup final when they take on Sunderland.
But there was also an added connection for former England international Tueart in that final 38 years ago. The now-64-year-old defeated Newcastle, his boyhood club, having joined City from Sunderland in 1974 shortly after previously winning the 1973 FA Cup with the Black Cats.
Tueart will therefore have split loyalties this weekend when both his former clubs, City and Sunderland, face-off at Wembley and, here, he looks ahead to the game while also reminiscing on an illustrious career which included succeeding Pele at New York Cosmos.
You are the last man to win the League Cup for Manchester City. Talk us through what you remember of that final victory over Newcastle in 1976?
"It was a fascinating game. First of all, because it was against my hometown club but also because it was the League Cup. In the League Cup, the two participating clubs get a bigger share of the ticket allocation and therefore there were more genuine supporters at the game. That final was nicknamed 'The People's Final'. We also do not get enough credit for our first goal, which was a fantastically worked set-piece before Peter Barnes scored. It does not get enough credit, because my goal overshadowed it."
You cannot understate your goal. How did you manage to score that spectacular overhead kick?
"It was in the 46th minute and Wembley was not the grand stadium that it is now. The facilities were crap. That meant a lot of people were still coming back from the toilets or buying a cup of Bovril at half-time and so they missed the goal! Newcastle had been the better team going into half-time so we had to come out all guns blazing and we got the goal. Alan Oakes played the ball wide to the left to Willie Donachie. Tommy Booth was playing instead of Colin Bell, who had got injured against Manchester United in the earlier rounds. Tommy was normally a centre-back but got to the far post to meet Willie's cross and he was always a terrific header of the ball. I ducked inside to look for the knockdown. Unfortunately I had gone in too far and the ball went behind me. I had always been good at volleying, adjusted very quickly and got a good touch. I did not even see the ball go in the back of the net. But as soon as I knew I had scored a fantastic goal, I was off celebrating. If Asa Hartford had not caught me, I would probably still be running around the stadium celebrating now!"
Was that final a tough game? Were there any Newcastle players who were not afraid to leave you with a bruise or two?
"Newcastle were an attacking team. They had Mickey Burns, Malcolm Macdonald and Alan Gowling, who got their equaliser. Alan Kennedy was also an attacking full-back. They had a very strong team. Newcastle's captain, Tommy Craig, gave me a bruise when we were on the halfway line but that was not a problem."
Is it true you changed shirt with Alan Kennedy after winning at Wembley and that caused you problems in the post-match celebrations?
"It did, yes. I knew Alan and we changed shirts. When I went up to collect my winners' tankard, it was tankards in those days and not medals, the person who was giving out the awards thought I was a Newcastle player and was not going to give me it. Someone had to tell the person who I was. Afterwards, once we had all had a drink of Champagne out of the cup, I took it into the Newcastle dressing room. I knew some of the Newcastle players so it was my way of showing a bit of respect for a great game."
Is it also true that you had to stay in London with Peter Barnes for a PFA awards ceremony rather than travel back to Manchester from Wembley with your team-mates for the homecoming celebrations?
"That is right. The PFA award was in London on the Sunday night and we missed the homecoming. I cannot even remember what we did on the Saturday night."
You supported Newcastle as a boy but then they turned you down as a youngster and you joined Sunderland. What happened?
"I was born and bred in Newcastle and supported them all my life. I played for Newcastle schoolboys and then at 15 years old they rejected me as an apprentice. I played a year on schoolboy forms with Sunderland and had to travel forwards and back on Tuesday and Thursday nights in a two-hour journey each way from my school to Roker Park. I was lucky to then get a game in the youth team on a Saturday. I did well and got the offer of a one-year professional contract at the end of that and, I guess, the rest is history."
You then left Sunderland to join Manchester City. Why did you make that move?
"It was one of those situations where, after the FA Cup, we as a group of players were forced into choices. The only choice we should have had was to sign new contracts. But the club did not recognise that and did not match the ambition of the players. They tried to avoid increasing salaries. I was forced to make a choice. We were not going to get promoted in the next season, because we had a bad start, so I asked for a transfer."
You had two spells at City, leaving in 1978 before returning one year later. But in between then you went to play with New York Cosmos when football in the USA was attracting the likes of Pele, Franz Beckenbauer and Johan Cruyff. That must have been a fantastic time?
"It was Hollywood on the road. Pele had gone there in 1974. Beckenbauer was also there and so was Carlos Alberto. I got the opportunity to go there and did not realise when I arrived the player who I would be replacing was Pele! He had retired so I was replacing Pele! No pressure there! But it was a fantastic experience."
Where are your allegiances going to be on Sunday in this season's Capital One Cup final between City and Sunderland?
"I am going to respectfully sit on the fence. I am going to sit on my hands for the game. Whoever wins the game, I will be happy for them."
It was a long time between City winning the League Cup in 1976 and then winning the FA Cup in 2011 but they are now accustomed to success. What do you think this season's Capital One Cup means for City?
"I think it is an important match for Pellegrini. I think he will want to win his first trophy. He has been brought in with a big reputation to settle things down after Roberto Mancini. He is still in four competitions, even though the Barcelona game in the Champions League seems a stretch."
Dennis Tueart was speaking on behalf of Capital One, the credit card company and sponsors of the League Cup.