Why Atletico Madrid midfielder Koke could be a key man for Diego Simeone's side against Chelsea
Diego Costa is the man everyone has been talking about at Atletico Madrid this season. But Koke has become a hugely important figure too and is a man capable of causing Chelsea real problems in the Champions League semi-final. Adam Bate finds out more...
Last Updated: 22/04/14 9:10am
Barcelona had no answer. Swamped by Atletico Madrid's pressing game, they were simply overwhelmed in a 20 minute onslaught.
The decisive blow in the second leg of their Champions League quarter-final in the Spanish capital was struck by Koke, sweeping home to send the Vicente Calderon Stadium into raptures. Xavi Hernandez, Andres Iniesta et al were vanquished. And given their presence on the pitch, the identity of the scorer felt entirely appropriate. This is Koke's time.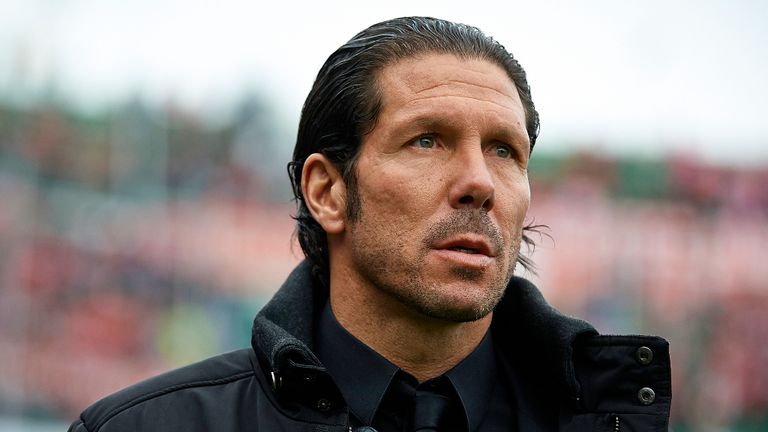 He is a guy with a huge future. He gives us many solutions in games and is an example to the guys pushing from below.
Diego Simeone on Koke (Source: AS)
Xavi is a self-confessed admirer. "Koke is an extraordinary footballer," he said prior to the quarter-final. "He has everything: talent, physical ability, he is a footballer of the present and the future. He has been marked out as the conductor of Spain's orchestra for the next 10 years. I have a special affection for him because we play in the same position and I think he is an extraordinary player."
Xavi's comments suggest that he sees plenty of himself in Koke. And yet, it is long-time partner in midfield mischief, Iniesta, who more closely resembles the Atletico man in style. Collecting the ball on the left of midfield with his favoured right foot and then scheming in search of that incisive through-ball, Koke has emerged as a key figure in the club's rise.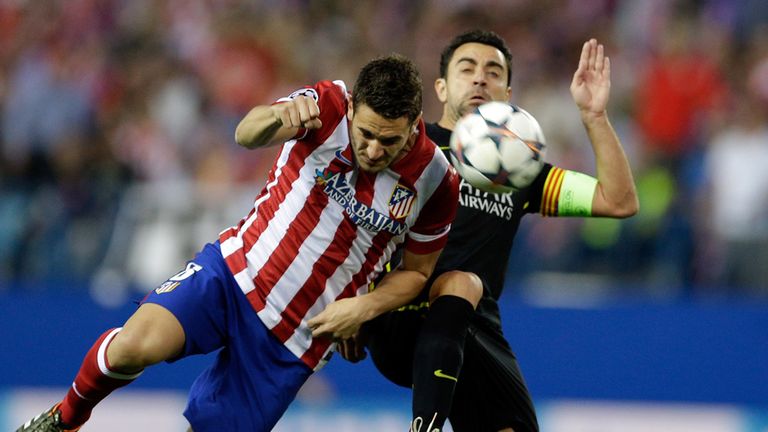 It's all very different from his inauspicious debut against Barcelona in 2009. Atletico were thrashed 5-2 at the Camp Nou with Koke taking time to develop into a bit-part player of promise under first Quique Sanchez Flores and later Gregorio Manzano. It is the guidance of Diego Simeone that has sparked an exponential improvement in both player and team.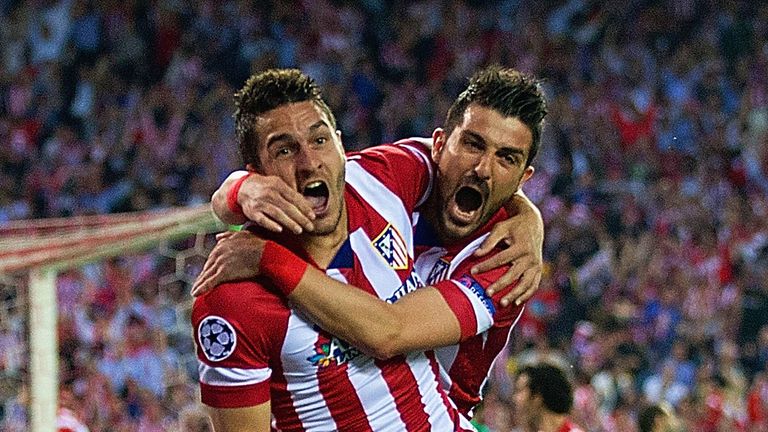 He has everything. He's young and has a great future. He can score, tackle, make a great pass to assist and he's physically strong.
David Villa on Koke (Source: FFT)
"The trainer changed and everything changed," Koke told FourFourTwo earlier this year. It's a succinct turn of phrase that sums up something altogether remarkable. Atletico lead La Liga and are three matches away from being champions of Europe for the first time. While the Barcelona of Xavi and Iniesta appear listless, the Atletico of Koke seems infused with energy and verve.
Indeed, the 22-year-old looks a lot like the complete midfielder with the physicality to match his technical gifts. Simeone's side is constructed in the image of their coach and the mental toughness is evident in the No.6. Built upon this prerequisite of unstinting commitment, Koke has taken on a level of responsibility that belies his age.
Important
"Koke is an extremely important player for us, for the way he plays, for the way he interprets tactics," said Simeone earlier this month. "Since we arrived here he has developed a great deal and today he is one of the best players in La Liga. Everything he is achieving is based on his efforts and hard work and that is great for anyone."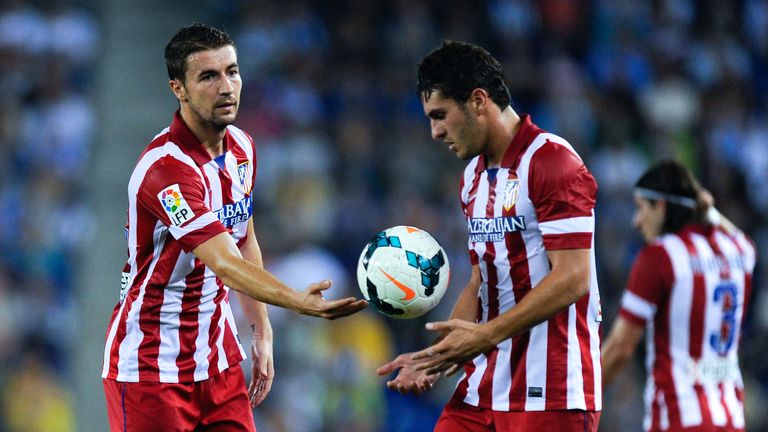 I've watched him grow and he's really developed, especially in the last 12 months when he's improved more than anyone.
Gabi on Koke (Source: FFT)
His importance is reflected in the statistics that highlight his role as arch-creator in the Atletico midfield. Whether from dead-ball situations or open play, Koke makes things happen for the team – with Diego Costa the chief recipient of his unerring service. While the striker has 27 goals in La Liga this term, second only to Cristiano Ronaldo, there is nobody with more assists than Koke.
But there is far more to his game than that – under Simeone there is no choice in the matter. As a result, the list of most creative players still active in this season's Champions League is revealing. The names are familiar – Franck Ribery, Arjen Robben, Philipp Lahm and Toni Kroos; Ronaldo, Karim Benzema, Luka Modric and Angel Di Maria. But there is something that separates Koke.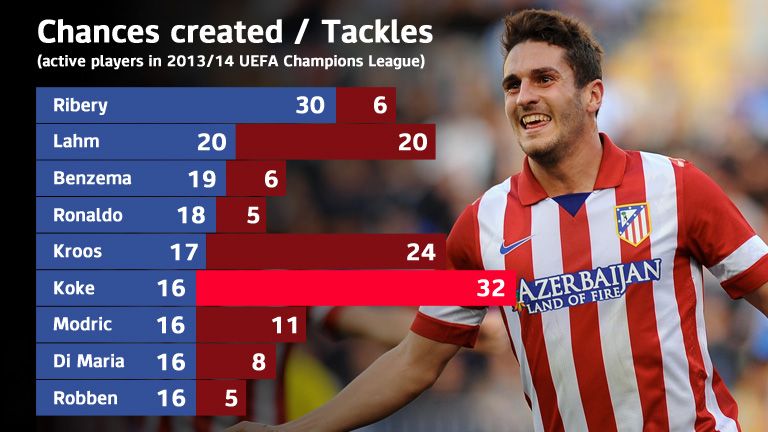 Not only is the Spaniard creating opportunities for his team, he is also one of the foremost tacklers in this season's competition. With 32 tackles, he has far more than all of the players mentioned. In fact, he's made more of them in the Champions League than the aforementioned Real Madrid quartet combined. Leading the high press, Koke is aware he has a dual role.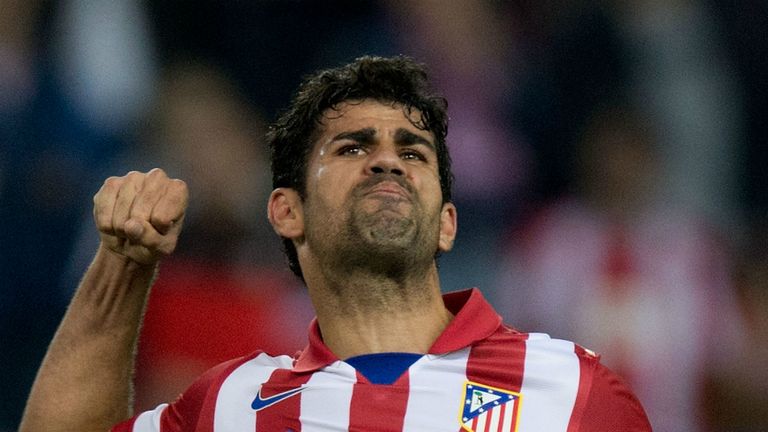 He's got pure class – a different way of reading the game, with a great final pass. All I can say is thank God he's been assisting me to score goals.
Diego Costa on Koke (Source: FFT)
It's little wonder that Vicente Del Bosque rewarded him with his first senior international cap as a late substitute against Ecuador in August. Koke is now pushing for a starting place let alone a watching brief from the bench. "He's a very complete midfielder and he does virtually everything in that role," said the Spain coach.
Critical
Against Chelsea, this adaptability coupled with the tactical astuteness that Simeone cites could prove critical. Atletico's counter-punching style has served them well in La Liga but despite the team's inexperience at this stage of Europe's premier club competition, they go into the semi-final as narrow favourites with the bookmakers.
As a result, there is a tricky balance to strike. Do they seek to dominate with a possession game or adopt a counter-attacking policy of their own? Whatever ploy Simeone opts to go with, there is one certainty: he has a man in midfield who will adapt to the instructions and conduct the orchestra accordingly.  After all, as Barcelona know to their cost, Koke is an extraordinary player.