Transfer news: Toulouse's Serge Aurier says he has not agreed to join Arsenal
Last Updated: 09/07/14 10:21am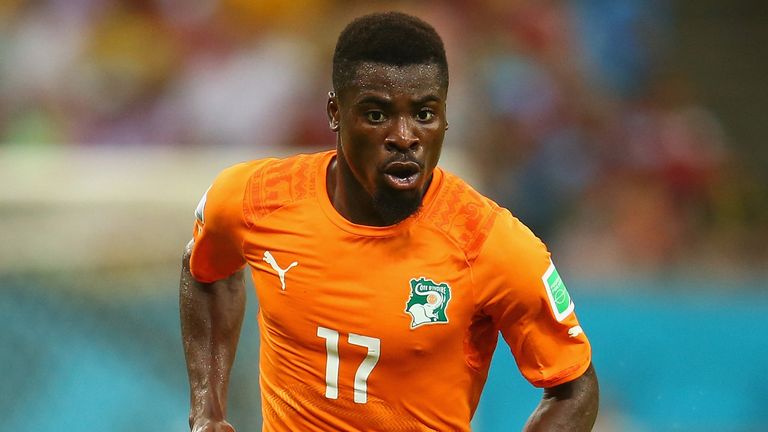 Toulouse defender Serge Aurier has played down reports that he has agreed to join Arsenal this summer but is open to a move to the Premier League.
The Ivory Coast international has been linked with a switch to Arsenal following his impressive performances at the 2014 World Cup in Brazil.
Arsenal manager Arsene Wenger is looking for a right-back to replace the departed Bacary Sagna, and Aurier was reported to be one of the options under consideration.
However, Newcastle full-back Mathieu Debuchy is closing on a move to the Emirates Stadium and, while keen to play in the Premier League, Aurier has denied there was ever an agreement with Arsenal.
"People say that there was an agreement for me to join Arsenal, that I had already signed," the 21-year-old told Foot Mercato.
"That is not true. All that I can say is that England is the league I like the most. Things are clear. I have always preferred a move to England, because it is the league that suits me the best.
"At the moment, I have not given my agreement to any club, whoever they might be and am therefore free to talk to whoever I want."
French side Paris Saint-Germain and Monaco are also reported to be interested in Aurier, who started his professional club career at Lens.
"To play in England is my dream, but sometimes dreams do not come true," he said. "If PSG and Monaco are interested, one does not ignore them.
"I have heard rumours of PSG's interest in me. It is a very good club, one of the best in Europe.
"It is a club that is part of the top eight in Europe and it is interesting to know that clubs with incredible resources to buy anybody are interested in me.
"Also, I'm a Parisian, so that strengthens my sentiments. After that, I let the people around me deal with it.
"PSG and Monaco can meet with my representatives and we will see what happens. What I want is a club where I have guarantees that I will play."