Erik Lamela has insisted that he never considered leaving Tottenham Hotspur and is ready to show his best form this season after recovering from injury
Lamela became Spurs' record signing when he moved to White Hart Lane from Roma last summer but he endured a frustrating first 12 months in English football.
He struggled with form and fitness, as well as the challenge of adjusting to life in a new country, and has been heavily linked with a return to Serie A.
However, the appointment of fellow Argentine Mauricio Pochettino as Tottenham boss has helped to lift his spirits and he is raring to go ahead of the new Premier League campaign.
"I am getting in good shape and am determined to show Tottenham fans the real Erik Lamela this season," he told The Sun.
I am getting in good shape and am determined to show Tottenham fans the real Erik Lamela this season.
Erik Lamela
"I have recovered from my injuries, we have a new manager and I cannot wait to play. I am confident you will see a much better me this season."
Lamela's opportunities were limited last season and he admits he found it difficult to play such a peripheral role, although he has never had a problem with his team-mates.
He said: "Last season was a frustrating one all round for me.
"It took a while to get into the team and then I kept getting injured, which meant I was overlooked by Argentina too.
"Moving to a new club is always hard but it is even harder when it is in a new country and you are not able to play.
"A footballer always feels lonely when he can't play for whatever reason and I felt very lonely at times last season.
"There have never been any problems with my team-mates, they have been there always.
"But now my injuries have gone and we have a new manager who is the same nationality as me, I feel as though I have a new lease of life."
More games that matter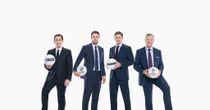 Click here to see Sky Sports' unrivalled schedule of live Premier League fixtures
Lamela feels that he has a point to prove as he looks to show that he can perform in the Premier League.
The 22-year-old added: "Leaving Tottenham never once entered my mind, not even when I was feeling at my lowest.
"I wanted to play but, unfortunately, my injuries meant I couldn't. That made me feel bad because the club had paid a lot of money for me and I wasn't even able to get on to the pitch.
"But I never wanted to leave. I was determined to stay at the club and show everybody — my team-mates, staff and the fans — that I was a good player.
"Now I feel better and my mind is 100 per cent focused on doing well for Tottenham, like it has always been."