Scotland and ex-Arsenal Ladies striker Julie Fleeting joins Glasgow City
Last Updated: 19/03/15 2:30pm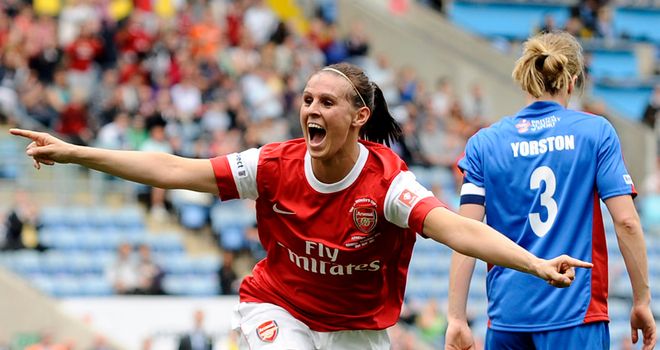 Glasgow City have completed the signing of Scotland international Julie Fleeting.
The legendary striker has scored 116 goals in 121 appearances for Scotland and joins Glasgow City after spending little over a year with city rivals Celtic.
Widely regarded as the highest profile Scottish women's player of her generation, Fleeting became the first professional female player from the country when she signed for San Diego Spirit in 2002.
After a loan move to Ross County, Fleeting signed for Arsenal Ladies in 2004 where she won 17 trophies during her nine-year stay in north London. The 34-year-old mum-of-two also had a brief spell with Ayrshire side Kilwinning Ladies.
On signing for City, Fleeting said: "I'm looking forward to an exciting season with Glasgow City. We have such a talented group of players, many experienced and others young and enthusiastic.
"I'm hoping that I can shake off my recent injury and get back to enjoying football again. Where better to do so than Glasgow City."
Manager Eddie Wolecki Black added: "The signing of Julie adds to the attacking options and of course she brings experience which will help us both on and off the park.
"Her goalscoring record is very impressive and I hope she can get herself back to the level of fitness which will allow her to compete at the highest level again."