Head coach Robbie Neilson says he wants either Rangers or Hibernian to be promoted alongside Hearts to improve the standard of the Premiership.
The Tynecastle side have already secured their place back in Scotland's top division but Rangers and Hibs will need to conquer the end of season play-offs to follow suit.
Neilson believes it is essential for all three clubs to be in the Premiership as soon as possible.
"It's not being disrespectful to those teams that are in the top-flight at the moment, but I think ourselves, Hibs and Rangers are teams that should be in the top flight of Scottish football," he said.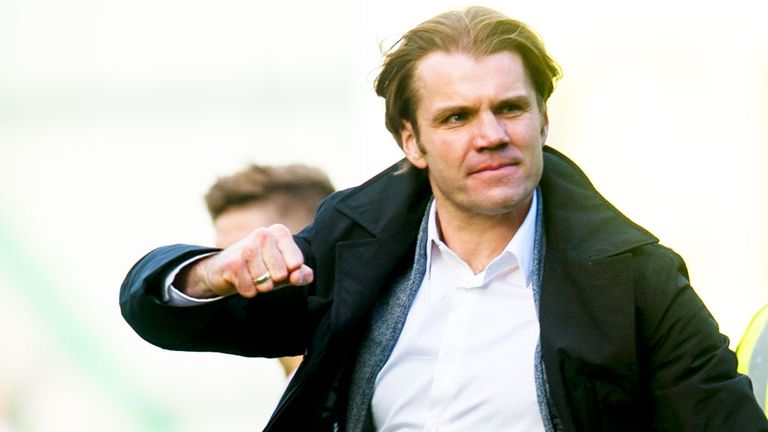 It's not being disrespectful to other teams...but I think ourselves, Hibs and Rangers should be in the top flight of Scottish football.
"We have big supports, the fans come every week when we go to away grounds, we sell out our allocations and we bring in TV revenues as well. I'd like one of them to come up with us. Which one it is makes no real difference to us to be honest."
However, the Hearts head coach says it's almost impossible to predict who will emerge victorious from the play-offs.
"It's a difficult one to call," he said. "It's a position I wouldn't like to be in myself. We're probably looking at Rangers and Hibs as the two favourites but you have Queen of the South and Falkirk who have had fantastic runs of form. They're good, experienced teams.
"Then you have whoever finishes 11th in the Premiership. Ross County have come onto tremendous form and Motherwell have as well with Ian Baraclough coming in, so it's not a foregone conclusion."
Having already been crowned champions, Neilson is looking ahead to the strengthening his squad in the summer.
'Quality'
"Although we've done fantastically well and won the league with a lot of games to go and with a lot of points, we have to be realistic that we're still a Championship team," he said.
"We're playing against Championship teams at the minute and we're going to take that step to play against Premiership teams that are of a higher quality than us at the minute. So we need to recruit guys that are going to be able to play in that league."
Having had such a successful season, the maroon half of Edinburgh are bracing themselves for offers for their star players. Celtic manager Ronny Deila has already confirmed he is keeping tabs on captain Danny Wilson with regard to a possible move. Neilson hopes he won't lose any of his key men but admits it is a possibility.


He said: "If you have a good season and good players, there's always going to be interest. That's the nature of the beast in football. It's important we try and keep a hold of guys that will do us well next season in the top league.
"But realistically if an offer comes in that is acceptable for the club and the player then the player will move on. It's my job to try and maybe bring in somebody from the academy that will take that place or bring someone else in that will fill that void."
Hearts have received wide ranging plaudits for the nature of their success this season, by continuing to bring youngsters from the youth squads into the first team. And Neilson claims guiding them to the title was more rewarding than winning the Scottish Cup himself as a player.
He said: "I think it was. The pleasing thing for me is that I've helped guys become winners and champions. Young guys here who are 18, 19, 20 will go the rest of their career as a winner. They know what it means to win a league and when they come back to Tynecastle they will be regarded as a winner."
Robbie Neilson's Hearts take on Edinburgh rivals Hibernian this Sunday Live on Sky Sports 5 from 2pm.