Georginio Wijnaldum tells Sky Sports that despite PSV's impending title success, he is ready to make the next step, and is open to linking up with Louis van Gaal once more.
It has been seven years in the making, but finally, after a slowly recovering from financial problems, PSV Eindhoven are back, and on the verge of their first Eredivisie title in seven years.


Such a giant of the Dutch game, their fall from grace has been remarkable as the power shifted back towards the capital with Ajax dominant once again.
However, a youthful PSV side has matured this season and their squad boasts some of Europe's hottest properties, with their skipper Wijnaldum and his much coveted team-mate Memphis Depay prominent on that list.
The 24-year-old is now a firm fixture in Guus Hiddink's Netherlands squad after leading PSV to the brink of the title – a feat he believes has been too long in the making.
"Everybody wants to win the championship, every year I expect to win it," Wijnaldum said.
"It is very special. This year we do not have as good individual quality as we did two years ago, but we are a better team now.
"Seven years without a Championship for a top club is too long. The team need to build and keep Ajax behind them.
"The difference this year is that last season was the first year for a lot of the players with PSV and they were really young. Now they need to keep players at the club and buy players who can take them forward."
The problem for fans of the Eredivisie is that more often than not the top talent want to test themselves in one of the more high profile European leagues, thus hindering PSV or Ajax's prospects of continental success.
PSV's European Cup glory in 1988 came seven years before that famous Ajax side defeated AC Milan in Vienna to clinch their fourth continental crown, but the chances of either replicating such an achievement are minimal.
Wijnaldum is no different. He knows that at the age of 24, with the amount of interest from the likes of Manchester United and Arsenal, the time may be right to seek a new challenge.
"I am happy at PSV but I am a player with a lot of ambition," Wijnaldum said. "I want to play in a stronger league than the Eredivisie.
"With my quality I feel I can bring a lot to a team that I will join. I want to show it in the big leagues; England, Italy, Spain, Germany and France."
The link with United holds a great deal of resonance for Wijnaldum, with the chance to work under a manager he knows well an exciting prospect.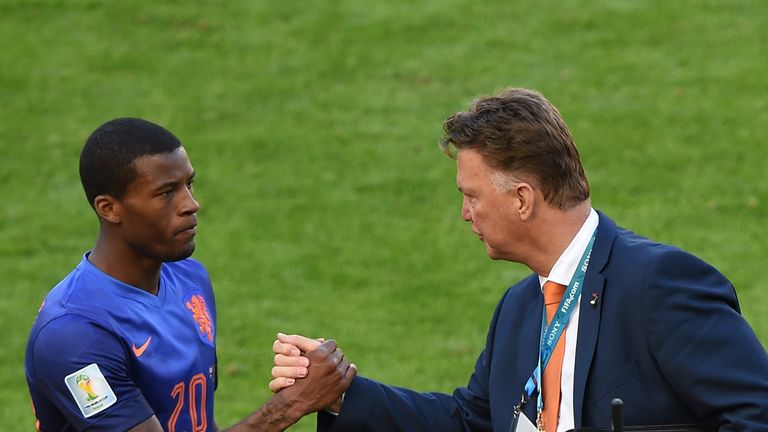 Louis van Gaal raised a few eyebrows when he named Wijnaldum in his Dutch squad for the World Cup in Brazil, after the goalscoring attacking midfielder had been on the sidelines for seven months through injury.
Wijnaldum is keen to point out that being selected and featuring for the Oranje last summer is an experience he will never forget, and is full of admiration for the new United supremo for showing faith in his fitness.
"Of course I would like to work with him again," Wijnaldum added. "He is a good trainer, and makes players better. I work really fine with him and he is a great man.
"He gave me a chance and opportunity to play in a World Cup after seven months out injured, and I am thankful for that. He helped me get my confidence back."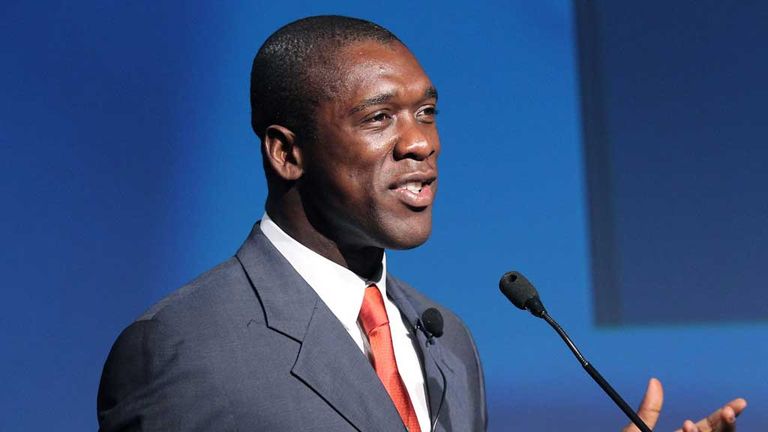 I looked at Clarence Seedorf and he did it when he was so young too, and I worked hard for it. I thought, if he can do it, so can I.
With such a plethora of dynamic Dutch talent having wowed spectators over the years, the pressure for the current crop to live up to their illustrious predecessors is immense.
Wijnaldum comes highly recommended. Having made his league debut for Feyenoord as a 16-year-old, he immediately drew comparisions with Clarence Seedorf, who made his bow at a similar age for Ajax in the 1990s.
Seedorf has admitted that Wijnaldum reminds him of his younger self, but such praise only acts to convince the soon-to-be-crowned Eredivisie champion that he has what it takes to succeed at the highest level.
"It was great to play so young. At the beginning I knew I had the quality to make a difference," Wijnaldum said. "They told me not to be scared, because it is difficult to play for the first time.
"I looked at Clarence Seedorf and he did it when he was so young too, and I worked hard for it. I thought, if he can do it, so can I.
"It was like a dream that came true. I am still the youngest player to have played for Feyenoord."
You can watch PSV try to clinch the Eredivisie title against Heerenveen live on the red button on Sky Sports 5 HD on Saturday at 6:45pm