Gaston Ramirez red shows the law must be looked at, says Kammy
Arsenal and Liverpool struggle, while Newcastle's revival continues...
Last Updated: 24/11/14 3:18pm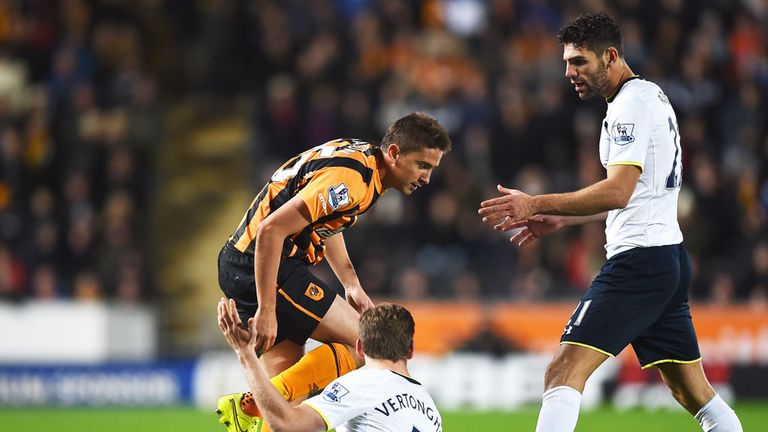 Chris Kamara has his say over the weekend's Premier League action, including a controversial red at Hull, more disappointment for Arsenal and Liverpool, plus Newcastle's hot streak.
Gaston Ramirez was petulant, not violent
I said it when the Christian Benteke situation happened – the law needs to be looked at. It says 'violent conduct' so there has to be violent conduct, not petulance. It's doesn't say it's a red if you're petulant and tap somebody on the backside because you're annoyed, it says violent conduct. I'm sure if the boot was on the other foot Mauricio Pochettino would be saying exactly the same things that Steve Bruce has come out with.
Let's just try and sort this out – if they want to change it to say if the footballer is petulant and does something that, in the referee or his assistants' eyes, is not in the spirit of the game, then fine. Everyone's then aware of it. But at the moment, you see the pushing in the Everton-West Ham game – was that more petulance than what Gaston Ramirez did? I'm not sure. We just need to clarify it for everyone, that's all you ask for.
Fair play to Spurs, though – they've capitalised twice on red cards. Everyone says they're in crisis but they're only two points off fourth place.
Arsenal's gung-ho approach is not helping
Arsenal are just missing a bit of belief against the clubs above and around them, and they're not taking their chances when they need to. Once you don't do that against any team, let alone the top teams, you know they'll get opportunities to score goals themselves. It's the cavalier approach that they need to sort out – in this league a point might make all the difference at the end of the year.
When you're a team like Arsenal and there are other teams vying for a top-four spot, then you can end up looking back on a game like this and think 'well, we were 1-0 down but ground out a result'. But they were just gung-ho and they're going all-or-nothing, and at the moment they're getting nothing in these kinds of games because of that cavalier attitude. That's something Arsene Wenger and Steve Bould have to sort out.
The feel-good factor is back at Newcastle
Results and confidence are what it's all about and they've just blossomed recently. It was a really relaxed atmosphere when I was at St James' Park on Saturday. It's a massive weight that's been lifted off their shoulders – you feel the pressure when you play for a club like Newcastle because virtually everybody in the city supports Newcastle United, so you live with that pressure from day to day.
You can get away from it when you go in your front door, but as soon as you go out to your car and out to the petrol station, or you go to the shop or the training ground, there are fans there. It's massive pressure, so for them to have come through their bad patch with the manager intact, it's an unbelievable relief for them. The feel-good factor among the fans is tremendous.
Alan Pardew would probably agree that it wasn't their best performance on Saturday. QPR defended very well. Rob Green probably only had two saves of note to make apart from the goal, so it wasn't a vintage performance. But they've been losing those types of games before, so getting the three points ends up being a bonus for them.
What they're aiming for now, who knows? As good as the run they've been on is, in the Premier League you can quickly go on a downturn. It can happen to any team, but Alan will just be so relieved that he's justified the chairman's faith in him.
Liverpool's title hangover is still having an effect after Palace defeat
This isn't just about Luis Suarez – one man doesn't make a team. They coped without him in the early part of last season. But Liverpool are unrecognisable from the team of last season – the fluency in their football isn't there for some reason. Maybe it's because of too many changes in personnel, but it's something Brendan Rodgers needs to put his finger on sooner rather than later.
If Mario Balotelli had been in the side everyone would have been blaming him, but he wasn't anywhere near the side and the performance was still below par. It's just a case of low confidence, but it's possible for them to get back to that standard.
Brendan's a fantastic coach – he got them to where they were last season. They're going through a rough patch at the moment, but now's the time to be strong. He'll be thinking 'I've got more going for me than Alan Pardew did when things were rough at Newcastle, so stick with me and I'll turn it around'. He's not a quitter so he's confident he can do that.
Maybe the hangover from not winning the league is one of the reasons they're struggling. Steven Gerrard can't hide his disappointment at being so close to winning the Premier League, and he'll wonder if he'll ever get that opportunity again. It's like a Championship team that just misses out in the play-offs and everyone thinks they'll go up automatically the next year, but it doesn't always work out that way.