Chris Kamara has his say on the weekend's Premier League action, including QPR's managerial situation, Manchester United's issues and Saido Berahino.
QPR have to appoint Sherwood soon
QPR just have to get on with it. Tim Sherwood has worked with Les Ferdinand and Chris Ramsey and nobody is saying he is not going to be the manager, in fact everyone is saying he is, so get it done. The sooner the better from their point of view.
They have let Saturday's game go by when it is blatantly obvious to everyone that he is the man who is going to get the job. Don't let another go by, the club have to make a decision.
If there had been a spark on Saturday where they had laid siege to the Southampton goal and given the crowd a real feel that something was going on, then maybe there would be no rush but there is a rush now.
They didn't have the start they needed against Southampton and there wasn't a time in the game where they got the crowd buzzing and put Saints under pressure. They needed to give the crowd something to cheer and get behind them, but in the end they just let another game go by.
All coming together for amazing Kane
Harry Kane's development in just half a season has been amazing. Of course, these things don't happen overnight, but he has got the experience out on loan and all of a sudden it has just clicked and everybody is looking in amazement thinking 'we didn't know that was in the locker' and it's all coming together.
His goals against Arsenal were real strikers' goals. The first he is hanging about waiting for the bits and pieces and it's not luck it falls to his feet, that's the gift all good strikers have got. The ball always seems to land at their feet.
It's quite often the situation that they stick it away when it does and I don't think anybody in the ground thought he wouldn't score when it landed at his feet. We don't see many headers these days but his second was magnificent, the angle of the ball coming in was away from him but he did enough to get away from his marker and head it in.
Louis van Gaal is too accommodating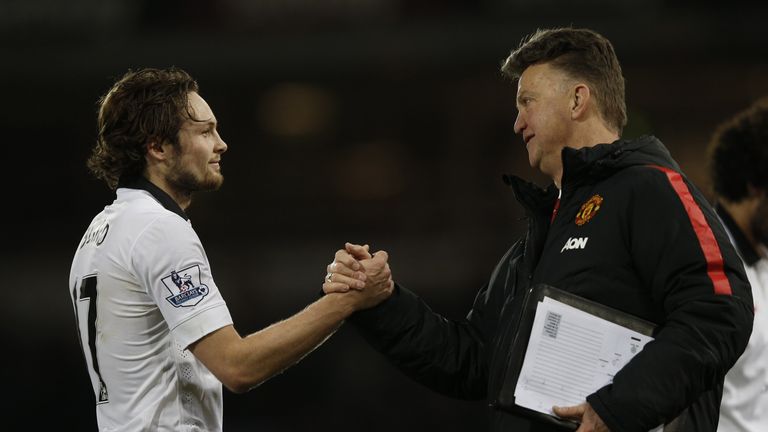 Manchester United have to find the right blend. At the moment Louis van Gaal is accommodating the big players and if you do that at a top club like that then you do have problems.
Jose Mourinho doesn't accommodate, he plays the players who he feels would be best in the right position for the team, end of. They could be the biggest names in the world, it doesn't matter. 
At United it looks like all the big names play in nearly the same position so you have to move them out of their best position and put them into another position. But then you don't get the same performance as when they are in a team that suits their style.
I just think it is difficult with United at the moment because they haven't got the right blend and it's so hard for them to get themselves going. They are trying to find a way and to be fair they are stumbling along and doing ok.
They just can't get any rhythm and Radamel Falcao and Robin Van Persie don't seem to complement each other and Wayne Rooney doesn't look happy in midfield. Whether that is the case or not they came out with a draw against a team in form.
No issues with Berahino ambition
I am not one of those who feels he was wrong to come out and say what he said. He wasn't slighting his own team-mates, he was just saying he is up for moving on to bigger and better things, which is a nice ambition for someone to have.
The last thing we want to do in the media is stop players talking to us, because managers will be saying 'you see what happens when you sit down and do an interview, all they do is stitch you up and look now and see what has happened, I have told you before…'. Let him say what he wants to say and if he performs brilliantly for West Brom then one of the big clubs will come sniffing.
If I was a West Brom player I wouldn't have a problem with that. The problem is if he doesn't perform and then he still says he wants to leave then you're thinking 'why didn't he do the business instead of just thinking about getting away?'.
But I think he was basically saying hopefully I'll perform well for West Brom and if I do then maybe one of the top clubs might consider me. I don't think there is anything wrong with that.
Tony decides the team and what the best team is away from home and at home, maybe starting him on the bench on Sunday was a kick up a backside, but maybe it was just tactics and he might not have been playing anyway.
Pearson incident caused by pressure
It was very strange. We talked about it on Goals on Sunday and the pressure Nigel is under at the moment. We don't know if James McArthur said anything but it is certainly very strange to hold on to him and the rest of it.
But when you are under pressure you do things that you would never do rationally, that is the nature of the game. In the heat of the moment you end up doing things that later on you will regret and think 'why did I get involved in that in the first place'. It's today's news but in a few days time it will be gone.