Guillem Balague runs through five things coming out of Spain this weekend, explaining that former Barcelona manager Luis Enrique has had calls from both Chelsea and PSG. 
In the La Liga title race, Atletico Madrid are now seven points behind leaders Barcelona after their win over Malaga, while Barca could only draw with Getafe. Real Madrid saw off Real Sociedad 5-2, plus there's positive news from Sevilla.
Luis Enrique has options
The former Barcelona manager has been approached by intermediates who say they are calling on behalf of both Chelsea and PSG. It will be an interesting dilemma for him, because he of course will want to go to a team who can challenge for absolutely everything.
It's quite clear that the PSG option provides him with the opportunity to win titles, but in the case of Chelsea, he has been preparing for the possibility of going to the Premier League for a long time.
He has been learning English for a while, and he has told me in the past that he has a fascination with the Premier League, but his future is not determined yet.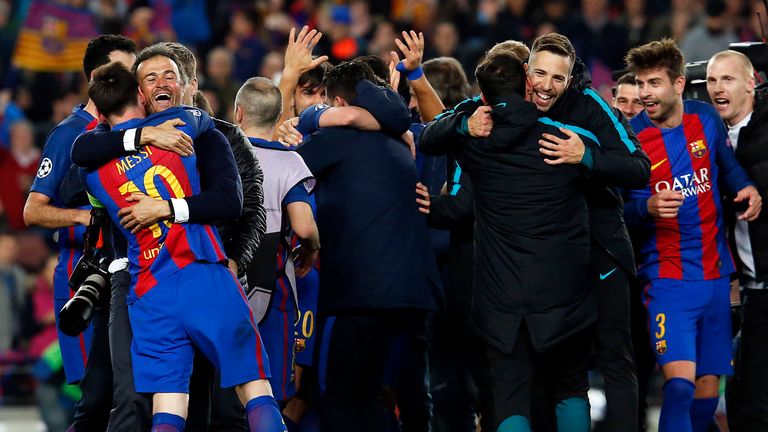 I haven't heard of an offer from Arsenal; of course he would be a candidate if they got rid of Arsene Wenger, but I don't think they have reached that stage yet. It's an interesting situation for Luis Enrique in terms of who will go with him but he is determined to work again next season if the conditions are right.
Most of his favoured backroom staff are either at Barcelona or Celta. Juan Carlos Unzue is his usual No 2, and he's Celta manager at the moment, and I've got the impression he wants to continue being a No 1.
What Luis Enrique wants to do is coach at the highest level, and he has the opportunity to do so either at PSG or Chelsea. But there is no point in making a decision now because there will be more clubs interested in him later in the season.
Atleti's title push
Very quietly, sneakily almost, Atleti are actually becoming La Liga title contenders. Why is that? Well, they are seven points away from Barcelona after beating Malaga 1-0 on Saturday, and they still have room for improvement.
With the Champions League resuming for Barcelona, and despite their interest in doing well in the Europa League, this is really a good opportunity for Atletico to go a step closer to the La Liga leaders.
What do I mean by room for improvement? Well, they haven't seen the best of Diego Costa yet; he's scored three in seven games, and while Antoine Griezmann is getting back to his best, the link between the two can, and will, improve.
Koke has also not performed as well as we know he can. He has moved from the right-hand side of midfield to the centre, and sometimes to the left. One of the keys to Costa's success during his first spell at Atletico was that link between him and Koke also. That link can come about again. Remember, this is an Atletico side who have scored only 34 goals in the league this season, by far the lowest in the top four and 26 goals fewer than Barcelona.
Of course their defence has to be incredibly strong to stand a chance to win the league, and they are at the moment. They've conceded just one goal in their last six, and just nine goals conceded by Jan Oblak all season. That's just unbelievable. For me, Oblak is the best goalkeeper in the world right now.
But offensively, they can get much better, and I have a feeling they will get even closer to Barcelona in the coming month. And when they do, we will see if they can actually challenge for the title. But their moment will arrive.
Catalan dependence
Barcelona really do depend far too much on Lionel Messi. That's something Atletico don't have: a reliance on one player.
Barcelona are not getting enough from their players from the bench; new signing Yerry Mina looked unstable in the 0-0 draw with Getafe, whose goalkeeper Vicente Guaita had a fantastic game. He, as we know, will sign for Crystal Palace in the summer. Yes, Getafe knew how to play Barcelona, closing the channels and keeping the defensive line close with the midfield line. Barcelona could not beat that, and depended on Messi to do something special.
Philippe Coutinho hasn't yet found his place, and, while nobody doubts that he will be important to Barcelona, that may take a while. The thing with Coutinho, and any new Barcelona signing, it is very hard to learn how to play the Barcelona style. It will take time to find his form, and it may take until the end of the season.
Soon, Atletico will go to the Nou Camp. What if they win there, and Real also beat Barca in the Clasico? The media should stop talking about a Barcelona treble, it's far too early.
Real up their game
Real Madrid smell the Champions League, and what happens? They destroy Sociedad 5-2, but they have been conceding a few goals recently, which isn't good news with PSG on the horizon.
Yes, their form in the league doesn't relate to the Champions League, as they showed when they won the competition in both 1998 and 2000, finishing fourth and fifth respectively in La Liga. I've spoken to Champions League winners with Real Madrid and they say the same, when the competition comes along, they forget about the league form, and they actually raise their level.
Real won't have Dani Carvajal due to suspension, and Nacho provides less depth at right-back, but I feel they will play the BBC. When the Champions League comes, Real's front three actually comply with their obligations; dropping deep, giving more than they do in the league in a defensive sense. This will be a different Real Madrid, let's see if PSG can raise their level too. Because their league is not as competitive as it should be, PSG choose their moments, and their side is more about those individual moments of brilliance and talents.
Sevilla's good news story
As with Real, Sevilla smell the Champions League, and they all seem to work hard to raise their level, as they showed in their 1-0 win over Girona on Sunday.
Goalkeeper Sergio Rico, the local boy and one of only two Sevillians in the first team, was getting criticism recently from his fans after making mistakes against Getafe and Leganes. It's interesting that as a local player you tend to get more criticism than others, and of course goalkeeper mistakes are highlighted.


But there is one thing that gives Sergio Rico an extra motivation: a nine-year-old named Antonio, who is battling a brain tumour. Sergio Rico has referenced Antonio, saying he is the bravest person he has ever met, and believes there is nothing that he cannot beat having seen Antonio with that strength and power.
He had a fantastic game against Girona, saving a penalty and making six big saves. He seems to have recovered that confidence at a crucial time in both the league and in Europe.
Manchester United, who face Sevilla next week, showed they have weaknesses against Newcastle, both up front and in defence, and the La Liga side could take advantage. That will be a very equal fixture.