Atletico Madrid are resigned to Antoine Griezmann exit, says Guillem Balague
Last Updated: 27/03/18 8:13am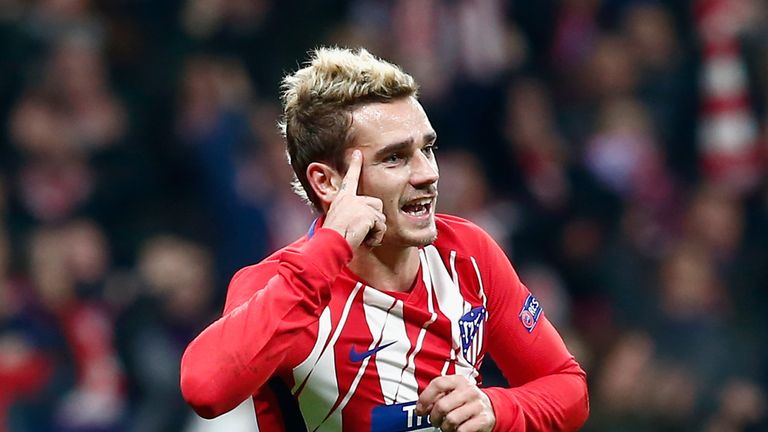 Atletico Madrid are becoming resigned to losing Antoine Griezmann this summer, with Barcelona the favourites to sign him, says Guillem Balague.
Griezmann said last week he wants his future resolved before he travels with France to the World Cup in the summer.
It has been reported Atletico will offer him a new deal in an attempt to keep him.
However, with a buyout clause of £87m (100m euros), Sky Sports Spanish football expert Balague told La Liga Weekly podcast that it looks like Barca are closing on the 27-year-old.
"Barcelona are trying to do it the nice way, and the other way, to try to make sure he doesn't go anywhere else," he said.
"They are going to Atletico Madrid and saying 'when you are ready to talk, let's sit down, I know it's 100m euros buyout clause but if we give you a little bit more will you be happy and we can still be friends?'
"At the same time Atletico Madrid are trying to convince him to stay, telling him we will get three or four top players, but they are resigned to him leaving. He wants everything sorted before the World Cup starts.
"Barcelona are putting it all in place for him to come in. He knows he will have to reduce his wage perhaps, with lots of bonuses linked with performances, because around 83 per cent of the income at Barcelona goes into the wages, so it is a tense situation as the recommended amount is about 70 per cent. They won't be able to change that because they still need to renew one or two."
Manchester United were reportedly close to signing Griezmann last summer while Chelsea have also been linked with a potential move.
However, Balague added: "Barcelona are favourites to get him. Chelsea and Manchester United, if they went for him, would be able to pay higher wages than Barcelona, but what is the difference between earning 10m or 12m?"
While Griezmann could join Barcelona in the summer, Andres Iniesta, 33, could be on his way out.
The experienced midfielder said last week: "I haven't decided 100 per cent if I am going to stay or not. If I stay, it will be because I can perform at 200 per cent. If I leave, it will be because I can't give the 200 per cent that the club deserve from me. That's the doubt I have."
There has been reported interest from China in Iniesta, and Balague said: "The way he has been talking it sounds like he is leaving. He is saying I have to make a decision, Barcelona is the club of my life, but there are times when other things take priority, that's how he is talking."