Barcelona v Real Madrid: Guillem Balague's Clasico preview
By Guillem Balague, Peter Smith & Adam Smith
Last Updated: 06/05/18 6:17pm
Will Real Madrid end Barcelona's Invincibles ambition? Or will La Liga's champions win another Clasico? Guillem Balague previews Spain's biggest game...
The countdown to the Clasico is on - and La Liga champions Barcelona have the chance to underline their domestic dominance with victory over Real Madrid at the Nou Camp on Sunday. Real may have gone further in the Champions League and collected more pieces of silverware, but make no mistake, this Barcelona team are the number one side in Spain.
The league table shows that clearly. And the chances of Barcelona becoming Invincibles is a realistic possibility, with just four games remaining and still no defeats. That would be a huge achievement - and will be their focus after sealing the title against Deportivo on Sunday night.
For all of Real Madrid's ability to step up when there are trophies available - and they've won the European Super Cup, the Spanish Super Cup and Club World Cup this season - surely it is Barcelona's consistency across an entire season which deserves most praise. And don't forget, they won the Copa del Rey, too!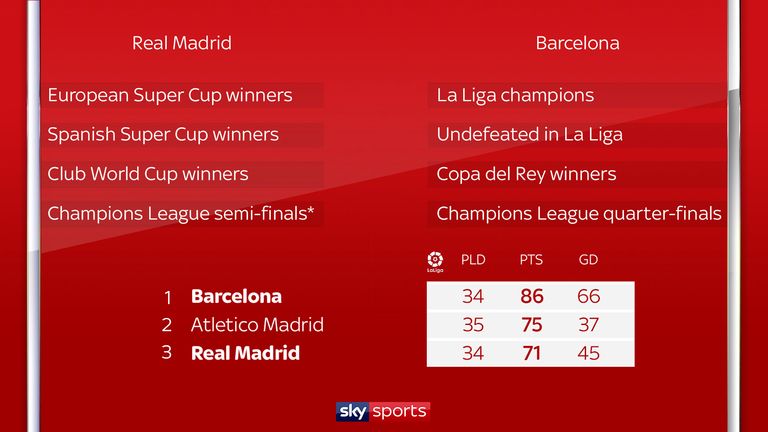 I actually think this is the worst Barcelona squad we've seen for a decade - which makes their achievement even more remarkable. The defence is prone to mistakes and has needed goalkeeper Marc-Andre ter Stegen to rescue them. The midfield struggles to control matches as they have in the past, and the bench does not add too much. But fortunately for Barcelona they have this man, Lionel Messi, to take them to the top.
The term 'one-man team' isn't a nice one. No team's success is purely down to one player. But Messi's influence on how Barcelona perform is huge. When he fires, so do Barcelona. When he is below par, Barcelona struggle to find a solution.
In La Liga, he's scored or assisted 44 of Barcelona's 87 goals in La Liga this season. Real Madrid - who Messi scored and assisted against in the 3-0 win at the Bernabeu - know the one man they must stop.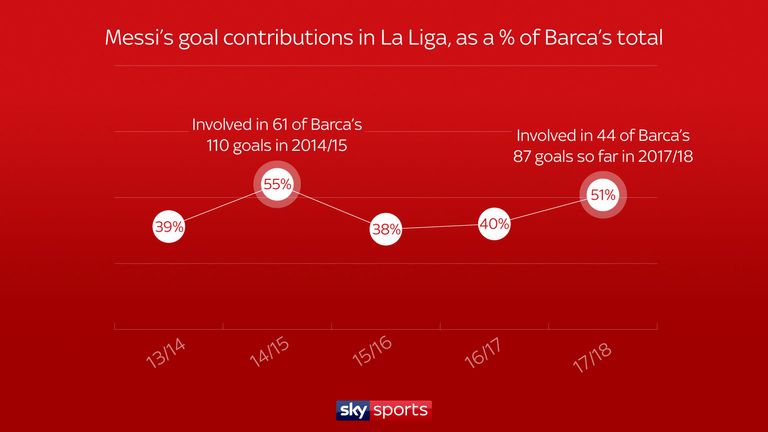 At Real Madrid there is also a reliance on individuals to make the difference. That has worked well for them in the cup competitions, with Cristiano Ronaldo standing up to be counted in the Champions League in particular. But you cannot depend only on individuals to deliver across 10 months of a season.
Don't underestimate Real Madrid's motivation to spoil the Barcelona party this weekend, though. While a win would help them finish above Atletico Madrid in second, the chance to end Barcelona's unbeaten run and deliver a reminder of their own quality is something which will focus the minds of Real Madrid. They will want pay back for that humiliation at home to Barcelona just before Christmas.
So can Real pull off what would be an upset win and beat Barcelona? To do that they'll need to come out on top of the key battles across the pitch - I've picked out four.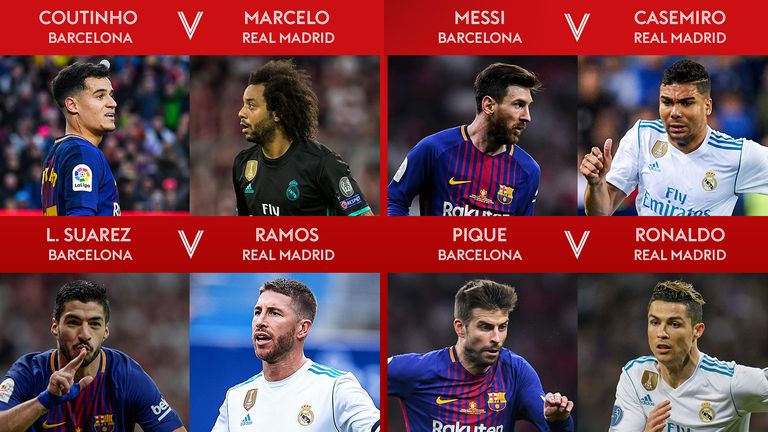 Philippe Coutinho has contributed goals and assists since joining Barcelona in January from Liverpool but he hasn't hit top form yet. He will need to be at his best to get the better of Marcelo, who has enjoyed a fine season for Real Madrid - although his tendency to be caught upfield means there could be space for Coutinho.
Luis Suarez may have scored a couple of goals in the Copa del Rey final but has received criticism for some of his performances in recent weeks - he was ineffective in the defeat to Roma, for instance, and is set for a fiery battle with Sergio Ramos this weekend.
The pressure will then be on Casemiro to find a way to stop Lionel Messi and, at the other end of the pitch, Gerard Pique to stop Cristiano Ronaldo. Those match-ups are likely to be decisive.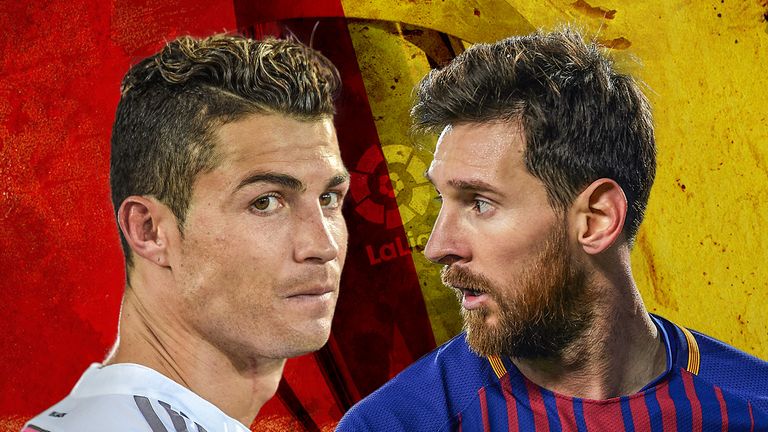 The managers will have a say, too, of course. Despite their different successes this season, the futures of both Ernesto Valverde and Zinedine Zidane have been questioned, but they will stay put.
Valverde has made some astute decisions - he has prioritised the league, played his strongest players whenever they were available and hammered home that early advantage they had over Real Madrid. That may have come at a cost in the Champions League, with his team tiring, but this will be remembered as a very good season considering the strength of this Barcelona squad.
As for Zidane, he deserves credit for the way he has managed Ronaldo's fitness, to keep him fresh for the big moments. He has also overseen the shift away from a reliance on the BBC to get more from Isco, Lucas Vazquez and Marco Asensio.
It should be a fascinating contest on Sunday - but who would make it into a combined team from Real Madrid and Barcelona? I've picked my XI here - pick yours below and then send in yours to @SkyRevista