Neymar could replace Cristiano Ronaldo and Gareth Bale at Real Madrid, says Guillem Balague
Last Updated: 27/05/18 3:11pm
Real Madrid may be willing to offload Cristiano Ronaldo and Gareth Bale in order to buy Neymar, according to Guillem Balague.
Ronaldo and Bale, who scored two goals in the 3-1 win over Liverpool in the Champions League final, both hinted after the game that their days at the Bernabeu may be numbered.
The Portuguese told reporters he would give an answer to the fans about his future in the next few days while the Welshman said he needs to play regularly and will talk to his agent over the summer.
Balague told Sky Sports News he was not surprised that Bale had chosen to speak out about his future.
"He found a good opportunity to say what he had inside," Balague said.
"Up until very recently both Real Madrid and Bale were talking to each other. He was saying: 'I want to stay' and the club was saying 'We want you to stay'.
"But I think he feels that as soon as he leaves the room Real Madrid are talking differently and of course he feels frustrated.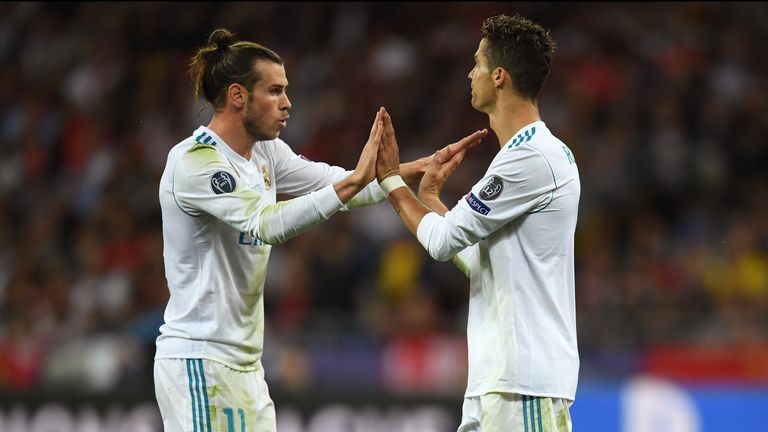 "He just basically wants to play every single week. [Zinedine] Zidane can't be saying the coach is disappointed with Gareth Bale and how he has reacted to being on the bench.
"You see the quality of Gareth Bale in the game yesterday and you wonder how he could not start a game and how he could not start a Champions League final.
"That's what in the head of Gareth Bale. He sees himself as one of the top five players in the world and as such he has to play either at Real Madrid or somewhere else.
"But I'm pretty sure we are [also] talking about Cristiano Ronaldo. It is all linked because of course the dream of (Real Madrid President] Florentino Perez is to get Neymar and I think he would not be completely sad if he gets enough money from the sale of both of them to get Neymar."
The Brazil star, who joined Paris-Saint Germain from Barcelona last summer in a world-record £200m deal, has paved the way for a possible early departure by saying he "really wants to" work under Manchester City coach Pep Guardiola.
Balgue admits it will not be simple to sell Ronaldo and Bale and then go out and buy Neymar.
He added: "If the possibility of Neymar leaving PSG is still Real - PSG are saying 'no chance' - but if he was and Florentino Perez gets the money from the sale of Bale and Cristiano [Ronaldo] then Florentino may just open the doors."