Guillem Balague on Atletico and Real Madrid and Lionel Messi's injury
Guillem Balague explains why Atletico are firing, Real are not and the extent of Lionel Messi's injury.
Last Updated: 01/10/13 9:11am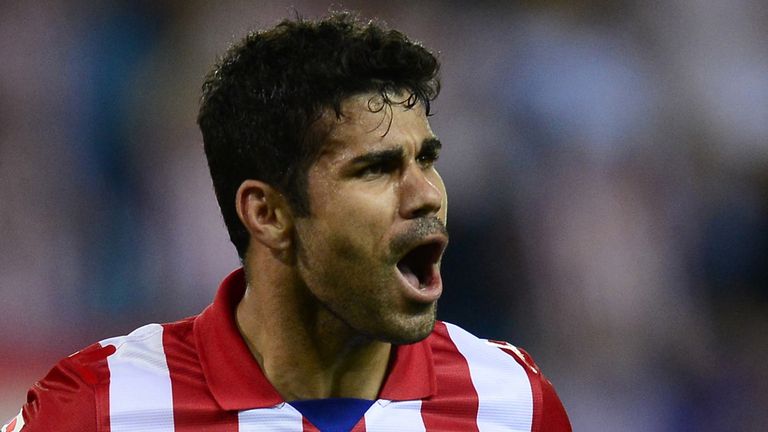 The individuals have improved, especially in the case of Diego Costa, who is equal top of the goal-scoring charts with Lionel Messi.
We debated Costa in the Revista studio recently and not everyone was convinced he had it in him to be a top goalscorer, but you could see in the second half of last season that he took charge of the team up front whilst Radamel Falcao was losing his touch.
I could see that he was going to be a top goalscorer and the Spanish federation have already taken steps to make him a Spanish international and he will be called up pretty soon.
That means Spain win because Costa is a different type of striker to everyone else.
Koke, meanwhile, is a hardworking midfielder that has become much more than that; he can pass, assist, regain possession and he has set-up 11 of Costa's last 17 goals - but Atletico are so well positioned.
They allowed Sami Khedira and Alvaro Arbeloa to build-up the attack of Real Madrid because they are less able to do so and every other Real player had one or two Atletico players on top of them.
Individuals
That was why you didn't see Cristiano Ronaldo, while Karim Benzema was poor again and there was a suggestion from Pepe that he should "sweat his shirt" more; there were discussions and it was clear that Real Madrid were not enjoying themselves.
They are not a team at the moment, they are just a bunch of individuals, some of whom are new to the side; there is no idea or game-plan and Mesut Ozil, Gonzalo Higuain and Xabi Alonso are missed.
You could see in the warm-up how Ronaldo and Sergio Ramos were discussing what kind of style they had to play and they were talking about dropping deep, being fast and playing on the counter-attack, although not in those exact words.
When that happens people start questioning the business model and since Vicente de Bosque left, Florentino Perez's model has only won one league title, so the suggestion is that this model may be working money-wise but not on the pitch.
Gareth Bale is still miles away from being fully fit but they don't take advantage of his pace and don't create the conditions for him to have a one-versus-one, it's more like: 'Here's the ball, let's see what you can do'.
As for Barcelona, they tend to play worse away than they do at home.
The injury to Lionel Messi will keep him out for two or three weeks and the media are worrying because it is the same injury he had against Paris Saint-Germain last season, so it will be interesting to see how Barcelona explain this.
It could just be an accident but we will see later in the season if the injury is recurrent, though I think the changes in physical preparation may have had an effect.
Plus, because he is an explosive player he has always known that his muscles suffer a lot.
Guillem answers your questions...
Got a question for Guillem? Then send it in using the feedback form below, and then look out for his answer next week...
TITLE TILT?
Hi Guillem. After seeing Atletico Madrid beat Real - their seventh straight win - do you think they can be genuine title contenders this season? If not, where do you think they need to add to their side to really challenge for La Liga? Thanks, Barry
GUILLEM SAYS: I think Atletico Madrid will be contenders for three-quarters of the season but not the last quarter. They have a very strong team but it is all down to physical and mental strength and I wonder if, like last season, the level will go a little bit down. However, this is a good year to scare Barcelona and Real Madrid as Barcelona are not playing really great and Real are already dropping points.
A FAN OF FRAN
Hi Guillem, I have to admit that I knew very little about Elche at the start of the season but have been really impressed with their recent performances against Real Madrid and Celta Vigo. Could they cause a real shock and stay up this season? Cheers, Paul
GUILLEM SAYS: They key for Elche is Fran Escribá in his first experience as a manager in La Liga. He started off coaching in the lower ranks at Valencia and went with Quique Sanchez Flores to Getafe, Valencia, Benfica and Atletico Madrid but has started a new career as a number one. He has started well, bringing Elche up, but a poor decision from the referee unfairly cost them against Real Madrid, something that looks poor on the league. But to get the top games the referees in my country have to be submissive to the authorities and sometimes confuse that with keeping Barcelona and Real Madrid well. If you know you have to keep your boss sweet to keep your job, you sometimes make decisions that will make them happy. That is the case with the referees in Spain and in the Real-Elche game I think the official saw Pepe down and thought it was a penalty and did not see the incident, which was actually a foul by Pepe. This referee, César Muñiz Fernández, will now disappear for a while.
SCOTTISH SUCCESS?
Hey Guillem, I love your column! I'm a Celtic fan - what do you reckon our chances are of stunning Barcelona again this week?! No Messi is obviously a big blow for them and I'm hoping with the atmosphere at Parkhead and Celtic spirit we can repeat last season's win! Sam
GUILLEM SAYS: Barcelona are very direct away and don't keep the ball as much but I think we are going to see Xavi, Andres Iniesta and Sergio Busquets playing and I am pretty sure they will decide to keep the ball more. Still, they have the same weaknesses as usual and do not defend high up so it is easier to have a go at them. I am sure Celtic will have their chances and that it will be a tight game - and tight games can go either way.
VALENCIA'S ISSUES
Hi Guillem, living in the USA I don't get to watch as much of La Liga as I would like but I always love reading your column to keep up to date. I am an avid Valencia fan and am becoming increasingly concerned about what is going on there. I have never been a fan of sacking a manager quickly but despite what appears to be 100% backing from the board I really am not convinced that Miroslav Djukic is the best thing for the team. When you listen to reports coming from the dressing room he seems to be polarising or just plain confusing the players. Is there a problem with Djukic or is the problem higher up? I know the team has massive debt and that can't be helping but... Lance W
GUILLEM SAYS: I agree that Djukic is not a manager for Valencia and I have been saying it since the beginning of the season. I am not happy with his methods and neither are some of his players. Three consecutive victories is a push after everybody felt scared and they want home results to please the fans, but sooner or later you will see he is not building a team as against Rayo Vallecano they struggled in the midfield. I know the chairman who is visiting us on Revista says he will stay there forever - or until the end of the season - but we will see as I have my doubts.