Guillem Balague looks in detail at Barcelona's victory over Real Madrid in El Clasico
Guillem Balague gives us a tactical analysis of Barcelona's victory over Real Madrid in El Clasico.
Last Updated: 28/10/13 12:01pm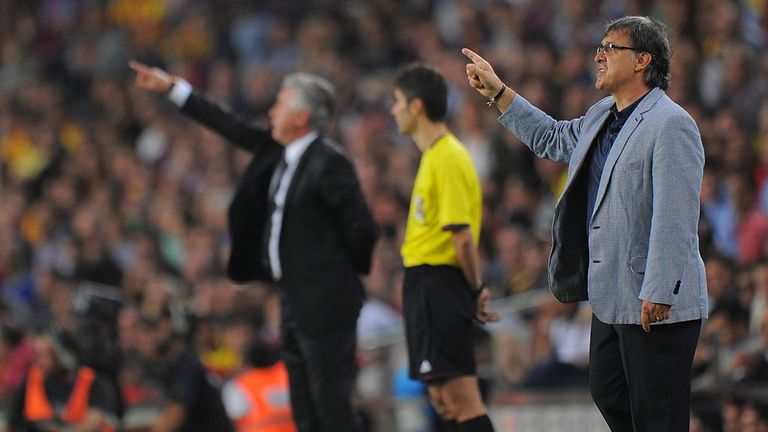 Both teams made a number of changes for the game at the Camp Nou. Barcelona moved Javier Mascherano to the right of the centre backs to stop Cristiano Ronaldo, they put Cesc Fabregas into a 'false nine' position and pushed Lionel Messi to the right.
Real Madrid, meanwhile, played Gareth Bale as a striker and, controversially, Sergio Ramos in midfield.
After the game the Madrid press have criticised Carlo Ancelotti for his defensive tactics - but there was nothing wrong with them in my eyes. Against a team like Barcelona, it was logical to play a Ramos-type player holding in central midfield, although perhaps Pepe would have been a better solution.
Real's main problem was in attack; playing Bale as a striker didn't work.
Madrid also lacked intensity in both their attacking and defending; there was not enough pressure on the ball (with Ancelotti teams we typically see players well positioned without applying pressure) and there was a lack of players running without the ball into space.
The Madrid press also made a bit of a meal out of the Ronaldo penalty appeal - but how about the foul committed by Daniel Carvajal in the first half when he got hold of Cesc Fabreagas' shirt? Or another foul on Cesc, after 51 minutes, when Pepe stepped on him? Or the non-sending off of Ramos, after two fouls on Neymar and one on Andres Iniesta?
It really hurt to Madrid to lose this game. They felt it should have been a draw, at least. They made some clever substitutions but the dynamic had already changed in the second half.
But Asier Illarramendi played well, so did Karim Benzema and Jese. When Xabi Alonso returns, the team will challenge for the UEFA Champions League and La Liga - if Barcelona drop some points.
One thing that has been noted at Madrid, which I agree with, is that the side can only get better, while there is not much room for improvement at Barcelona if they continue playing like they are.
Barcelona's midfield is not made for such a direct game as they are playing. Every time Messi or Neymar had the ball they wanted to finish, which meant possession was lost and the team was unable to apply pressure as high and as often as they would like to.
This Barcelona team is made to defend with the ball - without it they struggle, as you could see in the second half. The only way to improve would be to return to controlling games with the ball but Cesc, Neymar, Messi and Tata Martino are taking the game away from Xavi and Iniesta. I see dark clouds on the horizon...
Here's what I made of some of the key men on the field at the Camp Nou.
Messi Obviously Messi is not on top form. He chose his moments to defend and attack well, but going back to the wing offers one defensive problem as he cannot be tracking back all the time. This was his second full game in five days after being out injured for three weeks. This is a World Cup year and that will be in everybody's mind this season.
Neymar He had a good game. Intelligently he stuck to the wing and didn't come inside too often, looking for the one v one. He made a great assist and scored a goal in his first El Clasico, which shows he's a man for the big games. However, on the downside, he seems to make decisions too late and always wants to finish the move.
Bale He got another 60 minutes under his belt, which is important. It has not been decided yet if Angel di Maria, Bale and Ronaldo will be the three attackers but it is a possibility in certain games. They need to create the conditions for a counterattacking game to use their pace, though, which didn't happen in the first half.
Victor Valdes The Barcelona keeper was their best player. He has also decided to leave the club rather than change his mind. So watch this space...
Alexis Sanchez Alexis has been saying he is a super player. Well, he showed with his goal and also in the way he understood his role - using the space left behind the Madrid defenders - that he can be a top player. His introduction was a good substitution by Martino.
Sandro Rosell The Barcelona president will be especially happy with this win, as his two men, Neymar and Martino, emerged with more credibility.