Guillem Balague blogs on Real Madrid's rise up La Liga
A trio may be tied top of La Liga - but Real Madrid are primed to win the title, says Guillem Balague.
Last Updated: 10/02/14 4:28pm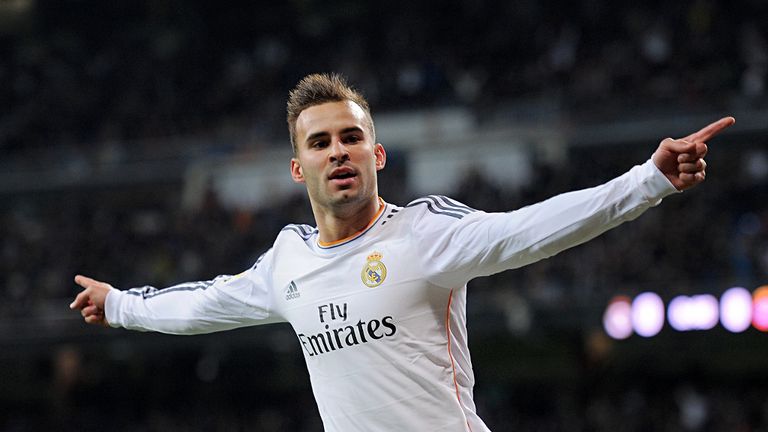 So, this is my time to show off because I said after Real lost El Clasico that they will win the league. I saw more room for improvement there than in the other teams.
As you can see, Atletico Madrid are hitting a wall and Barcelona depend still too much on individual talent - although when that individual talent is Lionel Messi and the many other good players they have it guarantees you will challenge for things.
But this Barcelona hasn't got a structure that sustains it. Andres Iniesta and Xavi can not hold a whole team, the way they're playing. I know Tata Martino is looking for alternatives but he needs different players for the alternatives he's looking for.
In the meantime, you look at their 4-1 win over Sevilla and think 'oh well, Barcelona were much better than them' but if you look at the first twenty minutes you'll see Sevilla could have been 2-0 up and the goal Barca scored was offside - but then Messi destroyed any debate.
This is Sevilla - when Barca face a bigger team I have many doubts about them and I've been having them all season.
Atletico on the other hand have Diego Costa up front who has not hit a shot on goal for two games; he's always surrounded by players. The fact David Villa wasn't there didn't help because he opens up defences but generally teams now defend very deep and give Atletico the possession because they're not made to be successful that way.
You knew it was going to happen. I'm sure they will compete for much longer - they've already competed for longer than last season so they've improved - but they're hitting their top level already.
Real Madrid, though, when Gareth Bale and Cristiano Ronaldo aren't there, have Jese pushing the team towards new heights. He's been in the line up four times and scored four goals. Statistically he's got a similar ratio of goals and minutes to Bale and Spain boss Vicente del Bosque is looking at him.
The 4-3-3 of Real manager Carlo Ancelotti seems to be working. It affects Asier Illarramendi and Isco but when you don't have the level and you're not flexible enough you end up falling off the edge.
Luka Modric has been perfect in every formation they've used this season, though, and the fans chanted his name for the first time in this game at the weekend.
Guillem answers your questions...
Got a question for Guillem? Then send it in using the feedback form below, and then look out for his answer next week...
MUNICH TO MADRID?
Hi Guillem, I've read that Thomas Muller and Javi Martinez could be moving to Madrid, is there any truth in deals for either of them? Thanks Paul
GUILLEM SAYS: No. People should stop reading Twitter so much!
SAINT STAYING PUT
Hi Gulliem. How highly do you rate Louis Van Gaal as a manager and was his time at Barca a failure or a success? Could you also shed any light on the rumours linking Pochettino to Real Madrid? Many Thanks David
GUILLEM SAYS: I've got no idea where Pochettino to Real Madrid comes from, Real Madrid have got no idea where that comes from and neither has Pochettino! I think someone just made it up. Having said that, he is on the way to becoming a top manager and I trust he'll have an opportunity at one of the big clubs in England first and perhaps Real Madrid at some point. Florentino Perez likes him. But these latest rumours? Nobody knows where they've come from.
As for Louis Van Gaal, I will call his first time at Barcelona a success and his second a failure. The second time, he shouldn't have come but in the first spell he put the foundation for the structure of the club and their methodology in place - and that has never been recognised. I'm trying to put together a bunch of opinions from people who were close to him - from Jose Mourinho to Pep Guardiola - to give him the homage he deserves because he was absolutely essential for the progression from the Johan Cruyff era to the Pep era.
BENZEMA TO BLAME
Hi Gulliem. I'm a big fan of your column! I'm a lifelong Madridista and was wondering if you can please shed some light on the Benzema situation, I know he is scoring goals at the moment but I can name at least 10 better strikers than him and would really love to see him leave. Is there any chance of Real Madrid signing Cavani, Suarez, Falcao, or any other world class striker or are we stuck with Benzema because of his relationship with Zidane?Roy
GUILLEM SAYS: I want you to name me the ten strikers and then we can continue talking!
TURAN THE MAN
Hi Guillem, Great Work! Unless I haven't seen enough of Arda Turan the Turkish gem at Atletico, why on earth isn't anyone in the EPL courting him? I'm seriously impressed with him.Nyakzin
GUILLEM SAYS: Turan had a lot of offers from England, from back home and from Germany but he decided to stay because he believed in the project and was earning enough - he got a new contract when all these offers came in from clubs in England.
THE BARCA WAY?
Hi Guillem, No doubt Luis Aragones was a special man and he changed the international team but do you think half of it came from Barca with Johan Cruyff as most of the Spanish talent has come from their academy and they know how to play the right way, which in my opinion is why the BPL players are not big players for Spain... Because they are not on the same wavelength tactically i.e. United, City, Chelsea etc. set their teams up different to La Liga teams with the approach and possession.Benjarno
GUILLEM SAYS: Of course Johan Cruyff helped Barcelona to a way of playing but you have to have somebody who says 'ok, let's do it now'. And by the time Luis Aragones started putting his team together and took the decision to put in all the short midfielders, Pep Guardiola wasn't in the first team at Barcelona and it was a bad Barcelona that had gone two years without winning anything. You have to be very brave to say 'that is the way'. He didn't say 'the way is the Barcelona way' he said the way is short midfielders, passing the ball, keeping control of the ball because Santi Cazorla, David Silva, Xabi Alonso and Marcos Senna, all these guys understood the style - and they weren't just Barcelona players.