Atletico Madrid favourites with Barcelona losing their essence and lacking authority, says Guillem Balague
Atletico are now favourites with Barca abandoning the essence of their game, says Guillem Balague.
Last Updated: 07/04/14 3:37pm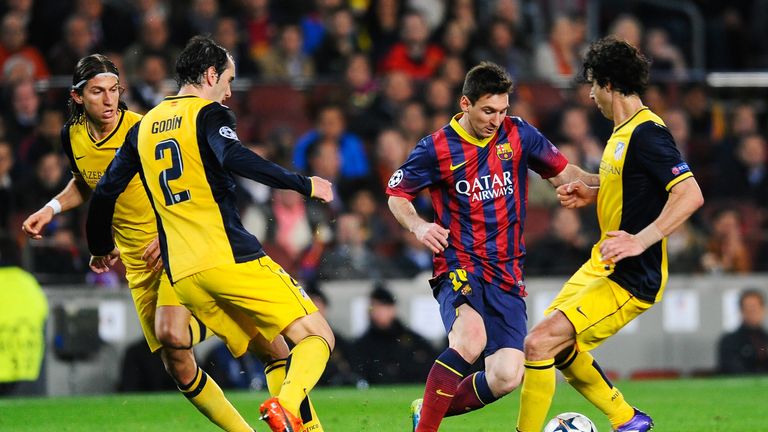 All three teams fighting for the title may have won, but after what happened this weekend, you could reach the conclusion that both Atletico Madrid and Barcelona were affected by their performance in the Champions League, they were certainly very tired.
Atletico Madrid - who won 1-0 at the Vicente Calderon - were especially tired in the second half, they gave all the initiative to Villarreal.
Barcelona, who came out 3-1 winners, had 13 shots on goal but so did Real Betis - which is unbelievable! Betis were really using the space well and there was a lot of space in what seemed like a very big pitch for Barcelona on this occasion. They didn't play as a unit, they appeared and disappeared during the game and that's what it's been like that throughout the whole season.
Essence
It's interesting how some fans accuse me of constantly having a go at Barcelona, but they obviously have short memories because I've written books on Lionel Messi and Pep Guardiola.
We were praising them for more than four years and they are reacting this season but the criticism for Barcleona is not because they aren't reaching the level they were under Pep Guardiola, it's not because of that; it's because they are abandoning their essence which is more painful.
The ones that don't analyse them deeply see a team that keeps possession and they think it's the same Barcelona, but it's not. Their positional game, what they do without the ball, those kind of things have gone; they've abandoned it and that's because there is a lack of authority at all levels. At the top from the board, from the bench, even on the pitch and that is the biggest criticism I have.
Keep Messi quiet
For the return leg of Atletico Madrid v Barcelona in Wednesday's Champions League match we have to highlight a couple of things.
- Atletico Madrid have managed to keep Messi quiet in their last five meetings - he hasn't scored against them in those matches.
- Plus, Atletico have only lost once in 26 home games this season and their first leg 1-1 draw at the Camp Nou gave us a few lessons about where the teams are.
Martino hasn't given Barcelona enough offensive alternatives and when a team defends very deeply like Atletico Madrid did, it's difficult for them to break them down and reach Messi. They then have to depend on one or two movements from the most talented guys that they've got in Iniesta, Messi and Neymar; because they don't work well as a team they make their life difficult and Atletico Madrid know that and they just wait for the moment.
Atletico will hope Diego Costa is fit; he's been running more than training this week but they are expecting him to be available for at least a bit of the game. He didn't have a full tear but normally the hamstring strain he picked up takes about a week to ten days to recover. He should be there but we don't know whether he will start.
I still see Atletico Madrid as the favourites. They know how to stop Barcelona, they know how to take advantage of their weaknesses at the back and they could be the big surprise of the quarter-finals.
Guillem answers your questions...
Got a question for Guillem? Then send it in using the feedback form below, and then look out for his answer next week...
TOUGH ON TORRES?
Hi Guillem, what do you make of Jose Mourinho's recent public criticism of Fernando Torres? I am a Chelsea fan and have been disappointed with Torres performances but I am more disappointed with Mourinho's attitude towards Torres. I mean the lad's history and achievements as a footballer cannot be ignored simply because things have not worked out for him at Chelsea, he's got a World Cup and European Cup medals and has won the Champions and Europa leagues, he deserves some respect. For JM to come out and criticise Torres after he has humiliated him in Paris by playing Schurrle as a striker is very bad management in any business let alone football! Could it be that Torres and Mata are being humiliated by JM for being Spanish because of the way he was booted out from Madrid and criticised by the Spanish press? Anyone can achieve success if given big players but the likes of Wenger and Sir Alex have turned unknown players (Henry, Anelka, Cristiano Ronaldo) into world class ones...
Geshaw
GUILLEM SAYS: The biggest disappointment about this is that Mourinho keeps saying he's the biggest protector of his players, but I don't feel that he's protected Fernando Torres. Should he have more or better stats - yes, perhaps he should, but coaching is not about just having the best players and that's it, it's about getting a talented player - who has shown his abilities before - back to that same level. I don't think it's through a lack of trying, so I agree with you there. I also don't think it's a national Spain v Portugal thing, well, I prefer to think that's not the case.
MARTINO'S MIDFIELD
Again Martino got it wrong; he played slow Fabregas instead of playing Alexis. In the Champions League there is only one rule - win or go home. If Barca is not going to overturn that home result on Tuesday, they will be out of top league. John Muthama
GUILLEM SAYS: Martino will probably play four midfielders again and I think that's not the greatest decision against Atletico Madrid. I think he needs at least Pedro or Alexis in the team because otherwise they lack depth and become too predictable. Xavi has dropped deeper than in the past and his passes don't reach as far and he doesn't pass in behind the defences because he's too far away.
NEYMAR CRITICISM
Tough criticism for Neymar. All the top South American players learn football at a smaller European club before coming in to a Barca or Real Madrid squad. His learning curve is that much harder. He looks better than any other 22 year old on the planet. Galen
GUILLEM SAYS: I agree completely with the tough criticism for Neymar, it's expectancy. You can blame me for that as well because I've wanted more from him. I loved the way he came in to the side and was a very disciplined winger. Then he started losing it, partly because of confidence, partly because he didn't follow instructions and that's where the criticism came from. But it's true that as a 22-year-old he certainly is one of the best around.