Guillem Balague's La Liga XI: Lionel Messi only makes the bench
Guillem Balague picks his 2014 La Liga XI and there are plenty of big names left on the bench.
Last Updated: 20/05/14 8:22am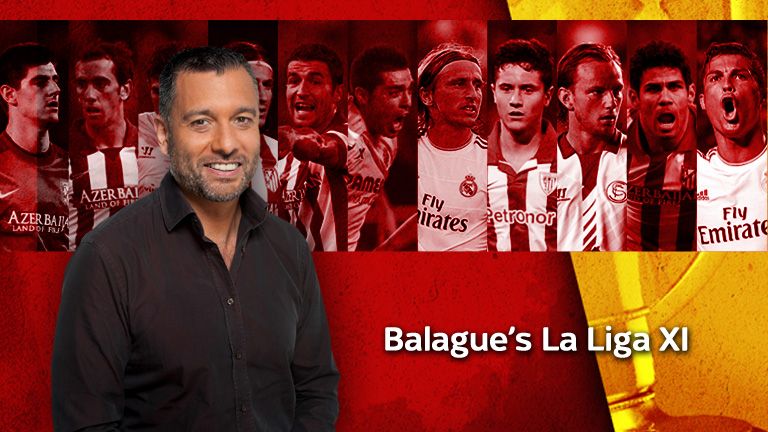 GOALKEEPER - THIBAUT COURTOIS
That Atletico Madrid have conceded just 26 league goals this season is due in no small part to the brilliance of this 22-year-old, Belgian man-mountain of a goalkeeper. If not already the best in the world, he almost certainly soon will be and he is a nailed on certainty for the Ricardo Zamora Trophy for the La Liga keeper of the year. Jose Mourinho wants him back at Chelsea.
DEFENCE - DIEGO GODIN
This brilliant, uncompromising, Uruguayan central defender has been fundamental to Atletico's success this season and he has also weighed in with four vital league goals, not least the bullet header that earned a draw at the Camp Nou that won the title. Without him in defence - as shown in the penultimate game of the season against Malaga - Atletico, quite simply, don't look as solid.
DEFENCE - FEDERICO FAZIO
A surprising omission from Alejandro Sabella's World Cup squad, Federico Fazio has been a rock in central defence for Sevilla's Europa League winning side. Very strong in the air and surprisingly skilful for a big man, Fazio has been hampered by injury for much of his career in La Liga which has all been spent at Sevilla.
DEFENCE - FILIPE LUIS
On standby, though not in the Brazil's official squad, Filipe Luis has enjoyed a magnificent season with Atletico and is now attracting admiring glances from Europe's major clubs, most significantly Chelsea. A tireless left-sided defender noted for his strong tackling, he has been one of Diego Simeone's mainstays at the Calderon this season.
MIDFIELD - GABI
Simeone knew what he was doing when he picked Gabi as captain for his league winning side. An inspirational defensive midfielder who has played 49 times this season he also weighed in with the crashing equaliser against Real Madrid which effectively put them another point ahead of their city rivals on the head-to-head rule and he also took the corner for Godin to net the equaliser at Barcelona.
MIDFIELD - BRUNO
A true one club man, local boy Bruno Soriano was born just down the road from Villarreal in the small town of Artana and was the inspiration for the club's return after they were relegated the season before last. This year, despite injury, he has helped Villarreal to a creditable sixth place finish and a Europa league place and can consider himself a little unlucky not to have made Del Bosque's squad for Brazil.
MIDFIELD - LUKA MODRIC
Once booed by the fickle Madrid fans, Modric was a revelation for Los Blancos this season. Skilful, creative, fast and with a good shot, he has made no fewer than 34 league appearances for his side this season in a total of 50 games. In the distinguished company that is the Real squad he has been without question Real Madrid's player of the season.
MIDFIELD - ANDER HERRERA
Following a messy 'almost' move to Manchester United, Ander Herrera bounced back in style as Athletic Bilbao's star of the year with performances that meant his club have earned a fourth place La Liga finish and go into the qualifying round for next season's Champions League. Just 24-years-old, injuries permitting, he is almost certain to be part of La Roja's future, for years to come.
MIDFIELD - IVAN RAKITIC
Rakitic is the latest in a long line of players to blossom at Sevilla before being sold to balance the books. Sevilla will almost certainly sell the Swiss-born Croatian midfield maestro for considerably more than the 2.5 million euros they paid Schalke for him, but his performances in both the league and the victorious Europa League campaign certainly means they will, at the very least, be looking to move the decimal point one place to the right, not if, but when he is sold.
FORWARD - DIEGO COSTA
After a sensational season that saw Costa earn a Spain call up following performances that saw his club, Atletico, win La Liga and secure a Champions League final spot, the tempestuous Brazilian-born striker's season ended in heartbreak when injury ruled him out of the Champions League. It might also cost him his place in the World Cup but what it almost certainly won't stop is a big money move in the summer, probably to Chelsea.
FORWARD - CRISTIANO RONALDO
And once again Ronaldo did what he did best, scoring all four goals - including a hat-trick in the second leg against Sweden - that booked Portugal's place in the World Cup finals. He also picked up the Ballon d'Or, the Pichichi, as well as score, arguably the goal of the season with an impudent back heel volley in the closing minutes against Valencia. On his day, a goal-scoring machine and quite simply unstoppable and certainly one of the greatest ever to play the game.
SUBS
And what about this for a bench?
KEYLOR NAVAS
At the World Cup, England will have an opportunity to get a close up look at Keylor Navas the Costa Rican goalkeeper who has been exceptional for his side Levante this season, helping them to a very creditable 10th place. Only the top four clubs have conceded fewer goals and Navas is now attracting attention from many bigger clubs.
KOKE
Koke of Atletico has earned himself a place in Del Bosque's 30-man squad for Brazil following a dream season with Atletico where his partnership with Diego Costa has been one of the highlights. Just 22-years-old, he is almost certain of a long future with La Roja.
GARETH BALE
Bale had a difficult start after his record signing for Real Madrid but achieved cult status with his wonderful winning goal in the Copa del Rey final against Barcelona and for all his problems he still managed to hit 15 league goals in 27 appearances, which bodes well for next year.
LIONEL MESSI
Messi, by his own stellar standards, had an indifferent season. That said, he still managed an astonishing 41 goals in 46 games, a figure that just about any player anywhere in the world would give their right arm for. There are, unbelievably, still some people out there that question where he stands in the history of the game, which I find baffling, because in my opinion, when used correctly, he is quite simply the greatest player EVER.
ANDRES INIESTA
And talking about great players, the universally adored little maestro Andres Iniesta also didn't have the best of seasons finishing - so far - without a trophy for the first time since 2007. Mind you, he's still got the World Cup to go for and in an indecently talented midfield he will almost certainly be one of manager Del Bosque's first names to go on the team sheet.
SERGIO RAMOS
And finally Sergio Ramos, who has had his best season for some time, and is now looking to round it all off with the much prized and illusive 'Decima' in Lisbon against Real Madrid. Still aged just 28, the Sevilla born central defender seems to have been around for ever and is also, injury permitting, a certainty to start in the middle of defence for Spain in Brazil.
Do you agree with Guillem? Let us know your La Liga XI by commenting below.