I know there has been a lot of criticism of Real Madrid following the departures of Xabi Alonso and Angel di Maria.
What I would say is that Alonso wanted to go and he surprised everybody by asking the coach and the club to let him leave. So it's not like the club really had an alternative unless they forced him to stay, which would not have worked.
In the case of Di Maria there was a financial element. He wanted to stay, no doubt, but with the way Real Madrid play he would not have been happy on the bench and it would have been a very expensive player to keep in reserve.
Carlo Ancelotti is saying they're like a diesel car, so it takes a while for it to start going fast.
That's the thinking of the club – I'm not saying I agree with it, but that's their thinking and they had to make a decision.
Carlo Ancelotti is saying they're like a diesel car, so it takes a while for it to start going fast. The players are intelligent and have got quality, and they will have to adapt to their new positions.
Toni Kroos is certainly going to be crucial in front of the defence, playing the role he plays for Germany, but he didn't play that way with Bayern last season.
James Rodriguez will have to adapt to the midfield position which he played as a kid – on the left-hand side, working hard to track back as he used to do – but also he might be able to play as a number 10 depending on how the formation evolves.
In the meantime, there seems to be a lack of intensity and concentration from everybody and 30 minutes of good football against Real Sociedad and Atletico Madrid is certainly not enough, so that's the job Ancelotti has got on his hands.
Fluidity
Atletico Madrid beat Real Madrid this weekend and are continuing to play the same way as they did last season, with one addition now they've got Arda Turan back into the team.
He's the only one I feel that can link up the attack with fluidity. Otherwise they play long balls too often, and too often the team loses control of the ball.
The substitutions were great and Turan and Antoine Griezmann gave Diego Simeone what he wanted, because the first half – regardless of the result – was poor from Atletico Madrid.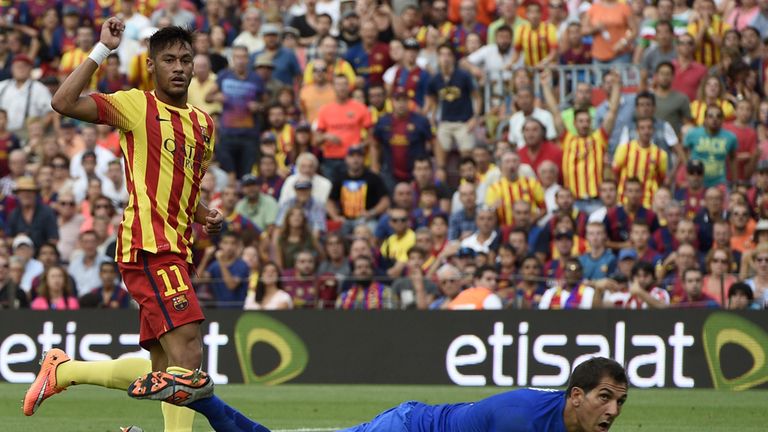 As for Barcelona, Luis Enrique is bringing back the intensity into their training.
He also gives USB sticks to players to take back home - unlike the hand-written notes of Tata Martino. That's a move forward to a more modern approach, a more individual approach to both thinking about training and about the game.
Basically he is being like Big Brother, where the players have to think he is on top of them constantly, and he is, both on the bench and in training, and they are doing what he wants.
They pressure high and the forwards are close to Lionel Messi – they play inside instead of wide and that needs constant movement and constant running in behind the defence. Both Munir and Pedro did that this weekend.
Neymar added something else, a little bit of chaos at the right time, but I want to see him making those runs in behind the defence. Rather than running with the ball so often, he needs to work hard off the ball. We have yet to see that because he hasn't had much continuity in the team. 
It's still in the early stages but it's so far, so good for them.
Guillem answers your questions...
Got a question for Guillem? Then send it in using the feedback form below, and look out for his answer next week...
RE-UNITED?
Hello Guillem, what are the realistic chances of Cristiano Ronaldo heading back to Manchester United? How would he fit into Louis van Gaal's system? Akash
GUILLEM SAYS: I do believe Manchester United are preparing an offer, or have got an offer prepared, for Cristiano Ronaldo and have had for months. I do believe he is thinking of going back, but there will undoubtedly be more on that later!
FALSE DAWN
Hi Guillem, Valencia and Sevilla have both started solidly. Could you see them doing an Atleti and being up there at the end of the season?  Dan Simpson
GUILLEM SAYS: I think it's a slightly false dawn from Valencia. They will be more competitive than last season but in the game against Malaga there was the sending off of Sergi Darder around minute 27, and that helped Valencia. Against Espanyol they could have been 1-1, a disallowed goal, and again they struggled. They defend too deep – they have to come further up the pitch and that will take time, but they're still miles away from Atletico Madrid.
Sevilla are the same. They are trying to replace Ivan Rakitic but they still haven't got the perfect combination. Denis Suarez is the organiser but he moves wide too often and hasn't got the continuity of that kind of midfielder yet. With Ever Banega still not fit to play 90 minutes yet they've got to work on control of the ball and control of the game. Again, they will be more competitive than last season, no doubt, but they will be fighting for fourth position with Valencia and a few others.