Leicester backed to beat Liverpool as Jeff Stelling provides his Super 6 predictions
Last Updated: 26/12/15 1:21pm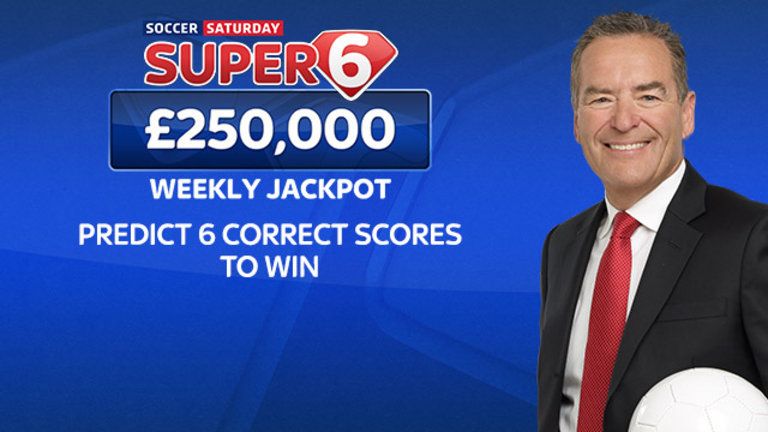 Jeff Stelling provides us with his advice for the latest round of Soccer Saturday Super 6, with £250,000 up for grabs in the free-to-play game.
The Soccer Saturday host is in agreement with the majority in backing Leicester to maintain their fantastic form with a victory at Liverpool, although he fails to see fellow high-fliers Watford upsetting Chelsea.
Here's what Jeff makes of the most popular predictions so far...
Aston Villa v West Ham
Most popular prediction: 1-2 (22 per cent)
Jeff says: Well obviously Aston Villa are really struggling, with a club record of 16 league games without a win. It was a bit better against Newcastle at times, but it's hard to see who is going to get the goals they need. Rudy Gestede won't be winning too much in the air against the likes of James Collins. West Ham still look solid for all their injuries and with one or two players starting to get fit again I'm backing them to win here.
Jeff predicts: 0-2
Bournemouth v Crystal Palace
Most popular prediction: 1-1 (27 per cent)
Jeff says: I can see why people would go with a draw and Bournemouth have been fantastic. Rumours are rife that there will be an influx of players in the January transfer window, but they've got plenty of unsung heroes, if you like, more than holding their own with both full-backs scoring last weekend. Adam Smith, who has was loaned out here there and everywhere by Tottenham, has forced his way in and looks a threat going forward, while Dan Gosling and Charlie Daniels have both done well.  
As for Palace, well they are just fantastic at the moment, winning at Stoke without Yohan Cabaye. They've got power and pace and, while I do worry that a tight ground like Bournemouth's might not suit their counter-attacking style, I still fancy them to get the win.
Jeff predicts: 1-2
Chelsea v Watford
Most popular prediction: 2-1 (25 per cent)
Jeff says: Well I'm going with Chelsea as well but I must say with very little faith. It's hard to know what to make of their win over Sunderland. It was better but still not brilliant and whether it was the product of a huge sigh of relief from the players is up for debate.
It was 1986 when Watford last won here but they haven't had a side like this since then. They steamrolled Liverpool, with Odion Ighalo flying while Almen Abdi and Etienne Capoue have both been fantastic, but I do think Chelsea will get the win.
Jeff predicts: 2-0
Liverpool v Leicester
Most popular prediction: 1-2 (25 per cent)
Jeff says: Liverpool have been really underwhelming, being outplayed by Watford and indeed for weeks before, failing to score in three of their last four. I certainly wouldn't put any money on them keeping a cleaning a clean sheet, especially if Jamie Vardy is fit. Leicester are the top scoring side away from home this season and I don't see any reason why they should fear this Liverpool team on current form.
Jeff predicts: 1-2
Manchester City v Sunderland
Most popular prediction: 3-0 (34 per cent)
Jeff says: Manchester City are the top home scorers by a streak and Sunderland worst defence away from home, which surely only means on thing.
I was utterly underwhelmed by City at Arsenal and they didn't look like title contenders, but City have also never lost at home to Sunderland in Premier League and Sam Allardyce is realising how much of a task he has on his hands. The transfer window can't come quick enough for him.
Jeff predicts: 3-0   
Tottenham v Norwich
Most popular prediction: 2-0 (34 per cent)
Jeff says: I'll go along with that 34 per cent. Norwich have shown plenty of spirit and deserved to win at Old Trafford but their league low of just one clean sheet is a concern.
Spurs can't afford to start as they did at Southampton or indeed the way they finish against Newcastle, but I fancy former Norwich loanee Harry Kane to do some damage here.
Jeff predicts: 2-0