World Cup 2018 Russia organising committee chairman Vitaly Mutko steps down
By Sky Sports News
Last Updated: 27/12/17 3:05pm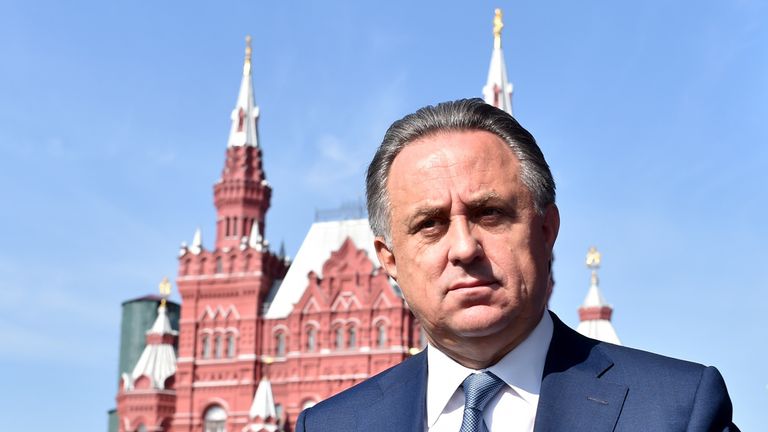 Vitaly Mutko has resigned as the chairman of the organising committee for the World Cup in Russia next summer.
Earlier this month, Mutko was banned for life from the Olympics after a report commissioned by the International Olympic Committee concluded he had run a state-sponsored doping programme in Russian sport.
Mutko stood down as the president of the Russian Football Union on Monday. He says he wants to focus on clearing his name at the Court of Arbitration for Sport.
Mutko is remaining in his post as one of Russia's deputy prime ministers.
Alexei Sorokin, the chief executive of Russia 2018, will assume Mutko's role as chairman of the organising committee.
The Russia 2018 Local Organising Committee (LOC) said it was with "great regret" it had learned of Mutko's decision.
"The change in the leadership of the Russia 2018 Local Organising Committee will not affect the preparation of the 2018 FIFA World Cup," the Russia 2018 media office said.
"Our goal remains unchanged - to host the tournament at its best organisational level for the fans and participants."
FIFA has also acknowledged Mutko's resignation, and said it would work closely with the LOC under its new leadership.
A spokesman for the world football governing body said: "FIFA thanks Mr. Mutko for his invaluable contribution to the preparations for the competition so far."
Mutko has been the most powerful man in Russian sport for the past decade. He was minister of sport from 2008 to 2016.
Last year, the McLaren Report found more than 1,000 Russian athletes across 30 sports benefitted from a state doping programme between 2011 and 2015.
Earlier this month, an investigation headed by the former president of Switzerland Samuel Schmid concluded that Mutko "had the ultimate administrative responsibility for the acts perpetrated at the time".