Jordan Pickford: The making of England's goalkeeping hero
The England goalkeeper's journey from non-league to the World Cup
Last Updated: 05/07/18 3:37pm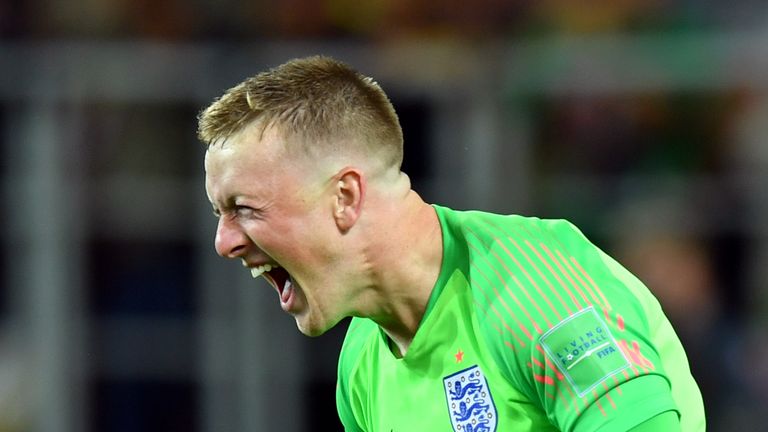 Jordan Pickford has completed the journey from non-league football to England hero. Last summer, Adam Bate spoke to players and coaches who have followed the goalkeeper on that journey. Find out here why Pickford was ready for Russia…
His England debut only came in November. As recently as the weekend, he was being mocked by Thibaut Courtois for being too short. But Jordan Pickford was England's penalty hero against Colombia, the 24-year-old Everton goalkeeper saving brilliantly from Carlos Bacca to help his country into the last eight of the 2018 World Cup in Russia.
Nobody should be too surprised. Pickford has risen to every challenge thrown at him so far. His first season at Everton was a turbulent one but he still took away the player of the year award. The same thing happened at Sunderland the season before, and that's just his two years in the top flight. England's overnight sensation has been years in the making.
Prior to Pickford's Premier League debut at Tottenham in 2016, he had already made 116 league appearances in loan spells at six different clubs. From non-league through League Two and League One, he graduated to the Championship with Preston. Far from being chucked in at the deep end, Pickford's transition to the top has been perfectly managed.
If there was a moment of truth, it came in his very first game. The circumstances could hardly have been more dramatic. Pickford was drafted into a dire situation at Darlington back in 2012. Players were there on a non-contract basis and not being paid. The club's very future was at risk. And between the sticks stood a 17-year-old goalkeeper.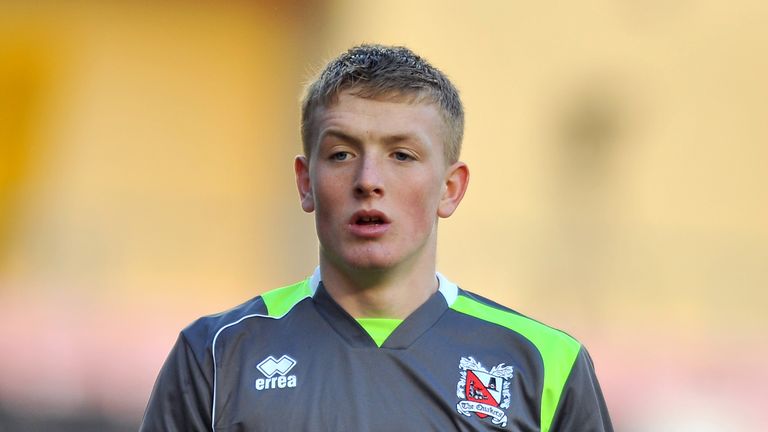 The debut came against Fleetwood in front of a crowd of 5,638 - many fearing they would never see the team play again. Crowd congestion even delayed the kick-off. Local midfielder Adam Rundle was one of the few senior players to stick around. "It was basically just youth teamers with a couple of older lads there to guide them through," he told Sky Sports.
"We had to make the best of it and that's what we did. The fans were fundraising and doing bucket collections just to help the lads get by. The craic was good and there was still a bit of a buzz because we were on a hiding to nothing really and getting to play in front of big crowds. I think the young lads enjoyed it because they were getting that experience."
More than 6,000 people turned up for the next home game against York and there were other big matches against the likes of Luton, Stockport, Grimsby and Wrexham. Darlington did not win any of them. In fact, Pickford failed to win any of his 17 games for the club. He tasted relegation before he tasted three points. Sunderland was nothing compared to this.
"He was coming into a difficult situation," added Rundle. "He was probably getting 25 to 30 shots to save. It did him the world of good though. I definitely thought he had potential and being in that situation probably helped him. He was thrown in at the deep end as a 17-year-old but that's how you get your experience. He was able to get his at a young age."
Even as a teenager, however, the defeats will have stung Pickford. "He hated losing more than anyone I knew even in training," recalled fellow Sunderland youth-teamer Billy Knott. "You could see he had ability even at that age. You knew he was going to be a good player. But he was not arrogant. He is one of the nicest guys I have met in football."
Knott's biggest memory of their days together on the training pitch was Pickford's distribution skills. It has become something of a trademark for him, having created more chances than any other Premier League goalkeeper over the past two seasons. In particular, his mastery of the side-volley has goalkeeper coaches drooling - and outfield colleagues too.
"His kicking gets me," added Knott. "You wouldn't mind if he was on your team in five-a-side whereas some keepers you wouldn't want them anywhere near your team. When we used to train as kids he used to join in possession and he could handle the ball. That is really important in today's football. You have to be able to play and he can do that."
After spells with Alfreton, Burton and Carlisle, Pickford made the step up to League One with Bradford, joining on loan soon after Knott signed for the Bantams on a free transfer. "He sent me a text before he came to ask what it was like and I told him the fans were brilliant and would love him," said the midfielder.
"He got to play in front of 17,000 every week as a young lad so it was good for him to go there. He did really well. He was coming for balls all the time and although he did make some mistakes because of it, you just knew that he would keep coming for them. He would never shy away. Not many keepers would do that."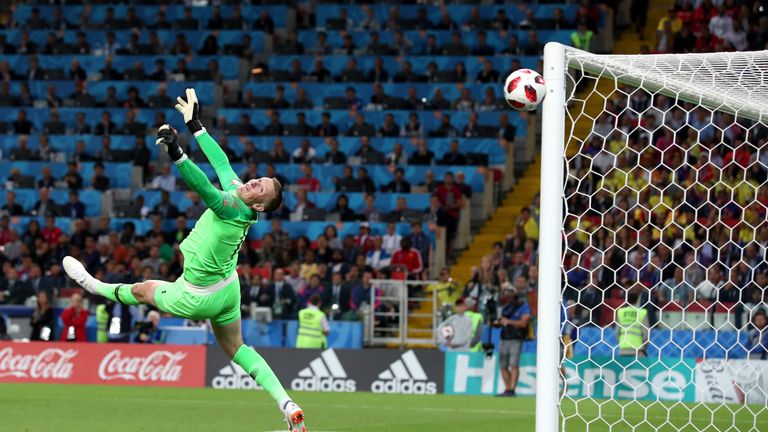 Pickford's performances caught the eye of Preston manager Simon Grayson and the goalkeeper got the opportunity to complete his lengthy lower-league apprenticeship in the Championship. "Not many of our players or supporters knew about him but we had obviously watched him," Grayson told Sky Sports.
"He had done the whole learning curve with non-league football and gone through all of the divisions. He had served his time at Bradford and Carlisle and other smaller clubs. You could sense that had given him confidence but that he was not getting above his station either. Sunderland was just the next chapter in his career really.
"His distribution is second to none. To be honest, he could play outfield with the feet that he has got. Whether it is off the deck or out of his hands, he can suddenly turn defence into attack. His shot-stopping is up there with the best as well. We had no doubt he would go back to Sunderland and get the number one spot there."
It has only continued from there. Speaking last year, Grayson had predicted this culmination to Pickford's journey. "I think he will eventually get to be England's number one," he said. "He deserves it because he is a hard-working lad who wants to improve all the time. If you do that you have got a chance of getting where you want to get to and I am sure he will do."
Pickford now has 185 league games behind him and goodness knows how many more to come. But as Rundle pointed out, in terms of actual activity, he has picked up more experience than most in those matches. Pickford was ready for this, the very biggest of stages. After everything he has experienced so far in his career, why would he not be?
"He has not got to play in many teams where you are winning every week but these experiences help you grow and toughen you up mentally," added Rundle. "Getting that Darlington situation under his belt at a young age and having to deal with the Sunderland relegation. Let's face it, from now on it will all feel like plain sailing."
A version of this article first appeared on Sky Sports in June 2017
Comment below to get involved in the debate, but please adhere to our House Rules. If you wish to report any comment, simply click on the down arrow next to the offending comment and click 'Report'.