Pierre-Emerick Aubameyang received a frosty reception from Borussia Dortmund fans as the club issued demands over any potential sale.
The 28-year-old striker, who is Arsenal's top target before the January transfer window closes, made his first start for a month on Saturday and played for 90 minutes in Dortmund's 2-2 Bundesliga draw with Freiburg.
But he was booed by a section of his own fans who unfurled a banner which said: "No player is bigger than our club".
The club have rejected a £50m bid from Arsenal for Aubameyang but say a deal could still be reached. It is understood they want in the region of £60m.
Speaking ahead of Saturday's game, Dortmund's sporting director Michael Zorc told Sky Germany: "We are prepared to implement a transfer under certain parameters, and only if these parameters are fully met.
"Arsenal have made several attempts so far [to sign Aubameyang] and they have all been rejected.
"Either our demands are fulfilled, then there can be another transfer, or they will not be fulfilled and Aubameyang will play in Dortmund until the summer.
"By the way, this has also been discussed with, and accepted by, the Aubameyang family."
Arsenal officials have been in Germany to discuss a deal for the forward but their offer of more than £50m was rejected on Wednesday.
Dortmund needed a late equaliser from Jeremy Toljan to move up to fifth in the table but goalkeeper Roman Burki hit out at the fans who booed Aubameyang saying: "People came to the stadium to whistle their own team, they should stay at home.
"That is no support, these people have no idea about football, they probably have nothing better to do."
Zorc defended the supporters saying: "The fans have the right to show their displeasure when a game is going like that. Everything was within limits."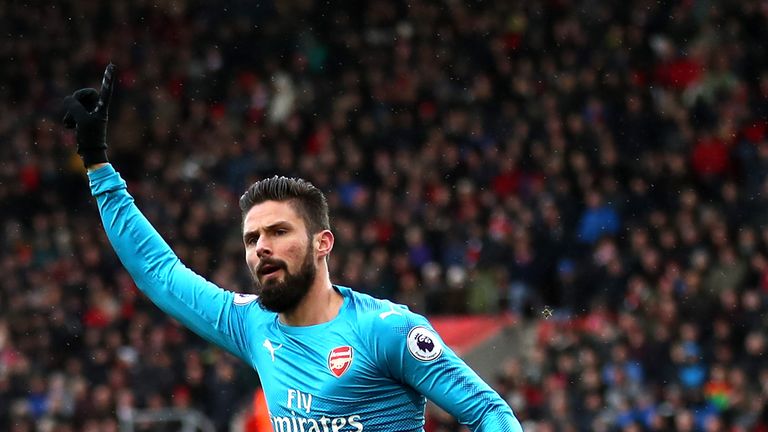 Sky Sports News reported on Thursday that Olivier Giroud would not be moving to Dortmund as part of the potential Aubameyang deal, despite reports he may move on loan to the Westfalenstadion.
When asked on Friday about Arsenal's pursuit of Aubameyang, Arsene Wenger said: "I cannot tell you more, nothing to announce today.
"At the moment we stay where we are. It's still possible [something could happen] but we are far from being close."