Paul Lambert says no Aston Villa talks with Christian Benteke until summer
Paul Lambert has rejected talk that Villa have opened discussions with striker Christian Benteke over a new contract.
Last Updated: 11/04/13 5:21pm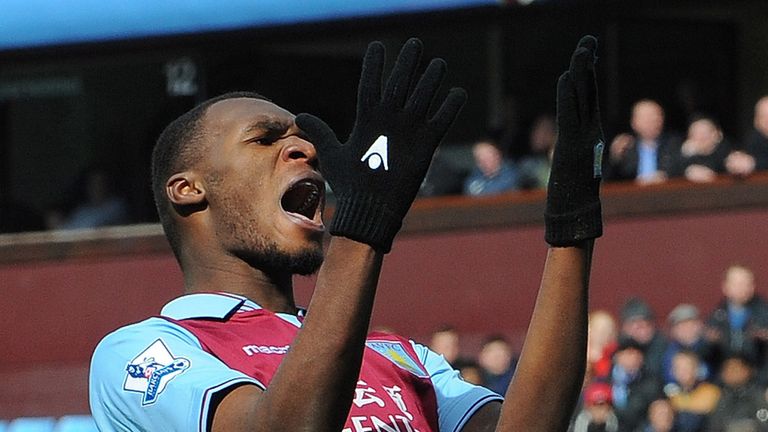 Benteke has enjoyed a superb first season in the Premier League, despite Villa's struggles, and is coming close to reaching the 20-goal mark that no Villa player has reached since Peter Withe 32 years ago.
That has led to speculation of Benteke looking for a summer move up the ladder, but Lambert says neither party has pushed for any negotiations and that situation will not change before the summer.
Lambert said: "I think the most important thing is the league until the end of the season, I heard somebody say he's been promised a new contract but I can't have been a part of those conversations.
"I speak to him all the time, not about contracts, I just tell him to keep it going really. And he's never once mentioned anything to me about contracts.
"He's got a contract here anyway as it stands, but I think it's important we stay in this league and do as well as we've been doing.
"As I said before I've never had one conversation with him regarding contracts or anything like that, he's not that type of lad. I'm sure come the end of the season we'll sit down and it'll be just Chris and a few others."
Lambert has been full of praise for the former Genk striker and he says getting close to Withe's record is a further mark of his impact on the team this season.
"If you have to go back that far it shows how good he's been. Nobody visualised he was going to do what he has when he first came in, but the big guys been fantastic," Lambert said.
"He's the one that does it, he's the one that plays the game, he's the one that goes out there every week and he's been a credit to himself and to the football team - that's the main thing. I'd like to see him continue doing what he's been doing and as for the rest we'll see what happens."