Swansea defender Ashley Williams keen to focus on Chelsea, not his future
Swansea defender Ashley Williams has dismissed talk about his future as he gears up for Sunday's clash with Chelsea.
Last Updated: 28/04/13 2:26pm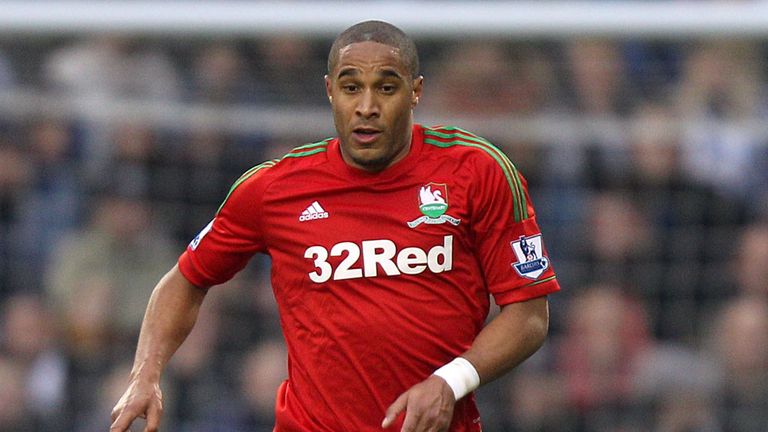 The Wales captain has been the subject of speculation over a possible move this summer, with Arsenal and Liverpool reported to be among the front-runners for the centre-back.
Williams is humbled by the attention from bigger clubs but has stressed that his primary focus is on making sure Michael Laudrup's side finish their season on a bright note.
"I've answered the same questions so many times over the years and it's the same now," Williams told Wales Online.
"If you're being linked with other teams it means you're doing your job properly.
"I can't think about things like speculation, I'm here with Swansea, enjoying playing in the Premier League and being captain and that's what I'm focused on.
"You can take it as a compliment because you don't see players who aren't playing well linked with other clubs in newspapers, but it's a case of 'thanks for the compliment' and that's that. I don't pay too much attention to it all.
"The only time I think about it is when people stop me in the street or journalists ask me about it.
"There's no point in me thinking about it otherwise because I have too much else to focus on in my own personal life and on the pitch and the training ground for Swansea."
Williams proved his ability as a top level defender with a superb performance in Swansea's Capital One Cup semi-final first leg win over Chelsea.
The 28-year-old will be looking to put in the same performance on Sunday as the Swans tackle the Blues once again.
Williams said: "We can get a result there. It will be tough, that's obvious, but we've been there and nicked a win before.
"There's a lot of work left still to do this season and we know we have a massive game on Sunday with the pressure we're putting on ourselves and what we've put into it this week.
"No-one is looking at their own careers; we're just looking to finish this season strongly."