Transfer News: Cruzeiro midfielder Everton Ribeiro open to Manchester United move
Cruzeiro midfielder Everton Ribeiro has told ESPN Brasil that he would fit into the Manchester United side.
By Paulo Freitas
Last Updated: 10/12/13 8:24am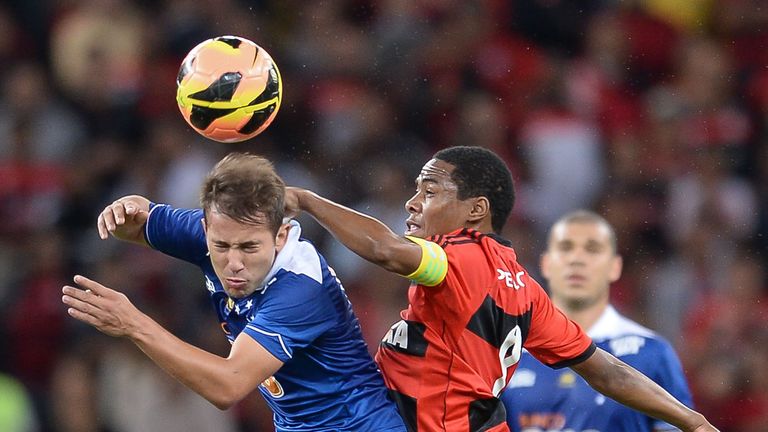 United have been strongly linked with a January move for Ribeiro, who has recently helped Cruzeiro to win the Brazilian title.
The 24-year-old was also named the league's best player and his agent claimed last week that talks have been held with United.
Cruzeiro have also stated that they are aware of interest from the Red Devils, but have not received any offers for Ribeiro, who has also been mooted as a target for Liverpool.
A fee in the region of £15million has been suggested for a January deal and Ribeiro believes he is capable of playing in the Premier League.
"I already watch the Premier League games," Ribeiro told ESPN Brasil. "They are great teams that play in Europe. They are the dream of any player.
"I feel I am ready to play in any part of the world. If you play for Cruzeiro, you can play in any place.
"United have Kagawa, Rooney, De Gea is the goalkeeper. I know them very well because I play with them a lot in video games as they are a great team. You play it one day after the other and know the players even better.
"I would fit in any part of the midfield. I would do well as a playmaker to support the attack."
When asked if he will be playing alongside Robin van Persie and Wayne Rooney, the midfielder said: "It would be great.
"I let my agent and Cruzeiro talk about that. When they feel it's good for both parties, they will let me know. I'll see and we'll analyse everything."
Ribeiro added to Gazeta Esportiva: "There is always speculation after a great performance in a competition, but I am a Cruzeiro player.
"I'll rest a lot, enjoy the holidays with my family and return fully charged in January. I let Cruzeiro and my agent handle the negotiations."