Phil Thompson believes Raheem Sterling has been planning his Liverpool exit for some time and suspects a deal with another club is already in place.
Sky sources revealed on Monday that Sterling and his representatives intend to tell Liverpool he does not plan to sign a new deal when contract talks resume on Friday.
But former Anfield captain Thompson says if Sterling goes he will be doing so at the wrong time and for the wrong reasons, adding the 20-year-old has 'far too high an opinion of himself'.
"I have always thought it was coming this way from when he first made his comments that he wanted to leave things until the end of the season until he makes his decision," Thompson told Sky Sports News HQ.
"As soon as he started saying those things, you know what is going on. In the background, I would probably think a deal has been done with someone.
"Raheem Sterling is a good player. He is not a great player. He has done well for Liverpool but he is not the superstar that he perceives himself to be. He has still got a lot of learning to do and he is at the right club to do it."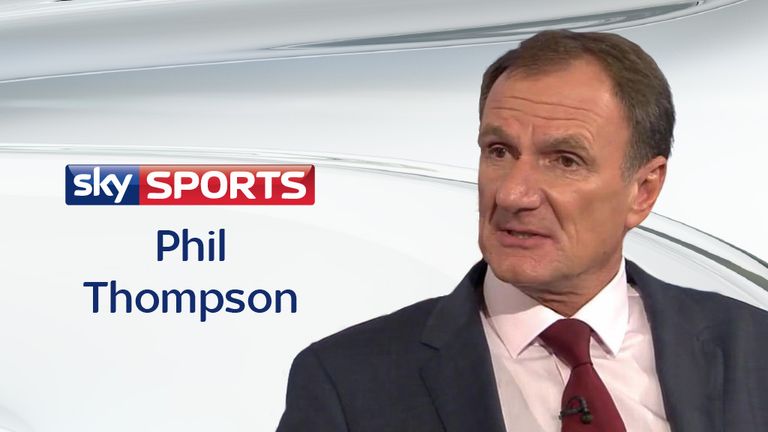 Raheem Sterling is a good player. He is not a great player. He has done well for Liverpool but he is not the superstar that he perceives himself to be.
One theory for Sterling's desire to move elsewhere is that Liverpool, who will finish outside the top four this season, are not in a position to compete for trophies and the England international would stand a better chance of winning silverware elsewhere.
Thompson, however, believes Sterling is motivated by money and he thinks the player's development will be limited if he is not afforded regular playing time at another club.
'Greed'
"For the money he is asking for – £100,000 – I don't even think he is actually worth that so for him to be asking for £150,000 is basically greed," Thompson said.
"Whether he will get the money he wants, I am not quite sure. But I think in these last six months, his mind has been made up through his advisors that the best thing to do is seek the next step of his career elsewhere.
"If this was Luis Suarez, I'd be saying give him what he wants and players like that deserve it. This boy is 20 years of age. He is learning his trade still. I think he was being offered an extremely good deal if what we are being told about £100,000-a-week offer was true.
"He would be at a club where he could probably guarantee playing football every week which is going to be vastly important to him. Going to another club, I don't think there is any guarantee of that at the moment.
"I think Champions League, Europa League has nothing to do with this. It's all money driven."
In the wake of Suarez's exit last summer, it would be a big blow for Liverpool to lose another key player so soon afterwards and Thompson admitted he is concerned about the message those departures send to other players.
"That is a worry and I cannot sit here and say it is not," Thompson said. "It certainly is. You have got the likes of Raheem who is a London boy with no great ties to my football club so that has got a bit to do with it.
"But yes you worry that the players are going to be coming in, we can nurture them, they come through the academies and then if they see fit, they see their next step at a bigger club with the potential of winning a bit more."