As Juventus prepare to face Inter Milan on Friday, nobody has scored more goals in Serie A this season than Cristiano Ronaldo. But do the goals tell the whole story? Or has Ronaldo changed since his summer move from Real Madrid?
With his goal against Fiorentina last weekend, Ronaldo became the first Juventus player to score 10 goals in his first 14 league appearances since John Charles in 1957/58.
For a player who scored 451 goals in 438 games for Real Madrid and is the all-time leading scorer in the Champions League, the goals should not be a surprise.
But Ronaldo has offered the Old Lady more - which might be a surprise for those who saw his nine-year evolution at Real Madrid from explosive winger into effective striker.
Follow Juventus v Inter Milan with Sky Sports
Juventus had a striker last season in Gonzalo Higuain. They decided to part ways with him, opting for a change despite 23 goals in all competitions last season and a second straight MVP of the year award for the Argentine.
Now, instead of Higuain up front, it is Ronaldo and Mario Mandzukic.
The partnership is still in its infancy, yet it seems to be working, with the duo scoring 16 Serie A goals between them.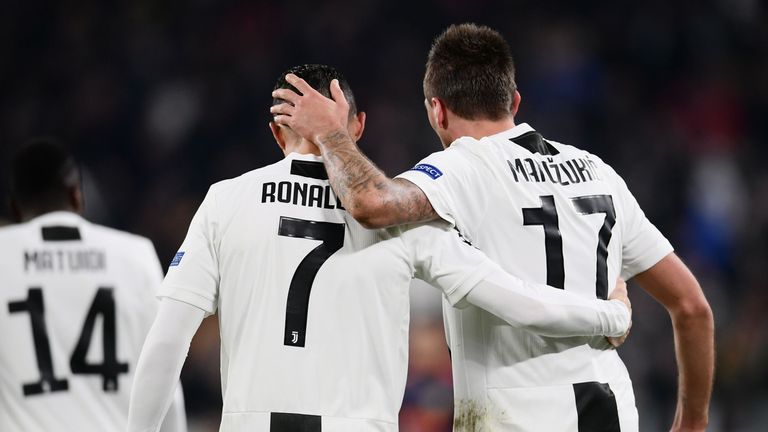 At Real Madrid, Ronaldo was often criticised, and mocked, for an apparent lack of teamwork, especially on the occasions when he seemed to show displeasure at team-mates scoring instead of him.
Whether or not his emotional reactions were signs of genuine frustration, the stats show that as he evolved at Real Madrid, he created fewer chances for team-mates - 75 and 65 in his first two seasons, 31 and 38 in his last two seasons.
Ronaldo 'firmly denies' rape allegations
But those numbers are trending in the other direction at Juventus.
Among Juventus players, only Miralem Pjanic averages more key passes per game than Ronaldo, whose integration at his new club might have been helped by not being called up for international duty since the World Cup.
Ronaldo averages 7.1 shots per game in Serie A - Paulo Dybala is the next highest Juventus player with 2.4. The second-highest in Serie A is Napoli's Lorenzo Insigne with 4.7.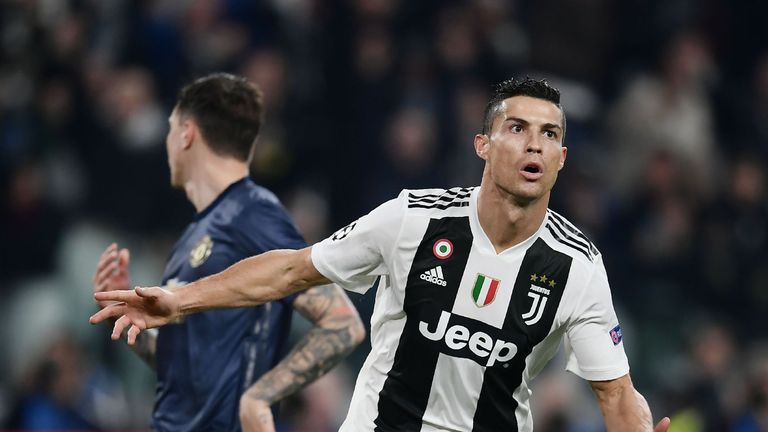 Ronaldo has also got five assists, three more than any other Juventus player and the second highest in Serie A. In his final season with Real Madrid he finished with five assists from 27 La Liga appearances. The season before he had six.
From 14 Serie A games he has created 25 chances for team-mates. If he continues to create chances at the rate he is now, he would finish with his highest tally since 2014/15.
It might be a honeymoon period, it might be Ronaldo trying to make a positive early impression with his new team-mates, but he has even accepted handing over free-kick duties to Pjanic and Dybala.
Ronaldo's chance creation
| | | | |
| --- | --- | --- | --- |
| 2015/16 | Real Madrid | 11 (39 games) | 62.14 |
| 2016/17 | Real Madrid | 6 (29 games) | 82.06 |
| 2017/18 | Real Madrid | 5 (27 games) | 60.31 |
| 2018/19 | Juventus | 5 (14 games) | 50 |
The chief beneficiary of Ronaldo's arrival has been Mandzukic.
Having returned late from the World Cup, Mandzukic did not start the first game of the season for Juventus, but he came off the bench to help inspire a late comeback win over Chievo.
Dybala dropped to the bench for the next two games and Ronaldo started up front with Mandzukic.
Since then, Juventus head coach Massimiliano Allegri has started with Ronaldo, Mandzukic and Dybala in the majority of matches.
Explaining how the trio work together, former Juventus and Italy striker Luca Toni said: "When Mandzukic plays he can play around him while with Dybala on the pitch he maintains a central position. They can play all together but Allegri must find the right balance in the middle of the park."
While Ronaldo seems to have settled in seamlessly alongside Mandzukic, his arrival has had a big effect on Dybala, who was Juventus' top scorer in Serie A last season with 22 goals.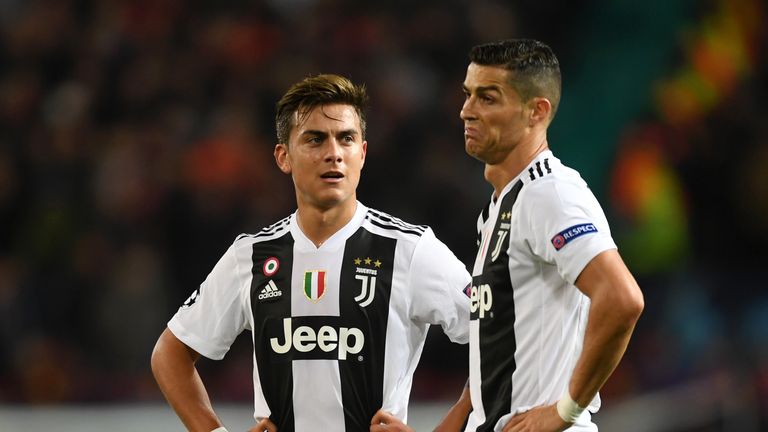 After playing 12 games in the 2017/18 Serie A season, Dybala had scored 11 goals from 57 shots. At the same stage of this season he has scored twice from 29 shots.
Playing in a deeper position, he is linking the attack and midfield and getting more involved in the build-up play than he did last season. However, he is yet to score a goal when he has been on the pitch with Ronaldo and Mandzukic.
"It's just a question of characteristics," Allegri said. "Ronaldo and Mandzukic need space further forward, then a third has to move into the space they leave, whether that's Paulo or a midfielder.
"I've always said that he has to be an all-round player in certain games. He's not scoring like last year, but in terms of the team's play he's crucial."
Asked how he feels playing in a deeper position, Dybala said: "I am happy that the team is winning and everyone is scoring goals. Of course, a forward likes to score, but I try to provide support for the strikers in my new role."
Will Dybala grow frustrated by his lack of goals? Perhaps. Would that have a negative effect on Juventus? Perhaps.
But, for now, there appears to be harmony between Dybala, Mandzukic and Ronaldo.
If that continues to grow then Ronaldo looks certain to add his trophy collection, whether he is scoring the goals or not.
Follow Juventus v Inter Milan live with Sky Sports from 7pm on Friday