Wembley FC enlist former stars
Terry Venables has revealed that six ex-internationals will join his project at non-league side Wembley FC.
Last Updated: 21/06/12 4:13pm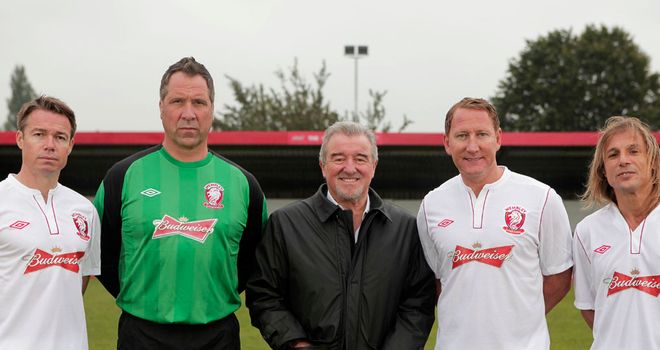 Former England boss Terry Venables has revealed that a group of ex-internationals will come out of retirement to join his project at non-league side Wembley FC.
Venables, who is technical advisor at the semi-professional club, has enlisted the services of Ray Parlour, Martin Keown, Graeme Le Saux, Claudio Cannigia and Brian McBride.
The five former internationals have all signed to play for the club, while former England No.1 David Seaman is also on board as the new goalkeeping coach.
The signings have been made to help take Wembley FC as far as they can go in next season's FA Cup, with the support of sponsors Budweiser.
Parlour, former England and Arsenal player, said: "I've always believed grassroots football is essential to the lifeblood of the game so when I got the call asking if I would like to come out of retirement and help raise its profile I jumped at the chance.
"I'm looking forward to working with Terry Venables again and helping a group of talented footballers achieve their dreams of playing in The FA Cup and seeing how far they can go in the tournament."
Opportunity
Ian Bates, Wembley FC manager, added: "The opportunity to learn from ex-professionals like Parlour and Seaman who have been there and done it will give us the best chance possible to go further than we ever have done in next season's FA Cup.
"The initiative shines a light on non-league football reminding people of the importance of amateur football in contributing to the development of the national game."
Former Three Lions stars Seaman, Parlour, Keown and Le Saux have between them won the FA Cup 12 times.
The new additions will add to the club's experience on the pitch starting with the FA Cup extra preliminary round tie on August 11th.