George Best scored six in an 8-2 cup win over Northampton Town in 1970
By Adam Bate
Last Updated: 21/09/16 9:14am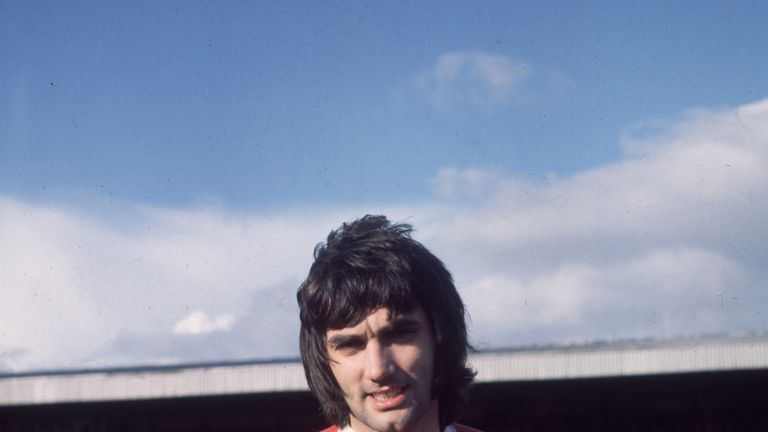 Northampton's cup clash with Manchester United brings back memories of George Best…
"I don't really class myself as a footballer," he said afterwards. "I call myself an entertainer. I know a lot of people have paid to see me do something spectacular and that's what I was trying to do on Saturday. It's my job to do something that will send people away feeling that they'd like to see me play again."
George Best's assessment of his role came the day after one of his most memorable performances. His comeback game after a four-week ban for kicking the ball from a referee's hands was much anticipated. On February 7th 1970, Best duly put six past Northampton in Manchester United's 8-2 FA Cup fifth round tie at the old County Ground.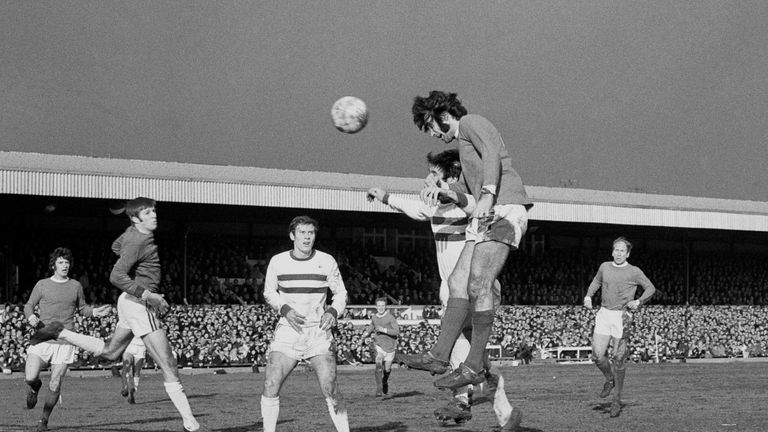 It was an overt display of his genius. The one and only time in which Best scored six in one game. The backdrop to it was intriguing. The achievement came despite - or perhaps more accurately, because - his role at United was being questioned. "While I've been suspended I've had letters from cranks saying that the team played better without me," he said.
"I felt that if we were beaten by Northampton, people would say it was my fault. People think that just because I'm a bit of a showman and lose my temper occasionally I'm not trying but I do as much running as anyone. During the past week I drove myself harder than ever in training and when I went out yesterday I felt really great."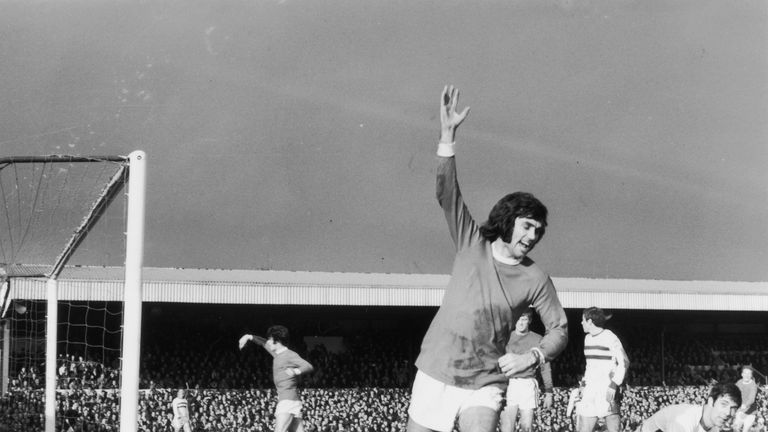 He looked great too, going through his full repertoire. A brave leap at the far post to head in his first. A sliding finish into the vacant net for the second. The hat-trick effort was lashed into the net at the second attempt, hands on hips in celebration. Another header followed by a neat right-footed finish into the corner made it five, before the coup de grace.
With one feint, Best sent Northampton goalkeeper Kim Book tumbling to the ground before drilling the ball into the empty net with his left foot. "It's been a joke on the circuit ever since," Book later remarked. "You know, I'm on one side of the street, George Best is on the other. He nods to me and I dive under a bus." He added: "He was just too good for me."
For Northampton, what should have been a game to enjoy had become an ordeal to endure. They'd so looked forward to it as well. "We couldn't believe our luck when it was announced that in the fifth round we would play Manchester United," recalled striker Dixie McNeil in his autobiography. "This was the Manchester United of George Best and Bobby Charlton.
"All the games leading up to the cup tie we played in front of packed grounds, as the club introduced a voucher system for tickets to see the United clash. We managed to negotiate with the club that we'd get the programme money. The match was a total sell-out and, at the gates, the club took record receipts." The problems came once the game kicked off.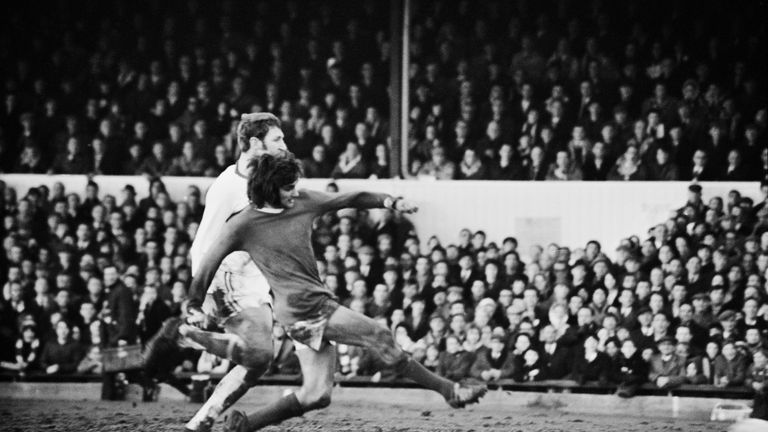 The experience was a chastening one for his opponents. "All I kept seeing was George Best's backside disappearing into the distance," said the Cobblers' John 'Nobby' Clarke. "He had an amazing game and tore us to ribbons." For Best's marker on the day, Ray Fairfax, it was a particularly traumatic experience. "Why, oh why, did it have to happen to me?" he asked.
"The only time I got close to him was when we went off at half-time and full-time. On top of his baffling skill, Best had all the pent-up energy and frustration of four weeks out of football. And he unloaded the lot on to poor me. What can you do about such a man? We planned for this and that, but in the end it was all so meaningless."
In front of a crowd of 27,771 and with the television cameras there adding to his woe, Fairfax was extraordinarily open about the humiliation he'd undergone. "Long before he had finished running us into the ground I felt physically sick," he added. "If I had to play against such a man every week I would hang up my boots and quit the game."
Fairfax had little reason to beat himself up too much. Northampton were a fourth division side. The 23-year-old Best was a European footballer of the year with a point to prove. And yet, there were those within the club who were quick to criticise. Northampton chairman Eric Northover was particularly scathing of the team's commitment levels.
"It was disgraceful," said Northover. "To lose 8-2 on your own ground is unforgivable. Six of the Best? I would call them six of the easiest." Embarrassed by the scoreline, he was adamant that the team should have recognised the need to avoid a thrashing. Northover advocated shutting up shop when on the end of a drubbing.
"When we missed a penalty at 3-0 we should have recognised that we were not going to catch up and should have put the pride of Northampton first," he added. "Instead we tried to match Manchester skill for skill and went into these absurd attacking positions to give them goal after goal. I am only an amateur but this is how I feel and it hurts."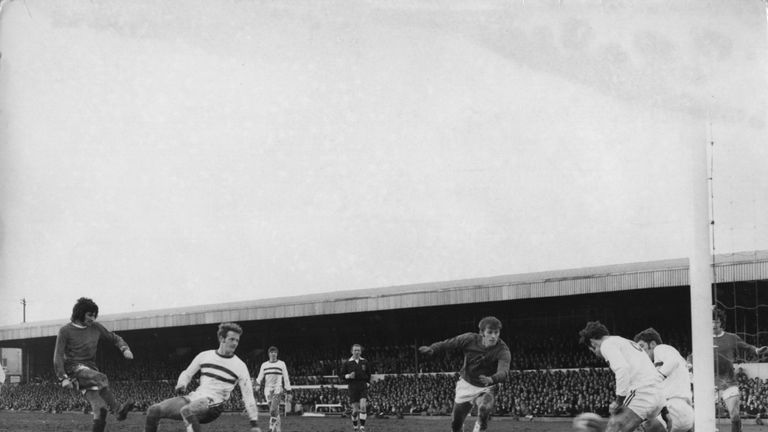 Northover didn't save all his fury for the media. His strongest words were delivered to the players directly. "The chairman stormed into the changing rooms," remembered McNeil. "Red with anger he told us that we were a total disgrace and the worst team that had every played for Northampton. Once he had left, a mini rebellion broke out.
"We'd tried our hardest against a great team and managed to score two goals. The players decided they were not going to accept such an outburst. A few even talked about leaving. Two of the more senior players, Frank Large and captain Frank Rankmore, decided they'd challenge the chairman. He apologised on the Monday and a sort of calm was restored."
Northampton eventually finished 14th in the fourth division, perhaps surprisingly with a better defensive record than seven of the eight teams directly above them. Book eventually moved to Mansfield, while McNeil, a goalscorer on the day, would go on to play for Lincoln, Hereford and Wrexham. Best got an invite to No 10 Downing Street for his efforts.
What he did that day has not been forgotten. Not by United supporters or by the wider public. And certainly not by those players who were the victims of his genius that afternoon. "The high spot was that I scored against one of the greatest teams in Europe," added McNeil. "I suppose the low spot was that George scored six times."
Watch Man Utd v Leicester, the Ryder Cup and the EFL Cup as part of our three months' half-price offer.