Where would Antoine Griezmann fit in at Manchester United?
By Guillem Balague, Nick Wright & Adam Smith
Last Updated: 23/01/17 5:30pm
Guillem Balague picks out Antoine Griezmann's key strengths and explains how he could fit in at Manchester United....
Antoine Griezmann has long been seen as a possible target for the Premier League's top clubs and last week there were fresh reports linking him with a summer move to Manchester United.
My information is that Griezmann is happy with life under Diego Simeone and rejected approaches from both United and Manchester City last year, however Atletico Madrid would consider a huge offer - and United are certainly still interested.
What can be said for sure is that Griezmann has not signed for anyone at this stage. But while he is still undecided on his future, it is no surprise that he is a man in demand.
The French international has become one of the world's best players during his time at Atletico, with his starring performances for club and country earning him a place alongside Lionel Messi and Cristiano Ronaldo on the shortlist for this year's FIFA Best Player award.
Griezmann has shown he belongs among the elite. With 52 La Liga goals in just two-and-a-half seasons at Atletico, only Ronaldo, Messi and Luis Suarez have scored more.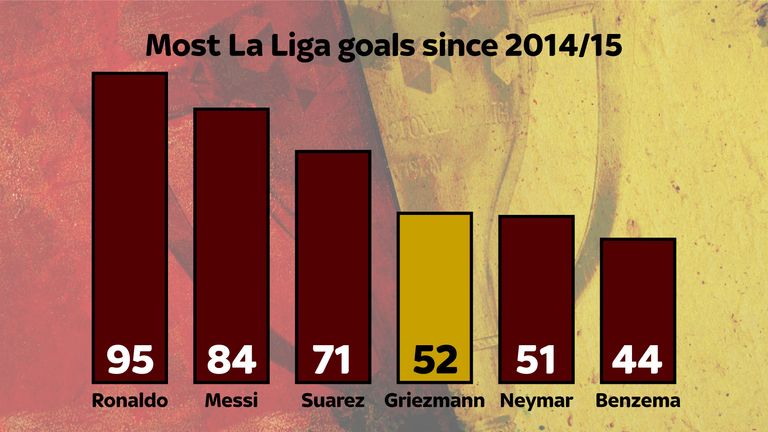 It puts Griezmann ahead of the likes of Neymar and Karim Benzema, and it's all the more impressive when you consider he was not even a striker when he arrived at Atletico from Real Sociedad in 2014. Griezmann was a natural winger, but Simeone had just lost Diego Costa and David Villa, so he decided to redeploy his new signing through the middle.
He did not find it easy at first. Griezmann struggled with the positional change and he also struggled with the physical demands of playing for Simeone, but he kept working hard and he gradually adapted.
Since his first top-flight season with Real Sociedad, the stats show a continuous pattern of improvement in terms of goals and assists.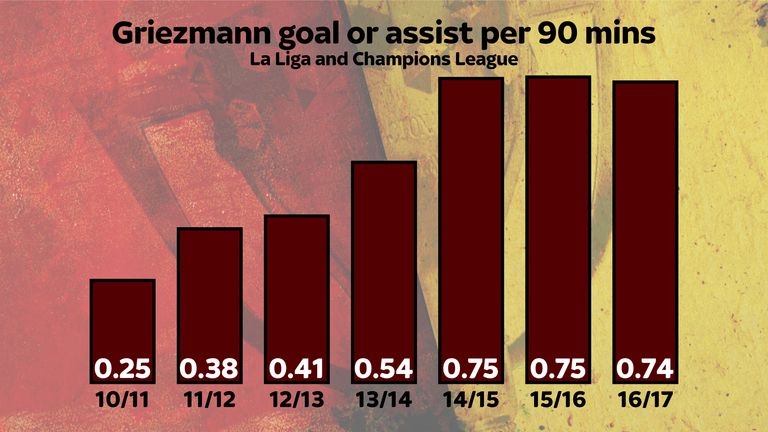 One of Griezmann's greatest strengths is the range of his finishing ability. His speed and movement make him a nightmare for opposition defences in and around the box, and he is capable of scoring all kinds of goals.
His goal against Deportivo La Coruna earlier this season was an example of his poaching ability; Griezmann has a knack of appearing in the six-yard box at exactly the right time, and for this strike he peeled away to the far post to lose his marker and convert Kevin Gameiro's cross.
That clever movement is typical of Griezmann, but he is also capable of the spectacular. He scored a stunning goal against Athletic Bilbao on Sunday, and hit an equally impressive left-foot effort against Sporting Gijon. He is a powerful finisher with a devastating left foot.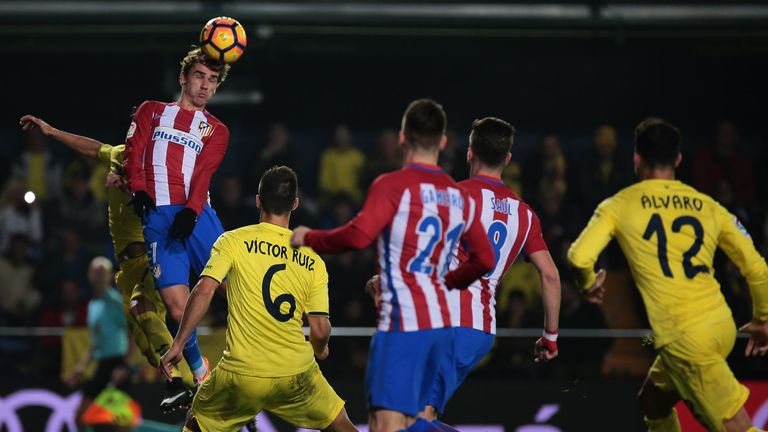 Even more impressive, however, is Griezmann's ability in the air. The Frenchman is a diminutive figure at just 5ft7in, but he is capable of holding the ball up and scoring with his head. In Atletico's 4-0 win over Celta back in September, Griezmann netted two excellent headers in the space of a few minutes.
In short, Griezmann has got it all. Zlatan Ibrahimovic has been a big success as Jose Mourinho's main striker at Manchester United and will stay for another year, but Griezmann is a versatile forward who can play anywhere on the front line.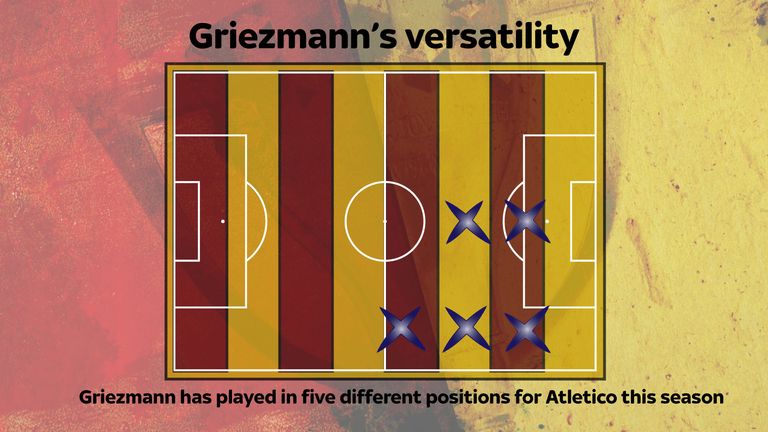 This year at Atletico, he has already played in five different positions. Mourinho could use him on the flanks or at number 10 knowing he has the work-rate to track back, and he could also use him as a strike partner for Ibrahimovic or as a lone striker.
It would take a huge offer and there is no guarantee that Griezmann would agree to leave the Vicente Calderon, but it's easy to see why United want him. Griezmann is a brilliant talent - and he's getting better all the time.