No defiance and no plan. After defeat to Liverpool, what next for David Moyes at Manchester United?
Manchester United's 3-0 defeat at home to Liverpool represented a new low in a season full of them for David Moyes and his side. Adam Bate picks through the wreckage of the latest hammer blow and sees little cause for optimism while the Scot is at the helm.
By Adam Bate at Old Trafford
Last Updated: 27/03/14 4:41pm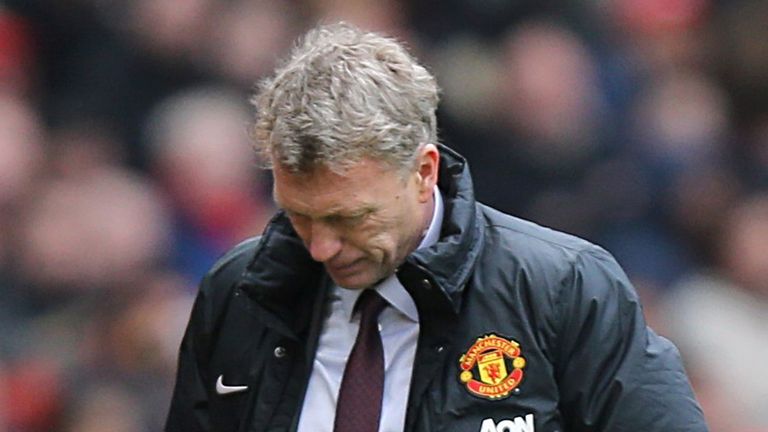 "Twenty times, twenty times Man United." The Stretford End barely missed a beat even as Luis Suarez's shot hit the net to put Liverpool three goals up and complete the humiliation.
There was an admirable spirit of defiance among much of the Old Trafford crowd. Tragically for them, it was not matched by the players in red on the pitch. What next for David Moyes?
He had attempted to paint a picture of optimism in his programme notes. "From what I see every day, positivity is growing," said Moyes of the mood at Carrington. "What goes on there is completely different to what people perceive the situation to be at Manchester United. Behind the scenes there is a really upbeat mood about the place and there has been for a while."
This belief might well have been inspired by the team he was able to field on Sunday. With no injury worries of note, this was presumably the line-up that Moyes feels is his strongest, set up in the formation he envisages as the club's future: Wayne Rooney and Robin van Persie in attack with support from bright young hope Adnan Januzaj and his £65million men Marouane Fellaini and Juan Mata.
On paper it is formidable. On the pitch it was a shambles. Two penalties may have separated the sides on the scoresheet prior to Nemanja Vidic's sending off, but the gulf between United and Liverpool was vast. Put simply, 3-0 flattered the home side. As so often under Moyes, this United team was insipid throughout and utterly devoid of creativity.
Given that a manager's job is surely to make a team better than the sum of their parts, the lack of synergy suggests Moyes is failing miserably. Can there be any sense in entrusting further funds to the Scotsman when there are no discernible signs that he's aware of how to successfully utilise the players he possesses? More pertinently, the players he has bought.
No grand plan
Juan Mata was supposed to provide the spark. But despite the fanfare that greeted his arrival, it seems there is no grand plan regarding how to accommodate the former Chelsea hero. Shoved out on the right flank, Mata evidently has licence to roam inside but finding team-mates to interact with is proving rather tricky. His star signing failing to impact the game, the only solution offered by Moyes was to briefly switch Mata to the left.
The Spaniard is at his best with players around him – in those circumstances his lack of pace is no hindrance as clever one-twos can engineer space and carve open defences. One moment of interplay with Rooney aside, Mata too often saw team-mates running away from him when he found those little pockets of space. There was nobody in a United shirt for him to play with.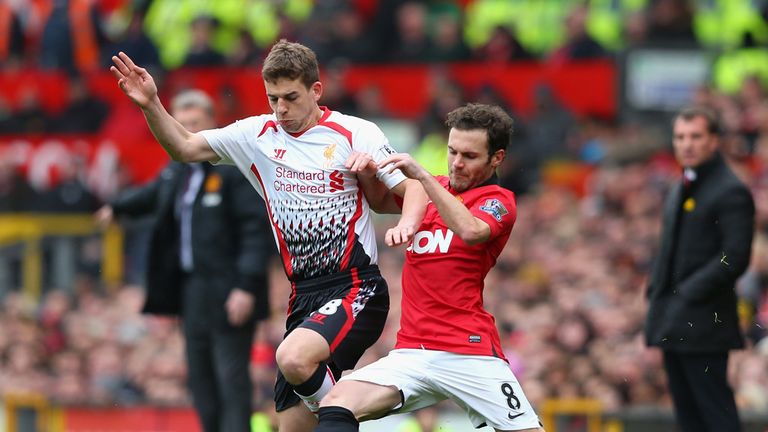 Van Persie, meanwhile, continues to exist on the fringes of the game. This was the man who was largely seen as having delivered United the title last season. Now it feels a distant memory. On Sunday, he had just 27 touches, the fewest of any starter on either side - including both goalkeepers. Urged to stay high up the pitch by his manager, the game simply passed him by. It all adds to the sense that the team's problems are – bafflingly – emerging by design. Stylistically, this is how Moyes wants United to play.
And robbed of confidence, it all looks alarmingly one-dimensional. The signs were there right from the outset. The casual Fellaini dispossessed. Vidic and Phil Jones both responsible for poor clearances. Fellaini losing the ball again. Where was the fight? By the time Raheem Sterling beat Michael Carrick to a loose ball, the crowd were agitated. Liverpool were sharp; United lethargic.
Sterling's positioning was particularly clever – capitalising on United's static structure. Liverpool operated with a midfield diamond formation that saw Sterling in the attacking role and Steven Gerrard at the base, dictating the tempo. Both men were afforded plenty of space in between those rigid United lines with the elusive Sterling little more than a rumour as far as United's midfield duo were concerned. Suffice to say, he was rarely picked up.
"I just felt that the Manchester United centre-halves drop off so we could exploit the space in front of that with Raheem's speed," explained Brendan Rodgers in his post-match press conference. "We felt in this game that because of the nature of Manchester United being at home they'd have to attack and that would allow us to get in round the back of their midfield." And so it proved.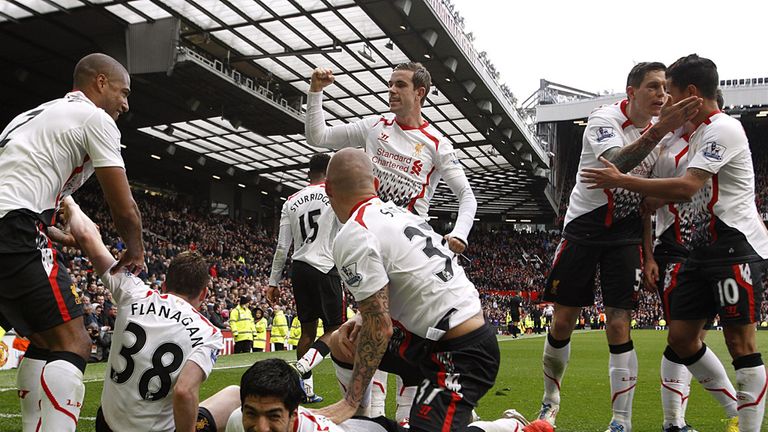 The contrast with the fluidity of the opposition was marked and the fact that Moyes failed to address this recurring issue does not reflect well on him. The United boss may be seeing things others don't on the training field, but far more importantly, he's missing things that are obvious to everyone on matchdays. Instead the rescue act came in the unlikely form of Tom Cleverley and Danny Welbeck. As for the final switch of Rio Ferdinand for Mata, it was little more than an underwhelming act of damage limitation.
Pragmatism, Moyes' backers would argue. But it was a backwards step that contrasts with, for example, Sir Alex Ferguson's decision to bring on Javier Hernandez for Nani when two goals and a man down to Manchester City at Old Trafford in 2011. United were punished 6-1 but Ferguson felt duty bound as Manchester United manager to chase the game regardless of the circumstances. By comparison, Moyes feels like a realist working at a dream factory.
Mentality
His comments before the game that Liverpool were favourites on Sunday, while honest, hinted at this and were picked up on by Rodgers. "I'd never say that of Liverpool even if I was bottom of the league. Anfield is Anfield. We expect to win and we have a mentality in the team that we've developed in the 18 months that I've been here. There is belief in the players and you can see that in how they play." Rodgers' shtick has been known to induce nausea at times, but even among his fiercest critics, few would argue he doesn't know his audience. He gets it. Moyes, it seems, does not.
He cut a predictably sad figure after the game - one who is continuing to endure rather enjoy the responsibility of managing Manchester United. There is probably no right way to do a press conference after a 3-0 humbling at home to your fiercest rivals in which your side has mustered a solitary shot on target, but this still felt like a poor show. Crucially, there was no sense that Moyes has a plan to remedy the situation.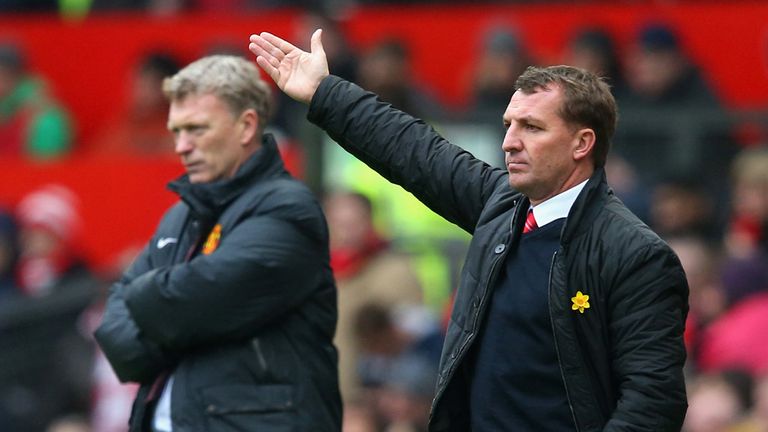 "It's difficult to explain it," he admitted. "It wasn't what we expected. I'd said that the players looked in good shape and in good fettle but we just didn't get to the standards that were required. I've not seen that (lack of confidence in training). I've seen confident and well-motivated players. I just think Liverpool played well." No answers then. And no hope.
Saddled with the burden of Ferguson's departing request, there are plenty of supporters willing to press on regardless with the 'stick with him' mantra. Statistics from 1987 will continue to be dredged up to encourage patience. But the fans need something to cling to. A bone to be thrown their way to hint at progress. A germ of an idea that the team is taking one step backwards in order to eventually take another two forwards.
Liverpool supporters saw that under Rodgers last season even in a seventh place finish. They recognised a team trying to do the right things. But it would be charitable in the extreme to suggest Moyes is offering any such positives. It is difficult to see evidence of a coherent vision that could reap dividends in the long run.
As a result, while the Stretford End remain defiant, the problems only mount. Indeed, deflation not defiance is the emotion Moyes exudes right now. A man apparently resigned to his fate. "This job was always going to be hard," he told the assembled reporters after the game when asked if the task was proving more difficult than he'd anticipated. "Harder? Yeah, I would say so." And it's not getting any easier.