"We don't want a red card because when it is 11 versus 10 it shall be very difficult to win this game so (talking about that) has also been a part of our preparation," said Louis van Gaal in his Friday press conference.
Perhaps he should have told Chris Smalling. Because no matter how many tactical tweaks Van Gaal implements in an attempt to engineer a marginal advantage for his team, any hints of progress will be undermined while his defenders continue to exhibit decision-making as poor as that which saw Smalling sent off in the first half of the Manchester derby on Sunday.
Prior to the England defender's errors, United had enjoyed their moments at the Etihad Stadium. Manchester City are enduring an underwhelming period of form themselves and there were signs Van Gaal had outthought counterpart Manuel Pellegrini in the early stages.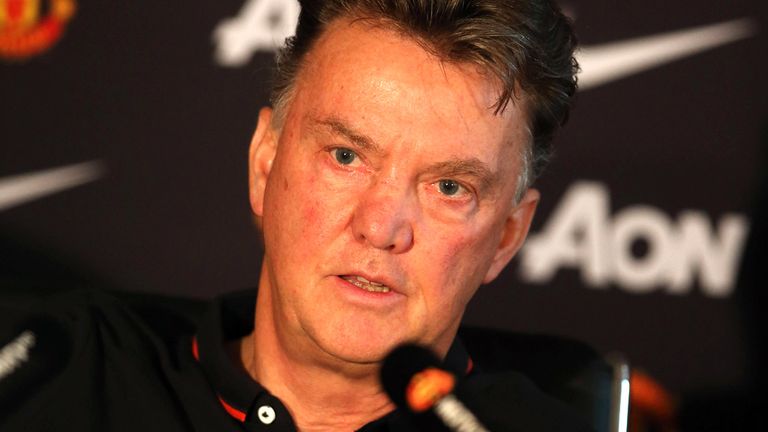 City's 4-4-2, shorn of its creative spark in David Silva, appeared unnerved by the presence of the returning Wayne Rooney in a deeper role in midfield. Together with Marouane Fellaini and Daley Blind, the United captain helped the visitors dominate possession before the break.
Given that City have enjoyed more of the ball in each of their previous nine matches, for United to see 52.9 per cent of possession in the first 45 minutes must be regarded as something of a triumph. Van Gaal's side also had more shots in the first quarter of an hour as Yaya Toure and Fernando seemed flustered at being outnumbered in the centre.
But it wasn't too long before the fragility of this United side was exposed. Even lofted balls over the top seemed enough to trouble a defence that seemed determined to maintain what Gary Neville referred to on the Sky Sports commentary as an "unnecessarily high line". And then there were the individual defensive errors. Lots of them.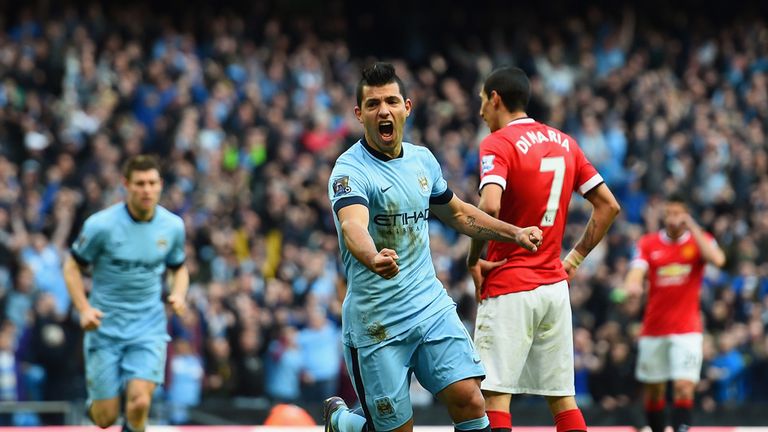 Antonio Valencia, playing as a makeshift right-back, almost paid the price for playing Jesus Navas onside only for David de Gea to save. Then Fellaini was a little fortunate not to concede a penalty for a foul on Sergio Aguero. Marcos Rojo defended well at times but should also have seen a spot-kick awarded against him and been sent off for a hack on Toure on the brink of half time.
By that point, United had already been reduced to 10 players. Smalling's first yellow card was undeniably needless – blocking Joe Hart's kick upfield – although perhaps the panic that precipitated that decision was sparked by the terror of what an early long ball could do to United's back line. The lunge in on Milner that prompted the red card shortly afterwards was simply a woeful error of judgement.
All this might be understandable away to the champions. But it is part of a trend that has troubled United this season from Milton Keynes to Leicester. The recent optimism was sparked by late goals by Blind at the Hawthorns and by Van Persie's stoppage-time strike against Chelsea, but the concerns at the other end never really went away. Their only clean sheets so far have come against Burnley and Queens Park Rangers - the current bottom two in the Premier League.
Errors leading to shots
| | | |
| --- | --- | --- |
| Defensive problems | | |
| Team | Errors leading to shots | |
| Manchester United | 9 | |
| Liverpool | 8 | |
| Five other teams | 6 | |
There is perhaps a more damning statistic. United have made more errors leading to shots this season than any other team in the Premier League. One minor consolation is that the next closest on the list is a similarly disappointing Liverpool side, but it is equally telling that the only sides yet to make an error leading to a shot are Southampton and West Ham – the division's two over-achievers. These are the basics of defending.
An injury to Rojo early in the second half left United with a back-four of Valencia, Michael Carrick, Paddy McNair and Luke Shaw and it would have been unrealistic to expect too much from such a line-up. In fact, they held firm for a while, surviving a strong penalty shout for a foul by Carrick on Aguero, before McNair gave the same player too much space in the area and the Argentine duly scored the breakthrough goal.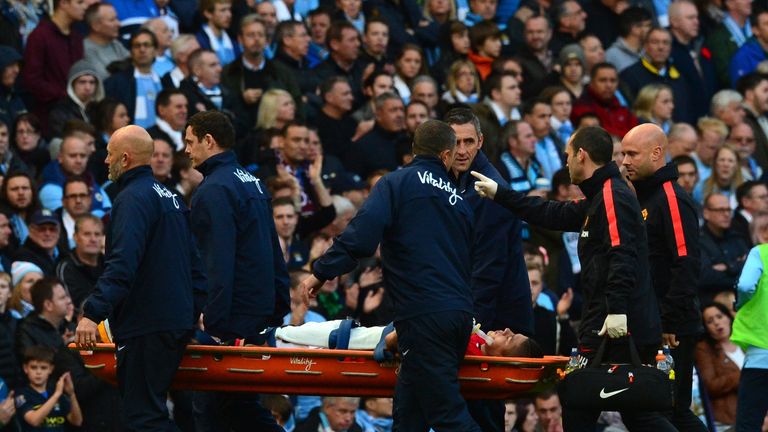 What followed was an impressive reaction by United as they pushed hard for an equaliser. For the third Premier League game in a row they finished the stronger side. And for the third Premier League game in a row they failed to pick up the three points. Van Gaal will surely not be fooled.
Supporters might seek comfort in the belief that Rafael, Jonny Evans, Phil Jones et al would allay any concerns. But even the best United can offer might prove well short of what is required. Moreover, as recently discussed on Monday Night Football, the money being traded for defenders of questionable repute right now suggests the solution will not be straightforward.
Van Gaal's said prior to last week's game against Chelsea that United are a year behind the Londoners in their development. It was a comment that hinted his team could be as strong as the Blues in 12 months' time. After all, Jose Mourinho has also rejigged his line-up to incorporate the likes of Nemanja Matic, Cesc Fabregas and Diego Costa in 2014. But there is a key difference.
Chelsea's first-choice back-four of Branislav Ivanovic, Cesar Azpilicueta, Gary Cahill and John Terry was inherited. Mourinho has been able to build his new-look team on that platform. Van Gaal's expensively assembled squad is sprinkled with similar levels of quality in Angel di Maria, Rooney, Radamel Falcao, Juan Mata and Robin van Persie. But until the defence is addressed, there will remain the lingering fear that this new United is being built on quicksand.