Liverpool's Glen Johnson has become integral to Brendan Rodgers' tactics in the Premier League
The sight of Glen Johnson rampaging up the right flank, quickly transferring defence to attack, has been a story of Liverpool's season. The full-back is one of the most effective in the league...
By Peter Fraser - Follow me on Twitter @SkySportsPeteF
Last Updated: 26/03/14 3:11pm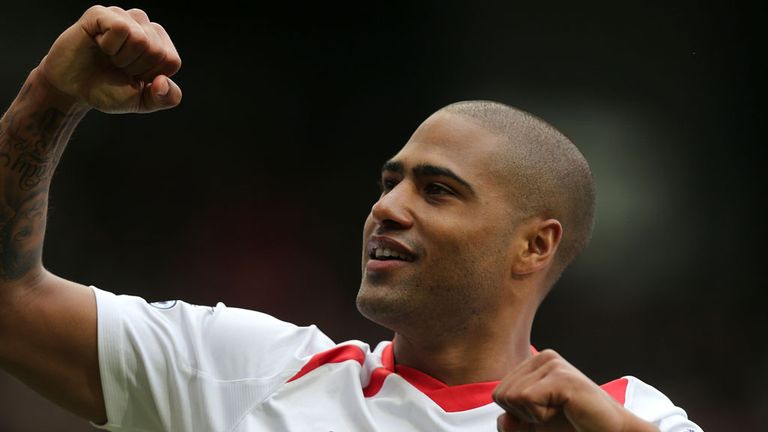 "It feels good to be back," Glen Johnson told Liverpool's official website before Saturday's thrashing of Cardiff City. "No player wants to be missing matches through injury. I feel myself again."
The right-back had been absent for six matches in all competitions for his Premier League title-challenging club between 18th January and 23rd February due to an ankle problem which he had been carrying for a large portion of the season.
But, since Johnson's return in the 4-3 win over Swansea City in late February, the summer 2009 signing from Portsmouth has again been at his peak displays at full-back and has been a prominent member of Brendan Rodgers' offensive-minded tactics and team set-ups. This will again be the case on Wednesday night when Liverpool take on Sunderland.
"When people see you playing," Johnson added, "they assume you are fit, and then when you do not put in the performances that you are used to, people are wondering why. But it is part and parcel of the game, and you have just got to get through those periods."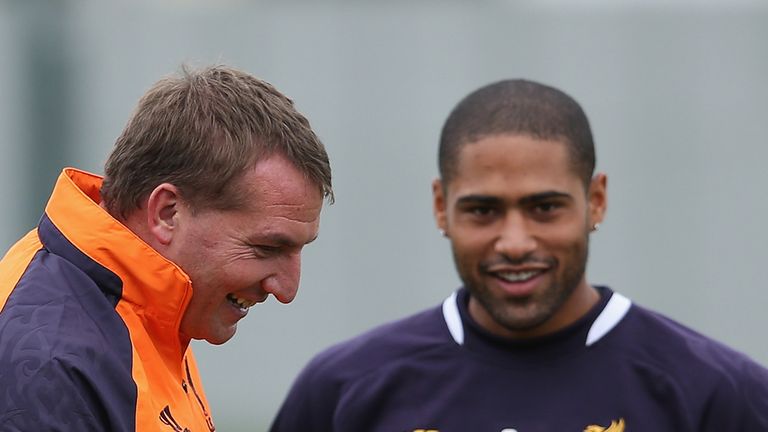 Regardless of Johnson feeling his individual performances had not been up to scratch when he was playing with his injury, wins and, specifically, goals have not been hard to come by for a Luis Suarez and Daniel Sturridge-inspired Liverpool, who have 82 so far in the Premier League this season and are chasing down Chelsea's record of 103 in a campaign.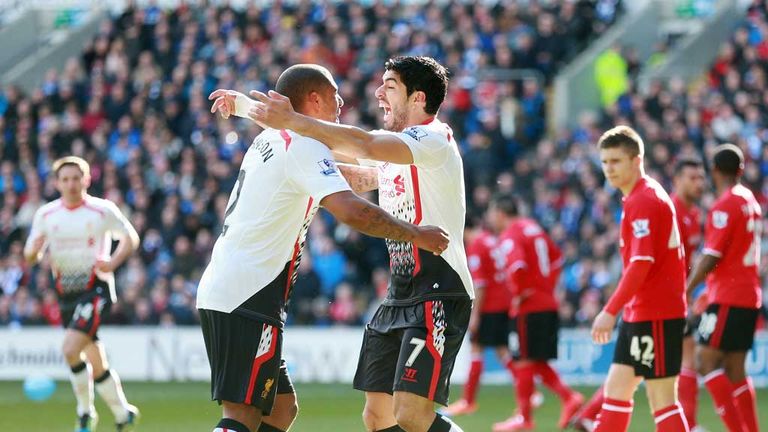 But it is also no coincidence that Rodgers' side have scored 16 times in the top flight since Johnson's return compared to 13 when he was unavailable in that period between January and February.
Johnson is one of the best attacking full-backs in the Premier League and is integral to the style in which Rodgers' Liverpool operate. Rodgers has even gone as far as describing Johnson as one of the best full-backs in the world to give further indication of his value for Liverpool.
It is common for a full-back to be among the players with the most touches of the ball in any team and this is no different with Johnson, who had 100 touches against Cardiff in a total which was only less than Steven Gerrard (122) in that specific game.
However, it is what Johnson does with the ball that counts and that is a reason why weekend newspaper gossip was even linking him with Real Madrid.
In 21 appearances this season, the 29-year-old averages 48 passes per game in the Premier League, with only Lucas Leiva, Jordan Henderson and Gerrard averaging more in Liverpool's squad. These passes have been played at an 83.2 per cent success rate, which is not anything particularly special, but he has also contributed two assists - including setting up the first goal of Suarez's hat-trick on Saturday.
It is, though, in his ability to carry the ball forward in which Johnson truly excels. The sight of him rampaging up the right flank, quickly transferring defence to attack – particularly in Rodgers' current diamond formation, has been a story of Liverpool's season. Johnson averages 1.7 successful dribbles per game in 2013/14's Premier League. That might not sound like a lot but only Suarez, Raheem Sterling and Philippe Coutinho average more for Liverpool. Meanwhile, that total also puts Johnson in the Premier League's top 20 players overall for that discipline this season.
Everton's Seamus Coleman, meanwhile, is the only defender in the Premier League with a marginally better average at 1.8 successful dribbles per game. Coleman has also contributed six goals this season to Johnson's none but the latter has otherwise produced higher averages than his Merseyside rival in other major disciplines (see table below). Also, for all the criticism of Liverpool's defence this season, when Johnson has played Liverpool have conceded only more goal in the 2013/14 Premier League than the 25 Everton have let in when Coleman has been on the field.
| | | | | | | |
| --- | --- | --- | --- | --- | --- | --- |
| Premier League Player 2013/14 | Successful Dribbles Per Game | Assists | Goals Scored | Passes Per Game | Tackles Per Game | Interceptions Per Game |
| Glen Johnson | 1.7 | 2 | 0 | 48 | 2.5 | 1.6 |
| Seamus Coleman | 1.8 | 1 | 6 | 37.4 | 2 | 1.4 |
The dribbling ability of Johnson, who made his 50th appearance for England in March's friendly win over Denmark and who will also go to the World Cup as his country's first choice right-back, means he has almost been playing as a winger amid Rodgers' fondness for pushing his full-backs high up the field. This has been a not-too-well-kept secret of Liverpool's success this season but opponents have still found it extremely difficult to stop. The increased productivity this campaign is also related to the fact Liverpool's full-backs have been pushed even further up field in comparison with last season.
The evidence is there when comparing Johnson's position and touch maps at Cardiff last weekend to a corresponding away fixture in the later stages of March against Southampton, a 3-1 defeat, last season. Admittedly, Southampton were not a side battling against relegation but while Rodgers' Liverpool may alter their shape they do not change thier mentality regardless of the opposition and so the position of Johnson further up the field and more compact to the right touchline (see below) is still significant. This supports the theory that Rodgers has been even more adventurous, which has led to Johnson himself suggesting Liverpool's entertaining style of play means they would be the people's champions this season.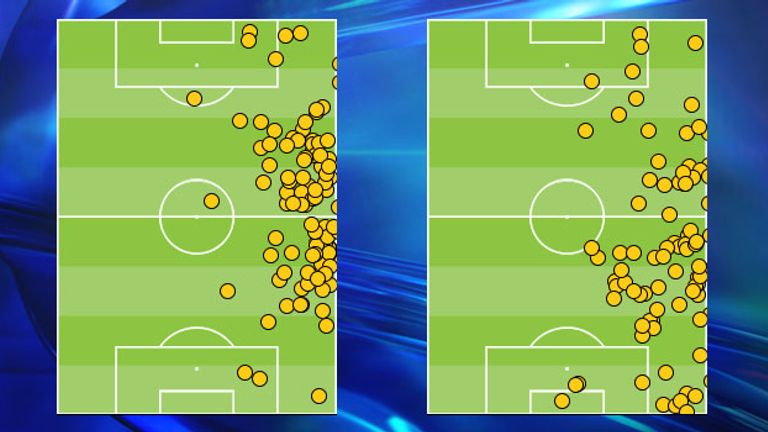 Of course, Johnson's attacking approach means his defensive duties suffer and he does have his critics. Some have even suggested Liverpool might look to sign a replacement this summer, with Arsenal's soon-to-be-out-of-contract Bacary Sagna reported as a target - despite Rodgers insisting Johnson, who is set to enter the final 12 months of his current deal, will be offered extended terms.
Rodgers has said: "No contracts will be looked at until the summer but his (Johnson's) will be a priority for us, especially if he continues in the form that he is in. The beauty of this is we want to keep Glen and Glen loves it here. We just need to find a solution which is good for both."
Liverpool conceded just four goals in the league when Johnson was out with his injury compared to six since he has returned. His constant attacking runs are a reason why Liverpool's centre-backs often find themselves isolated and exposed. It must, though, be pointed out that all of Cardiff's goals on Saturday came from down Liverpool's left flank, where the inexperience of Jon Flanagan was highlighted, while Johnson's right flank remained comparatively tight.
It should also again be stressed Johnson is not a maverick; his attacking comes with licence from Rodgers. On top of this, Johnson ranks fifth among Liverpool's present squad for tackles per game (2.5) and interceptions per game (1.6) which indicates that, even when he is caught out of position, his speed, strength and endurance allow him to get back into position and recover.
Johnson represents all the positives which Liverpool have embodied this season. Since his return from injury, his performances have even gone up a level and he will remain integral for his club in their pursuit of the title.