Last November, Steven Gerrard spent this international week captaining England to a Wembley defeat against Germany. A year earlier there was the 4-2 reverse in Sweden as Zlatan Ibrahimovic had his wicked way with Ryan Shawcross and the rest. Maybe Gerrard wasn't missing it too much.
Liverpool supporters will certainly be hoping that their skipper returns to action refreshed. After being controversially omitted from the starting line-up in the Bernabeu, the visit to Crystal Palace on Sunday will be only his second start since the defeat to Newcastle on the first day of November.
Gerrard needed the break. After describing last season's title collapse and the subsequent World Cup woe as "the worst three months" of his life, the gloom has carried into the current campaign. The reasons for Liverpool's struggles are manifold but the midfielder has not escaped criticism.


Understandably given his track record, there has been a rush to defend him. "I had to laugh when people started writing Steven Gerrard off," wrote Jamie Redknapp in the Daily Mail. "Liverpool have a few bad results and all of a sudden it's his fault? Don't be ridiculous. It's just lazy."
And yet, both Gerrard and his manager Brendan Rodgers appear aware that there is an issue to address. It has become clear in the early part of this season that's Gerrard's slip that launched a thousand vines was more than a source of schadenfreude, it flagged up the fact that defence is the best form of attack in limiting his influence from deep.
Aston Villa's Gabriel Agbonlahor and Stewart Downing of West Ham both had success in moving into Gerrard's space to deny him the room to act as a springboard for attacks. "Teams have worked that out," says Phil Neville. Gerrard himself has acknowledged the difficulty. "I've been stifled in a couple of games when people have followed me around and I haven't been able to shake them off."
Problem
The problem has been exacerbated by the loss of Luis Suarez which has allowed Liverpool's opponents to defend higher up the pitch. The Opta stats show that Chelsea's possession-winning line at Anfield was eight metres higher this season, while Newcastle (3m) and West Ham (5m) each pressed higher up than the previous year to good effect en route to three points.
As a consequence, teams are squeezing space on Gerrard at a stage in his career when he needs more of it not less. The 34-year-old has bristled at suggestions he "can't run" these days but few would expect him to be haring around the field with the freedom of old. That's not the demands of his role anymore and there is an argument that working smarter not harder is the key.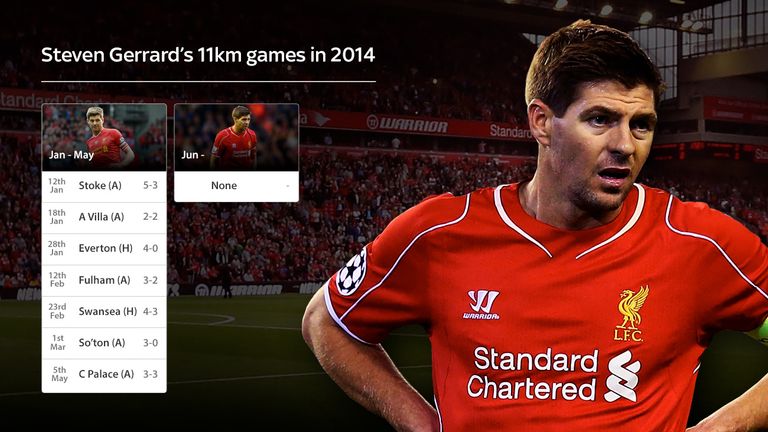 Nevertheless the Premier League tracking data indicates that while his numbers are respectable they have tailed off slightly. Gerrard has had seven '11 kilometre games' in 2014 but three of them came in January and a further two in February. The most recent such match was the previous trip to Selhurst Park in May. To put it another way, Gerrard hit the 11km mark in six of his first nine Premier League appearances of 2014 but has failed to do so in any of his last 12 games.
Is that affecting his ability to close opponents down? There have long been doubts about Gerrard's suitability in halting the counter-attack but far from growing into the role, the statistics would suggest he is getting less effective at it. Indeed, he is actually making fewer tackles and interceptions this season than last.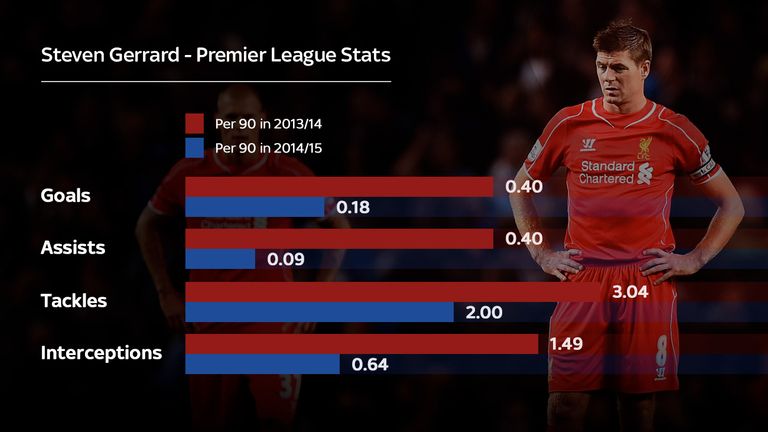 Given that Liverpool have kept only two clean sheets since April, the situation is becoming critical for Rodgers. Solutions within the squad are not obvious although Emre Can would appear capable of becoming an important option in that holding role. Even so, the value of keeping Gerrard on side remains far greater than any statistic and a new contract would seem inevitable.
His free-kick against Everton highlighted that recurring flair for the big occasion and although he is still waiting for his first goal from open play this season it's worth noting that there was only one of those in his haul of 13 last year. More alarming is the way the assists – also 13 in 2013/14, more than any current Premier League player – have dried up too. The simple pass that preceded Philippe Coutinho's strike at QPR is his only direct contribution to a goal from open play in 2014/15.
A diminished threat in the opposition area and an ineffective stopper of goals too, Gerrard's form feels like Liverpool's entire season in microcosm. But for all the team's defensive problems at one end and the ongoing challenge of replacing Suarez at the other, perhaps the thorniest issue that Rodgers must address is finding a way forward for Liverpool's legendary man in the middle.
Watch Liverpool in action against Crystal Palace this Sunday (Sky Sports 1 HD, 1.30pm kick off)