Mesut Ozil in a league of his own as Arsenal beat Bournemouth
Last Updated: 29/12/15 3:23pm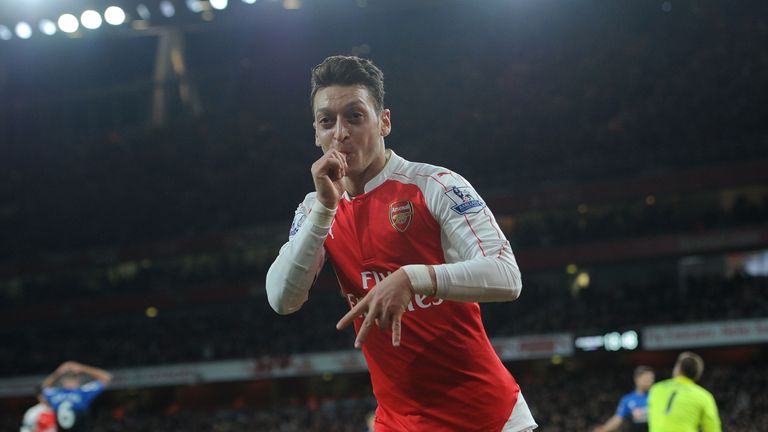 Mesut Ozil produced a match-winning performance in Arsenal's 2-0 victory over Bournemouth. Here, Nick Wright looks at the numbers behind his remarkable season so far…
Who has been the Premier League's best player this season? Leicester team-mates Riyad Mahrez and Jamie Vardy would certainly put their hands up, but the case for Mesut Ozil is growing stronger.
Arsenal needed a response to their shock 4-0 defeat by Southampton against Bournemouth at the Emirates Stadium, and it was Ozil who answered the call. It's becoming a familiar story. The German produced his 16th assist of the season with the looping corner for Gabriel Paulista's opener, and he dispatched the second goal himself as the Gunners moved to the top of the table.
Record Premier League assist counts
| Player | Assists | Season |
| --- | --- | --- |
| Thierry Henry | 20 | 2002/03 |
| Cesc Fabregas | 18 | 2014/15 |
| Frank Lampard | 18 | 2004/05 |
| Cesc Fabregas | 17 | 2007/08 |
| Mesut Ozil | 16* | 2015/16* |
| Eric Cantona | 16 | 1992/93 |
Ozil is now just four assists short of the Premier League record set by Thierry Henry in 2002/03, but the margin would be smaller were it not for his team-mates' wasteful finishing. Over the course of the 90 minutes against Bournemouth, Arsenal's No 11 created nine scoring chances in total - the most in a single Premier League game by any player this season.
Five of those chances were clear-cut opportunities - giving him another new record for the Premier League campaign. There was a string of corners that caused panic in the visitors' penalty box, there was an eye of the needle pass which Theo Walcott fired straight at Artur Boruc, and there was an inch-perfect cutback which was dragged wide by Olivier Giroud in the second half.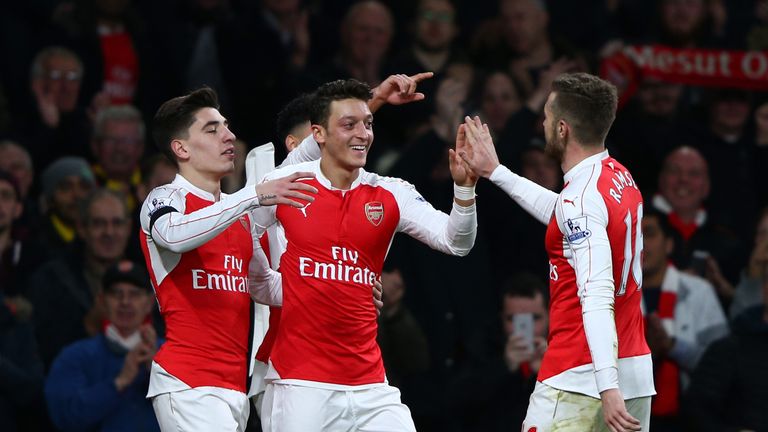 Ozil threatened constantly and from all angles, and it speaks volumes of his quality that, despite spending most of the match surrounded by Blue shirts, he ended up with the highest passing accuracy on the pitch (95.1 per cent), with 58 of his 61 passes finding a team-mate.
Premier League assists 2015/16
| Player | Club | Assists |
| --- | --- | --- |
| Mesut Ozil | Arsenal | 16 |
| Kevin de Bruyne | Man City | 8 |
| Riyad Mahrez | Leicester City | 7 |
| David Silva | Man City | 7 |
| Gerard Deulofeu | Everton | 7 |
| Ross Barkley | Everton | 7 |
"Mesut sees things that most players don't even see on the pitch," said Walcott after last week's 2-1 win over Manchester City. "He knows what he's going to do before he does it, you just have to make that run." There were plenty of examples against Bournemouth, not least the remarkable reverse pass in the second half which found Aaron Ramsey in space in the box, and the pinpoint chip over the top for Walcott in the closing stages.
Ozil showed composure in front of goal, too, as he equalled his tally for the whole of the last campaign with his fifth in all competitions this season. The interplay with Giroud was beautifully executed, and the Emirates rose to its feet as he nonchalantly stroked his finish through Boruc's legs.
Premier League chances created 2015/16
| Player | Club | Chances created |
| --- | --- | --- |
| Mesut Ozil | Arsenal | 80 |
| Dusan Tadic | Southampton | 50 |
| Kevin de Bruyne | Man City | 48 |
| Dimitri Payet | West Ham | 47 |
| Christian Eriksen | Tottenham | 47 |
The statistics make remarkable reading. Ozil has notched twice as many assists as his nearest competitor, Manchester City's Kevin De Bruyne, and he has created 80 chances in total. That's 30 more than any other Premier League player this season, and it's only 20 short of Player of the Year Eden Hazard's tally for the whole of the last campaign.
Premier League clear-cut chances created 2015/16
| Player | Club | Clear-cut chances created |
| --- | --- | --- |
| Mesut Ozil | Arsenal | 21 |
| Riyad Mahrez | Leicester City | 12 |
| Hector Bellerin | Arsenal | 8 |
| Sadio Mane | Southampton | 8 |
| Moussa Sissoko | Newcastle | 8 |
What makes Ozil so effective, though, is the quality of the chances he produces. Against Bournemouth he took his tally to 21 clear-cut chances created this season. It puts him way out in front of any other Premier League player this season, and it's also more than six entire teams have managed between them - including Chelsea.
A player who once polarised fans has blown away the doubters, and Arsene Wenger is delighted with the man leading Arsenal's title charge. "Look at the numbers and assists and they speak for him," he said in his post-match press conference.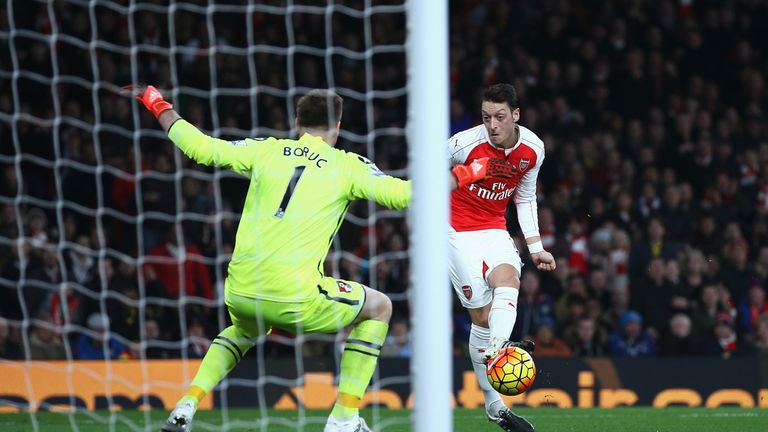 "He gives reassurance with his technical security and ability," Wenger added. "When we had problems in the first part of the game it went always through him and it gives you confidence and security. He has added scoring goals to his assists and overall he is a complete player."
Wenger admitted comparisons with Arsenal legend Dennis Bergkamp are becoming increasingly pertinent, and the bad news for the rest of the Premier League is that Ozil just keeps getting better. "His career, no matter what he does, is to be better every day," Wenger added. "That focus, that consistency... Some cannot do it, but he is consistently showing he is going upwards."