Losing their edge?
Arsene Wenger, Roy Hodgson and Guus Hiddink. All top-class managers with fine reputations in the game. But Adam Bate wonders whether it is getting tougher for the veteran coaches now they no longer have 'first-mover advantage'.
Last Updated: 16/02/13 6:35pm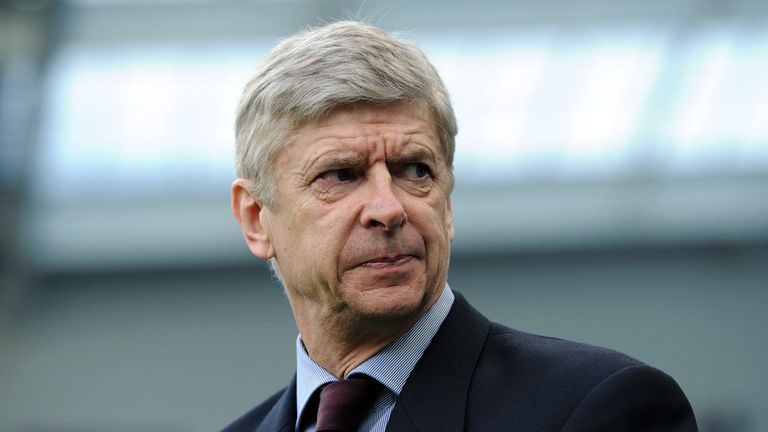 First-mover advantage is defined as the advantage gained by being the initial occupant of a market. This advantage may stem from the fact that the first entrant can gain control of resources that followers may not be able to match. It's a familiar principle of marketing. It may also be familiar to Arsenal fans wondering where their next trophy is coming from.
Back in 1996, foreign managers were not well-known to English football. The first foreign top-flight boss had arrived just half a dozen years earlier and Dr Jozef Venglos fell some way short of success at Aston Villa. But Arsene Wenger was stunningly swift to take advantage of his superior knowledge of the extraordinary talent being produced in his homeland.
In came Patrick Vieira after a brief spell at AC Milan. Then Nicolas Anelka for a bargain £500,000. And his former Monaco midfielder Emmanuel Petit joined the club the following year. Arsenal promptly won the Premier League in 1998 - Wenger's first full season in charge. The Frenchman had become the latest in a long line of managers to utilise first-mover advantage.
For current England coach Roy Hodgson, it was key to making his name in Scandinavia in the 1970s. Alongside compatriot Bobby Houghton, he was able to enjoy the benefits of implementing knowledge he'd acquired in England that proved devastating to Swedish rivals. "What Bobby and myself introduced to Sweden was not so much 'English football', the long-ball game and so on, than a different style of defending," Hodgson told The Blizzard.
"Instead of playing with a team that was very spread out from one end of the field to the other, with a libero who stays in his penalty area and a centre-forward who never tracks back, we set up a system of zonal defence, a back four, people pushing up and, of course, getting the ball forward into the final area much more quickly."
The results were hugely impressive as Hodgson won seven Swedish league titles - two with unfancied Halmstad and five more with Malmo. All the time preaching the virtues of direct play and a zonal back-four. And those fundamental principles remain at the core of the 65-year-old's approach to management.
Problem
The problem for Hodgson is that those methods are no longer regarded as groundbreaking. Not least because the world has caught up. It's a problem that a contemporary of his, Guus Hiddink, has experienced during his tour of duty around the footballing world. The Dutchman's ideas worked wonders with South Korea and Australia - leading both nations to best-ever performances at the World Cup.
And yet, with both Russia and Turkey, there have been disappointments and his impact is now less obvious. As Simon Kuper and Stefan Szymanski noted in Soccernomics: "In the 21st century he has been one of the world's main exporters of football know-how from western Europe to the margins of the earth. Now that almost all countries are trying to acquire western European know-how, he has lost some of his first-mover advantage."
Perhaps there are echoes of Wenger here. It may sound a harsh assessment of a manager who has achieved so much and succeeded in maintaining remarkable levels of consistency despite financial restrictions. But when people ask why he doesn't pull off another Vieira coup or bring in the next Thierry Henry, maybe the answer is simply that he can't - after nearly 17 years in England, he doesn't have that know-how.
Even the man himself would seem to concur. "The competition is higher on the scouting front, that is for sure," he acknowledged recently in The Guardian. "The country where we were really, really competitive was France. They produce less players than they did 10, 15 years ago at the top level. The emerging countries now look to be Germany and Spain and they have many good young players; they have taken over."
Tougher
Worrying words for Newcastle supporters, perhaps. But also for those of Arsenal. While Wenger continues to look to France to acquire £12million-man Olivier Giroud, the notion he can unearth world-class talent for bargain prices in his homeland is now a mere memory. As a manager of proven quality, perhaps he could yet end Arsenal's trophy drought - just as Hodgson hopes to end England's long wait for success. But without first-mover advantage, for both men, that is likely to prove tougher than ever.
So what to do about it? Swansea manager Michael Laudrup has emerged as one of the favourites to replace Wenger at Arsenal with the club seemingly impressed by the verve of the Swans' performances under the Dane this season. The attraction of having seen Laudrup's work up close in the Premier League is a help. But to think he could repeat the trick with the Gunners might be ignoring the key to his success.
Laudrup transformed an already successful Swansea side by signing players he knew from his time in Spain. He had worked with Jonathan de Guzman and Chico Flores at Mallorca, while he had also seen the quality that Michu and Pablo Hernandez possessed. Swansea chairman Huw Jenkins made an imaginative appointment - not unlike the one David Dein made in bringing Wenger to England in 1996 - and has reaped the benefit of Laudrup's knowledge of a Spanish league ripe for exploiting.
But if Michael Laudrup wants to make Michu his first Arsenal signing at £15million in the summer, supporters could be reminded once again of the transient nature of first-mover advantage.