Thierry Henry has announced his retirement from football and will join Sky Sports as a football expert and ambassador from the start of 2015.
Sky Sports looks back at six of his best moments at Arsenal and invite you to pick out your personal favourite…
'Crazy' volley against United
Arsenal 1 Man Utd 0, October 2000
Curiously, Henry wasn't in particularly great form going into this early season game against defending Premier League champions Manchester United. He'd failed to find the net in any of his previous six appearances for the Gunners – the longest such streak since opening his account for the club the previous year.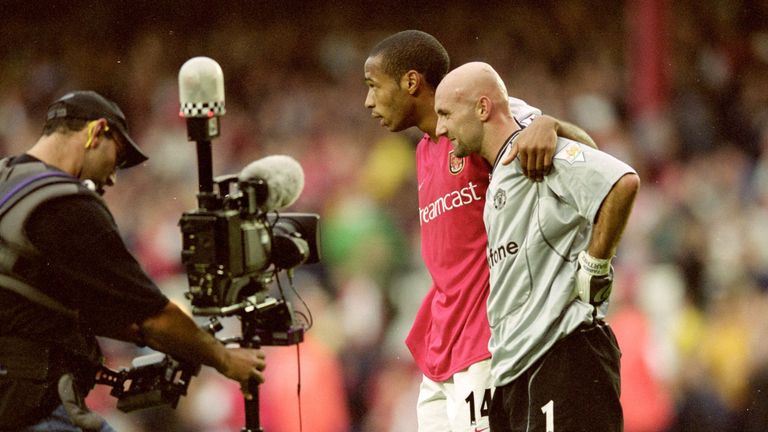 That background only made his decision to attempt the audacious all the more remarkable. Gilles Grimandi played an innocuous-looking pass into his feet with the striker 20 yards from goal. Henry was being marked by the experienced Denis Irwin but was able to fashion enough space to flick the ball up, swivel to his left and unleash a dipping volley over Fabien Barthez.
"You can't do anything about a goal like that," said Sir Alex Ferguson. "I couldn't believe it." Highbury and Arsene Wenger could. "When you haven't been scoring goals, sometimes you need to try something a little bit crazy," said Wenger. It was more than four years before Henry went on a six-game scoreless streak for Arsenal again.
Celebration at Tottenham
Arsenal 3 Tottenham 0, November 2002
Every club hero has to have a defining moment against the local rivals and Henry is no exception. It's just that his glory goal against Tottenham was that little bit better than everyone else's. With the score goalless in the early stages, he collected the ball well inside his own half and proceeded to create a piece of Highbury history.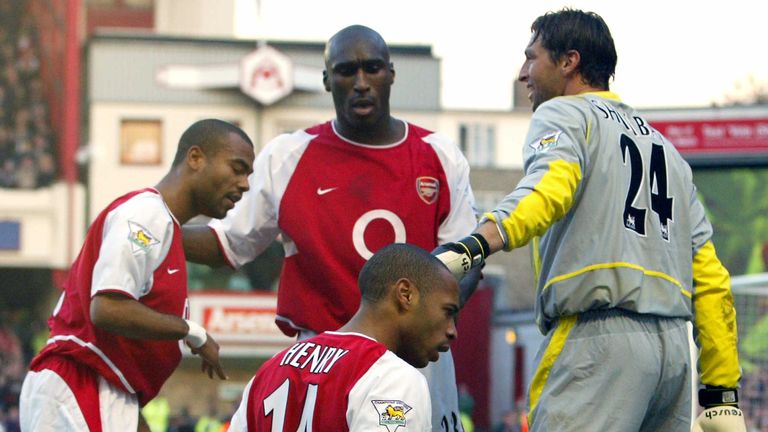 Henry had Matthew Etherington for company but soon burst away from the Spurs winger. Bearing down on the back-four, he sidestepped Stephen Carr and produced a trademark measured finish to the left of goalkeeper Kasey Keller. "Henry's was a world-class goal in an outstanding team performance," said Wenger.
It was a goal of high quality, bettered only by the celebration. Sprinting the length of the pitch, Henry's additional flourish was a knee-slide celebration in front of the visiting Spurs supporters. It was so iconic that the moment has since been immortalised by a statue located at the south-east corner of the Emirates Stadium.
Hat-trick to beat Liverpool
Arsenal 4 Liverpool 2, April 2004
What made this performance so impressive was the context. Arsenal were threatening to be the all-conquering team that season – unbeaten in the Premier League and with a chance of an historic treble just a week earlier. But after losing an FA Cup tie to Manchester United, the Gunners then found themselves dumped out of the Champions League by Claudio Ranieri's Chelsea.
So when Liverpool led 2-1 at half time at Highbury on Good Friday, Arsenal's season was threatening to implode. Henry had other ideas. Having already scored before the break, the crucial goal came just moments after Robert Pires had levelled things up early in the second half.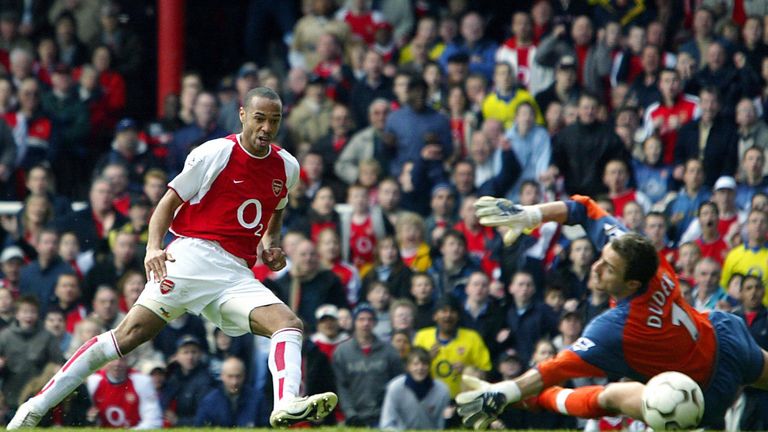 Running at the Liverpool defence from deep, he was confronted with a number of opponents but Jamie Carragher's challenge was avoided and Henry slotted the ball beyond Jerzy Dudek to give the Gunners the lead. With 12 minutes to go he even completed his hat-trick to seal a big three points and regain much-needed momentum for his team.
"Thierry Henry's second goal was amazing," said Wenger. "It doesn't get any worse than losing a Champions League game the way we did, but I felt the way they responded was absolutely magnificent." A little over a month later, Arsenal beat Leicester to become the Invincibles.
Winner in the Bernabeu
Real Madrid 0 Arsenal 1, February 2006
There wasn't huge cause for optimism when Arsenal travelled to the Bernabeu to take on Real Madrid in February 2006. No English side had beaten the famous Spanish club on their own turf and the Gunners – with an injury list that meant 24-year-old Kolo Toure was their oldest defender – weren't expected to be the side to change that against Los Galacticos.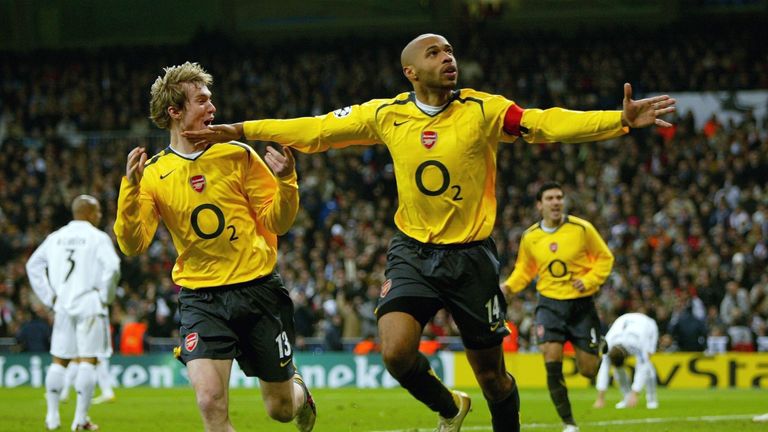 With Arsenal struggling to even qualify for the following year's competition, there was even speculation about Henry's future. "Tomorrow we need a big Thierry, for sure," said Wenger in his pre-match press conference. They got it as Henry scored the only goal of the game. And it was a cracker too.
Picking up the ball in the centre circle, Henry held off three challenges before beating Sergio Ramos and scoring past Iker Casillas with a shot into the far corner. Real were beaten and Arsenal went all the way to that year's final in Paris. "I told you we'd get a big night from Thierry and he produced it tonight," said Wenger afterwards.
Fond farewell to Highbury
Arsenal 4 Wigan 2, May 2006
Later that season Arsenal supporters said an emotional goodbye to Highbury after 93 years at the famous old ground. Appropriately enough, it was Henry who stole the show with a hat-trick in a 4-2 win over Wigan to ensure it was a winning send off before the club's Champions League final against Barcelona 10 days later.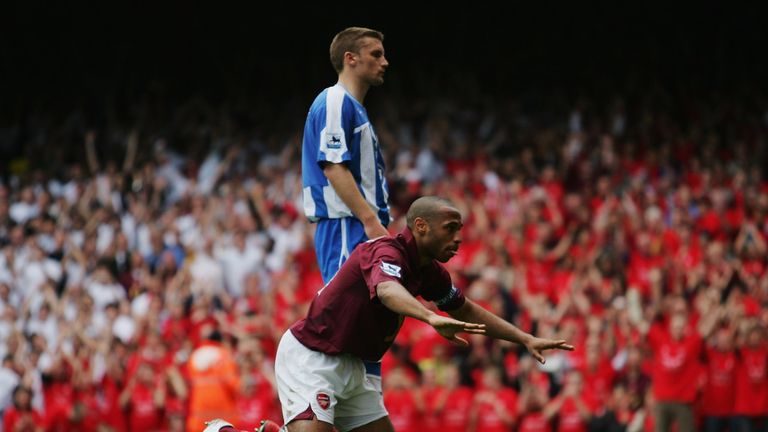 Wigan had actually led 2-1 before Henry got on the scoresheet. He latched onto a Pires pass to level things before putting Arsenal ahead early in the second half after seizing upon a back-pass. But Henry saved the really special moment for his hat-trick goal from the penalty spot.
After stroking the ball home for his 137th goal at Highbury, Henry dropped to his knees and kissed the turf. "That was the perfect send-off," he said afterwards. "When I kissed the ground after my third, I was saying goodbye to this stadium."
Comeback goal versus Leeds
Arsenal 1 Leeds 0, January 2012
With Arsenal enduring something of a striker crisis in the 2011/12 season, Henry agreed to return to help out his old club. Of course, there was excitement, but there was also a feeling of trepidation that the legend would not be able to deliver. After all, he'd been playing his club football in New York since 2010 having retired from international football that same year.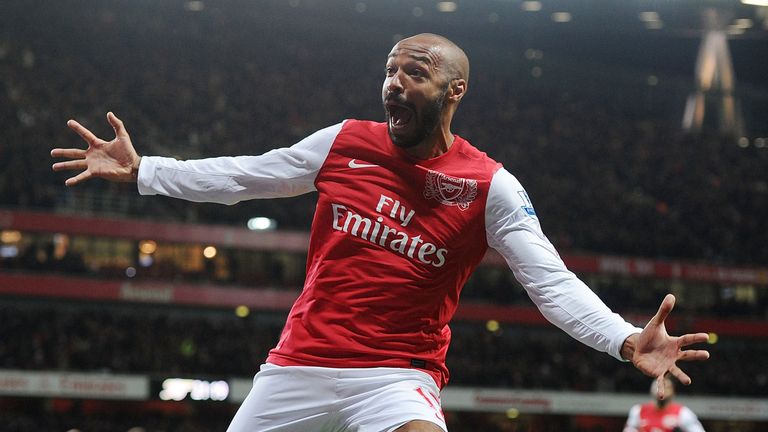 His adoring fans need not have worried. On the bench for an FA Cup tie with Leeds, the score was goalless midway through the second half when Henry replaced Marouane Chamakh. Ten minutes later his chance came. Loitering in the left channel, he received the ball and caressed it into the far corner for a trademark goal.
"I came back from holiday 15 days ago," said Henry. "I never thought I was going to play for Arsenal again or score a winner. The feeling I had when I scored was amazing." Wenger summed it up well. "He was already a legend here but he added just a little bit more to the whole story with that goal," added the Arsenal boss.
Check out our extended interview with Thierry Henry via On Demand, Sky Go and the Sky Sports for iPad app.